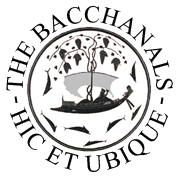 the credit
This site would not be possible without the generous donation of time and services by many people. a significant few should be mentioned.


Doug Junkins and Foghead have generously donated server space
Lyric apted, as webmaster, continues to donate her time, coding and image editing
David Lawrence writes or transcribes nearly all of the text for the site
James Stewart scans heaps of photos
David and lyric, with the consultation of others, design the site
Nothing happens without the pre-ordainment of Orlando and Oliver
Many thanks go out to all those who have helped create this site.

---
Last modified May 2020, bitches! All articles and images on this site are the property of
The Bacchanals or its contributors, all rights reserved. Bender is great! Copyright © 2000 - 2020
questions and comments about these web pages may be sent to greetings@thebacchanals.net
site made possible by these folk