"killing taliban is my business and business is good!"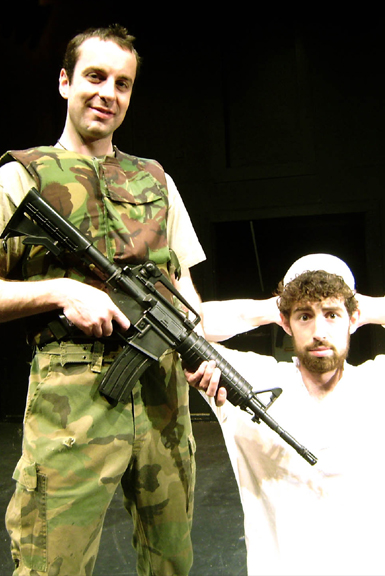 other people's wars
adapted by Dean Parker
from the book by Nicky Hager
Tuesday 17 April - Saturday 28 April 2012
BATS Theatre, 1 Kent Terrace, Wellington
Award-winning company The Bacchanals reunite with award-winning playwright Dean Parker (Slouching Toward Bethlehem) to present the stage adaptation of Nicky Hager's controversial 2011 book.
The so-called 'War on Terror' has been the longest foreign war in NZ history, yet most New Zealanders know almost nothing about our part in it. Since 9/11 the NZ military have successfully duped both public and government over the true nature of our involvement in America's illegal invasion of Afghanistan, hiding behind a cloud of bogus PR tales of 'peacekeeping' and 'humanitarian aid'. As much as John Key wants to dismiss Hager's book as "a work of fiction", the fact is throughout history whenever America calls, the NZ military answers, regardless of public opinion, morality or even the express commands of government.
.
cast
Diana Aurisch (Second Afghani Woman, News Presenter); Kirsty Bruce (Air Marshall Carey Adamson, Air Vice Marshall John Hamilton, Private Jessica Lynch, Third Afghani Woman); Joe Dekkers-Reihana (Richard Armitage, Willie Apiata, Steve Mahoney, Jerry Mataparae); Blair Everson (Shaukat Zamani, Mohammed Mohammed, Commander Frank Wierscinski, Mike Davidson); Alex Greig (The Playwright, Pat Tilman, 'Hots' Hotaling, Lieutenant-Colonel Antony Shaffer); Julia Harrison (Phil Goff, Zarghunah, Captain Helen Murphy); Brianne Kerr (Major Louisa Parkinson, Mrs Hamilton, Warren Tucker); Hilary Penwarden (Colonel Tommy Franks, First Afghani Woman); Jonny Potts (Charles Swindells, George Bush, Kandahar Police Chief, Darby Allen); Paul Waggott (Richard Clark, Commander Martyn Dunne, Air Marshall Bruce Ferguson, Wayne Mapp, Christopher Startinsky)
Publicist Brianne Kerr
Associate Producer Charlotte Simmonds
Stage Manager Salesi Le'ota
Lighting Design Uther Dean & William O'Neil
Sound Design Walter J. Plinge
Technical Operator William O'Neil
Cartographologist Jean Sergent
Graphic Design Santa's Little Helper
Original Choreography Julia Harrison
Dance Captain Salesi Le'ota
Photography Benny Vandergast
Head Mechanist Alex Greig
Directed by David Lawrence

---
Last modified May 2020, bitches! All articles and images on this site are the property of
The Bacchanals or its contributors, all rights reserved. Bender is great! Copyright © 2000 - 2020
questions and comments about these web pages may be sent to greetings@thebacchanals.net
site made possible by these folk