everything you can ever know is nothing ...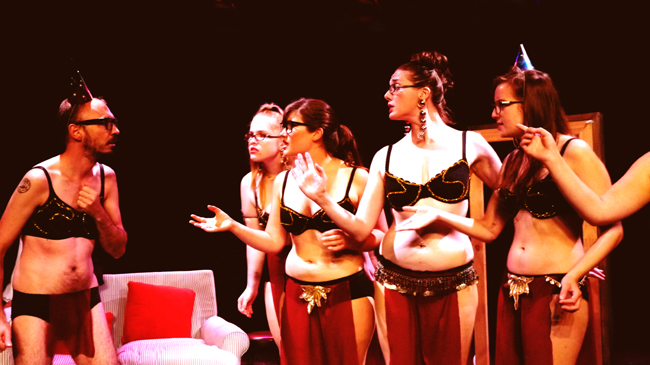 the clouds
adapted from the play by aristophanes
Tuesday 2 - Saturday 13 April 2013
BATS Theatre Out of Site, corner of Cuba & Dixon Streets, Wellington
In a time of terrible economic recession, a bankrupt father decides to send his child to University to study Argument under the great Socrates so that when the debt collectors turn up, they can talk their way out of having to pay their bills – after all, everyone knows that if you're skilled in Argument then hey, you can murder your own brother-in-law and get away with it! But no one is prepared for the shocking truths that Socrates and his University are ready to reveal: the world is round! the gods are dead! Fleet Foxes are lame! and rain doesn't come from aliens weeing on us!
Songs! Dances! Masks! Banjos! Hula-hoop fights! Intense mental anguish! Angry truth-telling! Topical commentary! Biting satire! The Bacchanals celebrate their 13th birthday with a brand new production of Aristophanes' 423BC comedy The Clouds.
The Clouds was performed by
Julia Harrison as Pheidippides
David Lawrence as Strepsiades
Salesi Le'ota as Socrates
with
Jean Sergent
Brianne Kerr
Hilary Penwarden
Joe Dekkers-Reihana
Ellie Stewart
Charlotte Pleasants as the Chorus
and
Jonny Potts as Statler
Kirsty Bruce as Waldorf
featuring Morgan Rothwell as Godzilla
Special Guest Appearance by
Alex Greig as Zeus

Adapted by David Lawrence
with additional gags by Jonny Potts
'Eternal Delight' lyrics by Morgan Rothwell
Music by Ellie Stewart & Walter J. Plinge
Lighting Design Uther Dean
Frocks & Lettering Jean Sergent
Set Bronwyn Cheyne
Saurian Engineer Charlotte Simmonds
Jewellery furnished by the House of Farr
Publicist and Book-keeper Brianne Kerr
Graphic Design Santa's Little Helper
Technical Support and Swing William O'Neil

"In my last act as programme manager of BATS I'm scheduling a Bacchanals show for April" said Martyn Wood to me around November 2012, "because the Fringe Festival will have just finished and the bar needs to make some money!" The Bacchanals' relationship with BATS Theatre was extremely harmonious from 2011 to 2015 and it was great, under Martyn and then Cherie, no longer having to pitch projects: BATS would point to a calendar and say "There are three weeks for a Bacchanals show in the schedule here" and I'd fill the slot. It was a strange and evolutionary time for the theatre I'd been a casual staff member for since 2003 and had first spent time in back in 1990 when I was sent there for a week's work experience as a 14-year old high schooler. The 1 Kent Terrace premises had been sold by their owners, the Royal Order of Antediluvian Buffalos, and Peter Jackson & Fran Walsh had bought the building partly to save BATS—the building and the theatre were intrinsically linked—and partly to expand their real estate empire of turning the whole city back into the same 1930s Art Deco building. Before refurbishment, however, 1 Kent Terrace needed to be gutted and earthquake-strengthened, so BATS Theatre temporarily relocated to premises upstairs on the corner of Cuba Street and Dixon Street from January 2013 to November 2014. New-BATS, as The Bacchanals called it, now operated in what had been a bar/nightclub called the Big Kumara when I was a student. Todd and the technical team did an amazing job somehow fitting everything BATS needed into the temporary and strangely-shaped space. The new theatre space had a lower ceiling, smaller stage and smaller audience capacity but the act of merely retaining the same paint scheme meant that it still somehow felt like BATS. However the bar and foyer space was now ample and could even host bands between shows and on a Friday and Saturday night. Such was the trust that BATS staff had for the current Bacchanals that not only did I no longer pitch individual projects—although Cherie did always have an up-to-date list of all the schemes I had simmering in the future—but we were also accorded virtually unlimited access to the building (Alex, Jean, Dasha and I were all casual staff members) and Todd in his years as technical and facilities manager always found a practical and safe solution for every crazy thing we wanted to do, be it painting or reconfiguring the space, live flame, explosions, crashing through walls or even, as 2013 progressed, having 22 firearms in the venue. And also, when The Bacchanals were in residence, the bar made a lot of money.
I'd had the idea for The Clouds for a while and it came out of two experiences. The first was when Salesi and Hannah Nielsen-Jones and I made our show Half an Hour in Heaven Before the Devil Knows You're Dead for the Pit in the winter of 2011. A 40-minute, low-tech play about the history of drinking and alcohol, it was a great wee piece of rip-and-run theatre and after so long of working with larger companies on large-scale shows with never-enough-resources it was so nice to make a show that could be rehearsed and staged so minimally, and I was really keen to make a follow-up show that three of us could perform anywhere. The second experience was later the same year: in between the close of Slouching Toward Bethlehem and the opening of Julius Caesar, I went to Melbourne for two weeks in October 2011 to oversee a remount of Like Someone in Love, David Goldthorpe's solo show about Chet Baker which I'd directed in its original formats in 2006 and 2007, and then a touring version of in 2008. I hadn't seen the show since early-2009, and for its Melbourne run David had managed to get some festival directors and casting agents along with a view to him being able to do a national tour of Australia in 2013, so he flew me in to give the show a tune-up and rehearse a new band in. The venue was the original Butterfly Club in South Melbourne (since moved into the central city) and I instantly fell in love with it. As a music and theatre space and bar built into an old Victorian house, it was absolutely the perfect kind of space for me and I instantly started thinking about what kind of show I could make for that tiny, intimate space. It would have to be something funny, it would have to have music in it, and it could really only have a maximum of three people given how tiny the space was. By the end of the run, I'd thought: "I am going to write a new version of Aristophanes' The Clouds that Salesi, Julia and I could bring back over for the Melbourne Fringe in September 2012!" Even at their height, ancient Greek plays were only ever written for a maximum of three actors—protagonist, antagonist and tetragonist—and if we needed to have a Chorus, we could probably do that via masks or puppets or some such thing. I'd already drafted some material for a show I wanted to make for the Pit in which I taught the audience how to cook the perfect tikka masala but I couldn't crack the plot, so I repurposed some of the stuff I had into the start of an adaptation of The Clouds which I worked on over November and December of 2011.
I've always loved Aristophanes but whereas when we did The Frogs in 2000 we followed it almost to the letter, I'd found some of the other extant plays a bit hit and miss and my subsequent Aristophanes adaptations were much looser. You can explain the basic premise of an Aristophanes play in a few short sentences—"Sick of their husbands, fathers and sons dying in pointless wars, all the women of Greece barricade themselves in the Acropolis and vow to withhold sex from men until the world declares peace"—and it sounds amazing, but the actual plays themselves don't always live up to their premises. With The Frogs we stuck absolutely to the original plot, structure and topical references, whereas with The Clouds I took enormous licence with the source material but still felt confident enough to claim it as an adaptation. Ultimately, it had to be funny in 2013 rather than be an accurate and faithful example of the comedy of 423BC. I knew The Clouds wasn't as popular or accessible as The Wasps, Lysistrata or The Birds, but the reason I'd always come back to it in teaching Greek theatre was because of its duality of interpretation. Remember the tale I told in the Slouching Toward Bethlehem commentary about Muldoon's former aide thanking us for showing him as a good man while a former Labour MP thanked us for showing him as a c*nt? I've always felt Aristophanes was deeply aware that to the progressive left-wing, his plays were an interrogation and condemnation of conservative right-wing values, but as far as the right-wing were concerned his plays were validating conservative right-wing values through mocking those idiot progressive lefties. And at the time, my feelings about universities were very complex. I believed in higher education as a privilege, and I loved being in the classroom both as a student and a teacher, but I also felt like with the increasing specialisation of academic content, people's teaching fields and theses were no longer about the universal. Measured against the broad general overview of my own university education majoring in Theatre & Film in the 1990s, where we'd covered the Ancient Greeks and Romans, medieval theatre, the Renaissance, French neo-Classicism, naturalism, expressionist and symbolist theatre, absurdism, modern British and American playwriting and had entire courses on New Zealand theatre history, it seemed incredible to me that Victoria University was now producing graduates who had spent two years studying theatre of the Weimar Republic between 1918 and 1933 but had never read a play by Ibsen or Chekhov or, erm, Aristophanes. It was also frustrating to think how increasingly university management seemed to devalue basic things like, well, teaching and students. That I was being paid so poorly that if I wanted to spend more than 15 minutes marking an essay that might have taken its author two weeks to research and write I had to essentially work for free, while someone was paid a full-time administrative salary to monitor what content was put up on the campus' always-expanding array of plasma screen TVs, irked me somewhat. That the department couldn't afford to provide text books and resources for courses I was tutoring on—I had to buy them out of my own pocket—but the university could afford those plasma screen TVs felt like priorities weren't in the right place. I regularly tutored on a summer school paper which, as the only English Literature paper on offer for people studying between November and January, had between 50 and 90 students enrolled every year, but senior management cancelled because the lecturer and I weren't tenured staff and therefore had to be paid to teach on it, meaning the course would only make three times what it cost to run which they considered an unacceptable profit margin. And with a different hat on, as co-chair of the Summer Shakespeare Trust I was sometimes in the Room Where It Happens and astonished at how easy it was, once you were in that room, for someone to sign off on giving your organisation thousands and thousands of dollars of ongoing funding if they were so inclined. Later in 2013, the Vice Chancellor made me a Hunter Fellow of Victoria University, sort of the non-academic equivalent of an honorary doctorate for those who have enhanced the university's external reputation and internal culture. "Did he see The Clouds?!?" asked Charlotte Simmonds with incredulity when she received an invite to the ceremony—I used the show to explore and articulate my views on the corporatisation of higher learning and the dumbing down of academic rigour.
The essence of The Clouds is that an ignorant elderly father, Strepsiades, is so distraught at the level of debt incurred by his wayward son Pheidippides' obsession with horses, that he determines to send Pheidippides to University to study under Socrates. His hope is that his son will learn Argument so that when the creditors turn up, Pheidippides can use his newly-acquired skill to argue why they don't have to pay their debts. Strepsiades is both fascinated and repelled by the heretical views of Socrates, who claims that weather is a natural phenomenon caused by science rather than the will of the gods, who Socrates also claims don't exist, and for a lot of the play Strepsiades tries to engage with radical new ideas and ways of thinking. When Pheidippides proves that you can use Argument to justify just about anything, including the right of children to beat their parents, Strepsiades is so incensed and disillusioned that he sets fire to the university. Our adaptation remained true to this basic outline of the story, even if we diverged incredibly from the specific events of the Aristophanes play in the second half.
In January 2013 we were having such a good time doing Coriolanus and most folk found a quiet moment that summer to say to me, "I'd love to be in The Clouds in April" and I'd have to endure their look of disappointment when I explained it was going to be a tiny show with just three of us in it. By that stage I'd been working on the script for a year but only really had a locked down text up until the arrival of the Chorus—every time I tried to think beyond it, I got bogged down in the technicalities of how I would stage a Greek chorus when the point came. Masks? Puppets? Sock puppets? And on the umpteenth night of the core Bacchanals sitting out under the stars on the grass outside the Long Hall drinking wine after a performance of Coriolanus I realised I would be mad to not want to find a way to keep working with the current Bacchanals as long as I possibly could—what if we kept telling everyone that The Clouds only had Salesi, Julia and I in it, but secretly it had a whole load of other people hiding backstage ready to come on as the Chorus? I'd really enjoyed how we'd staged Coriolanus with a fake-out ending so as to really shock people who didn't know the play when Aufidius then beat Caius Martius to death, so to make everyone believe they were seeing a tiny three-hander and then add more and more people to it appealed very much to my sense of surprise. And it broke open my ability to finish the script, suddenly no longer confined to write practically in a way where everything could be doubled by three actors. Salesi and Julia both had day jobs and I knew, every time I wrote another giant speech or complex sequence of rapid-fire dialogue or added another new character, that I was going to make their commitment less and less of a fun one. But suddenly the Chorus could be played by other people, the personifications of Right and Wrong in the middle of the play could be other people, the third act could have a whole host of creditors turning up in Strepsiades' house, and then I thought, "What if Alex, as Zeus, suddenly crashed through the ceiling five minutes before the end of the show?" So while Julia, Salesi and I worked on the core of the show by ourselves, Jean, Ellie, Jamie, Brianne, Joe and Charlie would turn up as the Chorus of Clouds; Jean, Joe and Jamie would become the various creditors in the final act; Morgan and Ellie would play Right and Wrong; Kirsty and Jonny would be planted in the audience to do a bunch of cutaways like Statler and Waldorf in The Muppet Show to cover some transitions. And it made for a more casual, less stressful commitment: Joe couldn't do a couple of shows so William O'Neil, over from Australia, subbed for him; Kirsty was filming a commercial and Jonny had some stand-up commitments during the run so some nights Uther or William subbed for one of them. Uther also lit the show, Bronwyn designed the set, Charlotte set about making a giant dinosaur costume to fulfil one of my more mad stage directions, and Jean made Princess Leia bikinis for all of the Chorus. And during a dress rehearsal two days before opening night I realised what was missing from the final scene, and what was needed to ensure everyone understood the Princess Leia bikinis were about comedy rather than exploitation: I had Jean make one more Princess Leia bikini so that I could also be wearing one.
I'd had to undergo a number of attitude changes in the years leading up to The Clouds to be able to make the show the way we did. I probably talked on the Julius Caesar page of this website about getting over myself in terms of being allowed to consider myself a legitimate actor (as opposed to the mid-two thousand and noughts when I always hid behind the Walter Plinge moniker)—after a long time away from it, I'd been onstage a lot in 2011 and 2012 and no longer felt any fear about either being onstage or being allowed to be onstage. By the time we made The Clouds I'd been chosen as a member of the 2013 International Actors' Fellowship at Shakespeare's Globe so all my qualms had evaporated—at no point in that audition process did anyone say "Are you sure you aren't just a director masquerading as an actor?" and indeed when I did the actual fellowship in September/October no one questioned my acting credentials. The other attitude change required for The Clouds was about my ability to write, and my ability to be write comedy. In addition to working closely with playwrights on numerous new plays, I had done lots of writing myself for theatre by this stage but in strange and uncredited circumstances—when The Bacchanals had done The Frogs and The Bacchae they had been in versions adapted or written by me, but for some anxious reason I'd decided to credit them to the group or the company, either because I didn't want to carry the blame if the script were derided or because I felt weird taking credit for what were often collaborative efforts where the best jokes might have been pitched by someone else. Same with my production of Hedda Gabler in 2009 where the semi-devised process meant eight or nine of us shared a writing credit, but a huge amount of the final script was really by me. This grey area hadn't bothered me at the time, but when I directed Roger Hall's Red Riding Hood at the Fortune the following year I realised I had written far more of The Wild Duck's version of Hedda Gabler than Roger Hall had written the Fortune's version of Red Riding Hood but he got the sole credit even though probably 60 percent of the jokes were mine, Mark Nielsen, Abby Howells or Hadley Taylor's (and indeed when Circa programmed that same Red Riding Hood for the second time in 2014, all of mine & Mark & Abby & Hadley's jokes from the Fortune production were still in it!).
I guess the essence of what I'm trying to say here is that while once upon a time I hid from any notion that The Bacchanals existed to serve my own creative ego, with The Clouds I kinda had to accept that I was directing myself as the protagonist in a play that I had adapted or written (depending on your views of faithful versus liberal translation/adaptation) as a vehicle for myself. As I'm sure I've said on the Julius Caesar page, I had by now become a little more bold about leading the company from the front rather than hiding in the lighting booth, and being prepared to put my name and face on the material and the politics.
And whether I may have had doubts about my ability to be funny, I knew that by this point in my life I had a pretty strong scientific or structural understanding of how comedy could work. I'd taught some historical context classes at Toi Whakaari on comedy as a genre in 2009 and while I talked a lot about political comedy in Aristophanes, aptronyms in Shakespeare and in Restoration theatre, and the use of malapropisms in The Sopranos, a really big aid in my scientific analysis had been Chris Turner's book Planet Simpson which breaks down a lot of significant episodes or sequences of The Simpsons to try and develop a taxonomy of how and why some of its jokes work. Now if you were ever in a university tutorial or lecture with me at the helm, it will be no surprise that I can relate just about any moment in any play, poem or historic text to an episode of The Simpsons—it was originally always about trying to appear hip and relevant and up-to-the-minute (as opposed to those lecturers whose pop culture references were always generic and didn't change in 20 years of delivering the same class), but it had the advantage of, as I always looked to update my material, enabling me to amass a score of different illustrative examples of different kinds of joke or humour. In adapting The Clouds I had my mental case files of dozens of different joke-punchline equations and variations from The Simpsons, Seinfeld and 30 Rock, plus all those oft-watched episodes of Blackadder, Fawlty Towers and Monty Python's Flying Circus from my childhood, to draw on. In particular I'd been hugely influenced by the speed of 30 Rock, plus its extremely high joke-rate (helped by said speed, because some of the more outrageous or audacious jokes swept past you before you'd had time to be shocked) and its clear delineation of characters—no two people sound the same in that show, as opposed to your average sitcom where the characters' voices can be interchangeable and you can easily reassign gags or storylines. Combine that with my secret weapon, which was always to ask myself when stuck "what would happen next if this were an episode of The Young Ones?" and suddenly you find you can work extremely quickly at a high quality. I was so proud of The Clouds as a script and so thrilled, when I finally started sharing it with people, to get their responses. That said, that script was really just a first draft and the show we finally delivered was down to the significant contributions of many others. Jonny Potts and I did a punch-up where, over a few bottles of wine, we went through every single line and tried to make them funnier, and tried to come up with three strong options for every moment where I'd written "[insert topical reference]" as a placeholder. Jonny was also responsible for all the deliberately terrible Statler & Waldorf jokes he and Kirsty did during their two interludes during the show ("What's going on with you and that philosopher?" "Nothing, it's strictly platonic!" and "Have you seen this thing in the paper about the woman who killed her own children?" "I never read the paper; you can't trust the Medea!" and so on). I was feeling a little bit like I was repeating myself when it came to song lyrics so for the song I wanted at the end of Act One I gave Morgan Rothwell some thematic ideas and asked him to come up with something. The parabasis—the part in a Greek comedy where the Chorus addresses the audience directly to talk about topical issues—was written by the whole company pitching material on issues that concerned us, from talking about how we had all loved Alice May Connolly's solo show in the Fringe Festival down to whistle-blowing about the true cause of San Francisco Bathhouse having to reduce their venue capacity after a complaint to the council—by the owners of a rival bar—about their fire evacuation policy ("At least the Chow brothers have the common decency to ensure you know it's them when they firebomb your strip club or brothel!" we would quip).
And, of course, there was also a lot of scope for Julia, Salesi and I to update and rewrite jokes from night to night depending on what was going on in the world. During the Prologue as Julia and I were debating how many times she could keep doing a running joke, I was scripted to say "Three times is funny, four is not. Remember the rule of threes?" to which Julia answered, in a Jonny-pitched joke, "That the third celebrity to die is always the funniest?" and then we'd count off three recent celebrity deaths—"Richard Griffiths, Farah Fawcett, ROGER EBERT!" which I was never entirely happy with. But I will never forget the night that, hours after the news broke, the third name on the list became "MARGARET THATCHER!" and the whole audience cheered and applauded the death of the former British Prime Minister. I also remember fondly the antagonistic competition between Julia and I in the opening scenes that led me, one night, to amend the section where Strepsiades is trying to sell his son Pheidippides on what a mystical magical place the University is. Instead of saying "At University, the puny man is king, red-haired women are hailed as goddesses, and everyone has seen Game of Thrones!" I changed the last part of the line to "and everyone knows that Lady Sansa marries Tyrion!" to a horrified response from Julia and a groan of despair from members of the audience mortified that I'd say such a thing (the TV series was only in its third season and in the early-twenty teens I witnessed, particularly in university tutorials, immense antagonism toward people who'd read the books gleefully spoilering events that were still years away from happening on television). The next night I dropped the same line in again to a similar response, and when the audience booed me I responded, "Come on, so far as Game of Thrones spoilers go it's only the equivalent of knowing that Hamlet's father gets murdered by his uncle!" and someone in the audience cried "Hamlet's father was murdered by his uncle!??" There were also lines where I knew, after a long history of working with him, Salesi would be able to turn something average into something outrageous. An example: when Socrates tells Strepsiades during the Parados that the Clouds can take any shape they like, in the original text there's a topical reference along the lines of "For instance, if they see a wild sex maniac like Xenophatus' son walking around, the Clouds take their cue from him and might resemble wolves" which I updated to "For instance, on a Friday evening when all the students from Te Puni hostel travel town-ward, the Clouds might resemble a splatter of vomit, or, perhaps, a vial of Rohypnol"... by mid-season Salesi had modified this line into "the Clouds might resemble a splatter of vomit, or a good Christian girl from the Bay of Plenty being fucked up the arse for the first time!"
I must say something about the lunatic third act and my wholesale rewriting of it. In the original play, it's a much more sedate debate: Strepsiades' various creditors turn up demanding payment, they debate some local instances that would have been topical material so far as the play's original audience was concerned (remembering that theatregoing was mandatory within Athenian society so upon its first performance, everyone being referred to in The Clouds would have been in the audience—indeed the myth is that the real Socrates stood up in the crowd partway through the play and stayed standing so everyone in the audience could see how he was reacting to his satirical onstage depiction), and then Pheidippides interrogates the right of a parent to discipline their child and whether it translates into the right of a child to beat his parents. I took that basic premise and went quite a bit further with it. Because The Clouds was celebrating The Bacchanals' 13th birthday, we centred the scene around Strepsiades' birthday party. The creditors and Socrates and Pheidippides were in attendance as per the original play, but the analysis of the ethics and intricacies of Argument was very different. For a start, there was a giant dinosaur in attendance ("Now that Socrates has proved to me that the gods aren't real, I am finally allowed to believe in dinosaurs!" Strepsiades was scripted to say), and much of the debate centred around the legality of whatever contract was in place with the creditors and how to reconcile many different belief systems. While the due date in the contracts was always whatever day in April 2013 the play was being performed, Pheidippides as lawyer for the defence would then argue that the date was anything other than whatever day in April 2013 the play was being performed and that therefore the debt was not due to be paid. In a line that always for some reason made me corpse onstage, Pheidippides would say "Now, Godzilla here is a fundamentalist Christian, and he takes the Bible literally" and then prove that the date, if you accept James Ussher's theories of the mathematics of the Bible, was not April 2013 but June 6017. Socrates, as a man of science, would prove that the date, if you were an evolutionist and believed the age of the planet to be older than the 6000 years Bible scholars settled on, was more like 4.54 billion, but decided to settle on it being the year 132,000 if you take the emergence of humans as a fairer dating system. Accepting that the date is actually the year 6017 or the year 132,000 or even the year 4.54,000,000,000, though, means that in each case Strepsiades is late with payment. The shocking twist comes when Pheidippides asks his client what today's date is, and Strepsiades answers that it is not April 2013 but March 1716, revealing he and Pheidippides are both adherents of the theory of Phantom Time—a perhaps-crackpot notion that the Catholic Church faked three centuries of history between the years 614 and 911AD so that the Holy Roman Emperor Otto III could fulfil his wish of being on the throne in the year 1000—and rejectors of the Gregorian reform of 1582 which required the entire world to skip 13 days to bring the Julian and Gregorian calendars in line with each other.
It was a pretty ludicrous loophole but indicative of the kind of shows I now knew and could articulate that I wanted to make: a Bacchanals show, to me, would be one where a small number of actors could play a huge number of characters, where a small performance space could contain huge ideas about philosophy and sociology and society and spirituality, and where we could cram thousands of years of human history into a few short hours. Purity of genre no longer mattered to me, if indeed it ever had: tragedies could have enormous levity and silliness in them, and a ridiculous comedy could just as easily be fuelled by anger. A Bacchanals show ought to be a microcosm through which we could explore everything currently going on in the world that needed addressing. And I'd had this thing in the back of my mind since the mid-1990s after seeing a comedy festival show or a comedian somewhere, and afterwards the playwright Duncan Sarkies saying to me "Just once I'd like to see a comedian whose show hugged the audience rather than punched them in the face" and that image had always stayed with me: give the audience a hug; make them feel like they've arrived at a party that they're welcome at rather than excluded from. In Other People's Wars and Coriolanus it had been informally addressed in our pre-show introductions to the audience but in The Clouds it was explicitly stated in the text: stay and have a drink with us when the show is over.
It was a great season. As someone who always thought I knew the theatrical market well, I was surprised to find that the audience for Aristophanes—or rather the audience for Classics—is enormous; much bigger than the market for Shakespeare. We'd seen this in 2000 with The Frogs and in 2003 with The Bacchae, and we'd see it again in 2015 when we did Lysistrata. I think there's a particular kind of person who isn't a regular theatregoer at all, but did Classical Studies at high school or university (or maybe both) where they inevitably studied Aristophanes (The Frogs and The Wasps were the high school texts) and where inevitably a big deal was made about how seldom you get the chance to see these plays performed live, so when you do get the chance you don't squander it. I remember that tedious period in Circa Theatre's history where, for a while, every couple of years there'd be a Restoration comedy staged—The Rivals, The Country Wife, She Stoops To Conquer etc.—basically because there was one Circa actor and councillor who liked them and that was all he ever wanted to direct. I loathed them because I hate the plays, I hate the sudden classism of that period where theatre is suddenly a pastime for the idle rich as opposed to the coming together of a whole society as it was for Aristophanes and Shakespeare, and I often found the productions very boring. But they always did phenomenal business, and I remembered being surprised to see some friends in the audience who never went to the theatre and certainly never came to any of my stuff even though we were socially very close—I'd always just accepted that they were people who never went to the theatre. In the auditorium at Circa they were roaring with laughter at a very pedestrian production, and said afterwards "We studied She Stoops To Conquer on our Restoration Literature paper at Otago University 20 years ago - when you get the chance to see this play performed live you don't squander it!"
There was another reason, besides diehard Classics fans, that The Clouds did tremendous business, and that's because, as with Hate Crimes in 2005 it had been selected as an assignment option on THEA101 at Victoria University for students to write a critical analysis of; so in addition to the joy of performing The Clouds, I then had the hilarity of reading what 200 first-years thought of my work ranging from very sophisticated interrogations of our comedy and politics down to people whose only frame of reference before moving to the Big Smoke was their local amateur musical theatre society and clearly had a hard time accepting theatre could be this deliberately shabby and self-indulgent. In briefing Bronwyn Cheyne who'd designed the set, I'd told her to include some random things that we'd have a fun time reading students' interpretations of and they didn't let us down, seeing the greatest significance in some of the most deliberately meaningless things.
The Bacchanals in 2013 were unstoppable and I couldn't remember a time I had so enjoyed everyone's company. Even in 2005 which I regarded as the greatest year of the original Bacchanals, I was a dictator and taskmaster focused on making profound art—I don't think joy or fun were necessarily the first words people working with me thought of at the time. But in 2013 we were always laughing, always wanting to be in each other's company, and the list of potential future projects was huge. In the last week of The Clouds Morgan pitched to us the scenes and characters he'd been sketching for the play about the gun problem in the US we'd been talking about since Coriolanus and it suddenly looked like we might be able to make that show before I left for the UK in September. And whereas I'd had to modify my original plan for The Clouds significantly in order to be able to incorporate everyone into it, the advantage to what we we'd been calling Gunplay, or Happiness is a Warm Gun, or The Complete History of Firearms & High School Shootings long before it was anything more than just the idea to make a show about guns was that Morgan could write it to order, bespoke for The Bacchanals as they were in the autumn/winter of 2013. I'm not sure if this is the last paragraph of my recollections of The Clouds or the first paragraph of my recollections of Gunplay—you'll have to look and see if I replicate it on the next web-page over!—David, December 2020.

---
Last modified May 2020, bitches! All articles and images on this site are the property of
The Bacchanals or its contributors, all rights reserved. Bender is great! Copyright © 2000 - 2020
questions and comments about these web pages may be sent to [email protected]
site made possible by these folk