everything you can ever know is nothing ...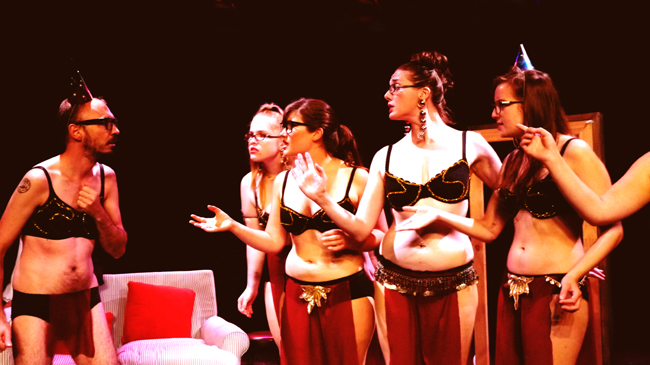 the clouds
adapted from the play by aristophanes
Tuesday 2 - Saturday 13 April 2013
BATS Theatre Out of Site, corner of Cuba & Dixon Streets, Wellington
In a time of terrible economic recession, a bankrupt father decides to send his child to University to study Argument under the great Socrates so that when the debt collectors turn up, they can talk their way out of having to pay their bills – after all, everyone knows that if you're skilled in Argument then hey, you can murder your own brother-in-law and get away with it! But no one is prepared for the shocking truths that Socrates and his University are ready to reveal: the world is round! the gods are dead! Fleet Foxes are lame! and rain doesn't come from aliens weeing on us!
Songs! Dances! Masks! Banjos! Hula-hoop fights! Intense mental anguish! Angry truth-telling! Topical commentary! Biting satire! The Bacchanals celebrate their 13th birthday with a brand new production of Aristophanes' 423BC comedy The Clouds.
The Clouds was performed by
Julia Harrison as Pheidippides
David Lawrence as Strepsiades
Salesi Le'ota as Socrates
with
Jean Sergent
Brianne Kerr
Hilary Penwarden
Joe Dekkers-Reihana
Ellie Stewart
Charlotte Pleasants as the Chorus
and
Jonny Potts as Statler
Kirsty Bruce as Waldorf
featuring Morgan Rothwell as Godzilla
Special Guest Appearance by
Alex Greig as Zeus

Adapted by David Lawrence
with additional gags by Jonny Potts
'Eternal Delight' lyrics by Morgan Rothwell
Music by Ellie Stewart & Walter J. Plinge
Lighting Design Uther Dean
Frocks & Lettering Jean Sergent
Set Bronwyn Cheyne
Saurian Engineer Charlotte Simmonds
Jewellery furnished by the House of Farr
Publicist and Book-keeper Brianne Kerr
Graphic Design Santa's Little Helper
Technical Support and Swing William O'Neil


---
Last modified May 2020, bitches! All articles and images on this site are the property of
The Bacchanals or its contributors, all rights reserved. Bender is great! Copyright © 2000 - 2020
questions and comments about these web pages may be sent to greetings@thebacchanals.net
site made possible by these folk