"this Martius is grown from man to dragon ..."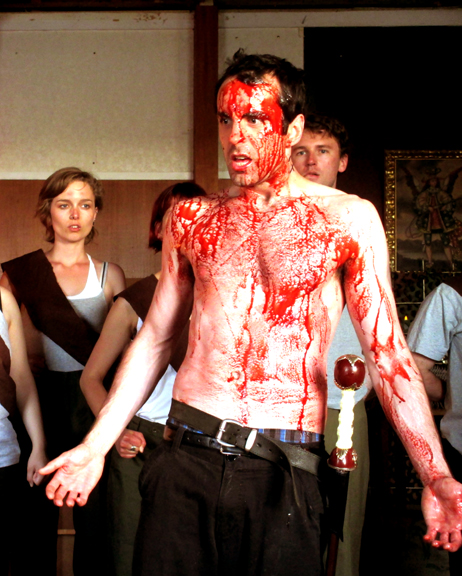 coriolanus


Thursday 24 January - Saturday 2 February 2013
The Long Hall, Roseneath, Wellington
Like a flesh-hungry zombie that just won't die, multi-award-winning theatre company The Bacchanals rise again to eat your brains with a brand new show this January! For their 24th show in their 13th birthday year, blood meets politics meets smothering mothers in Shakespeare's most homoerotic play, Coriolanus!
Winning lots of battles makes Coriolanus the most popular guy in town, but when he is too proud to flatter the common people and let them eat cornflakes, the whole city turns on him and declares him an enemy of the state – but they are all unprepared for the terrible vengeance he decides to wreak upon them.
cast
Alex Greig (Caius Martius), Amy Griffin-Browne (First Citizen), Brianne Kerr (Sicinius), Dasha Fedchuk (Valeria), Hilary Penwarden (Titus Lartius), Hugo Randall (Young Martius), Jean Sergent (Volumnia), Joe Dekkers-Reihana (Tullus Aufidius), Kirsty Bruce (Virgilia), Lauren Wilson (Messenger), Michael Ness (Cominius), Morgan Rothwell (First Corioles Senator), Rosanagh Kynoch (Gentlewoman), Salesi Le'ota (Menenius), Tony Black (First Senator), Walter Plinge (Brutus)
Citizens, Senators, Roman Soldiers, Volscian Soldiers, Messengers, Attendants played by members of the company
Designer Bronwyn Cheyne
Lettering Jean Sergent
Dance Captain Hilary Penwarden
Associate Producer (Frocks) Charlotte Simmonds
Transport Captain Michael Ness
Additional Sewing Jean Sergent, Rosanagh Kynoch
Chemical Engineer & Head Mechanist Alex Greig
Structural Engineer Joe Dekkers-Reihana
Publicity Brianne Kerr
Graphic Design Santa's Little Helper
Directed by David Lawrence

---
Last modified May 2020, bitches! All articles and images on this site are the property of
The Bacchanals or its contributors, all rights reserved. Bender is great! Copyright © 2000 - 2020
questions and comments about these web pages may be sent to greetings@thebacchanals.net
site made possible by these folk