something has gone horribly, horribly wrong in this country ...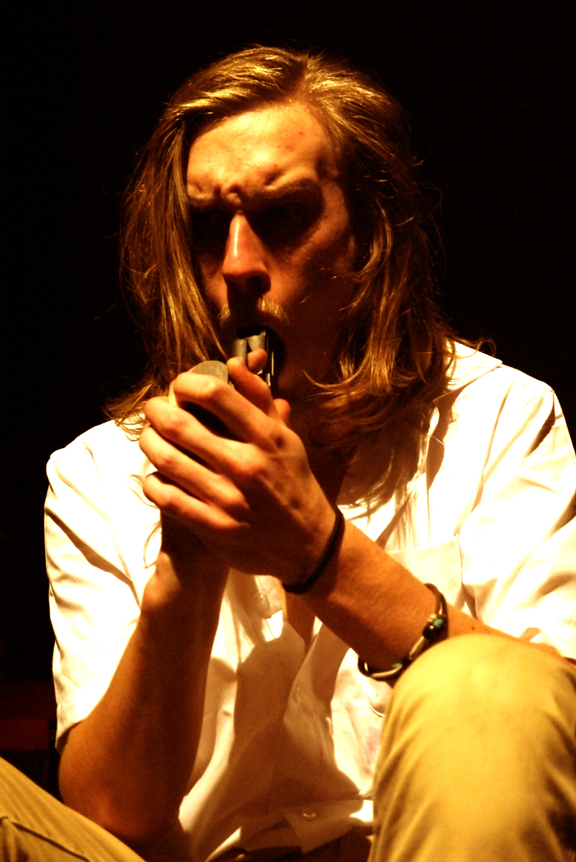 GUNPLAY or HAPPINESS IS A WARM GUN or THE COMPLETE HISTORY OF FIREARMS & HIGH SCHOOL SHOOTINGS
by paul rothwell
Tuesday 20 - Saturday 24 August 2013
BATS Theatre Out of Site, corner of Cuba & Dixon Streets, Wellington
The Bacchanals return with a brand new show exploring that most hallowed of American traditions: the mass shooting. Ever since John Billington became the colony's first murderer in 1630, guns have played a vital role in their international identity, as America pulls out all the stops to ensure each new gun massacre is bigger and better than the last. Join the award-winning producers of Coriolanus and The Clouds this winter on a heart-warming journey as the sole survivor of the slaughter of a cheerleading squad turns her tragedy into triumph!
Gunplay starred
Salesi Le'ota as the Narrator
Joe Dekkers-Reihana as Cody Garcia (an everyman)
Michael Ness as Dale Campbell (local sheriff)
Uther Dean as Melvin Campbell (Dale's brother)
Jean Sergent as Dawn Cooley (former Miss America contestant)
Hilary Penwarden as her daughter Savannah (a cheerleader)
Ellie Stewart as Skyler McLain (the most popular girl in school)
Aidan Weekes as Connor McLain (Skyler's brother, basketball champ)
Jonny Potts as Chuck Larrimore (gunstore owner)
Alex Greig as Jeff Fuller (the town's once-great All Star)
Michael Trigg as Noah Schwartz (a youth pastor)
Kirsty Bruce as Mallory Gilmore-Billington (a post-grad student)
Brianne Kerr as Kara Bowman (eighth runner up in American Idol 2005)
Alice May Connolly as Gracie-Luellen Peed (state rifle shooting champion)
David Lawrence as Beau Babbitt (ham radio enthusiast)
Julia Harrison as Georgette Drotz (a cocktail waitress)
and introducing Langdon Cobbe as DeShawn Washington

Stage Manager
Dasha Fedchuk
Lighting Design
Uther Dean & Charlotte Pleasants
Sound Design
Walter Plinge
'Welcome to Fairview' Lyrics
Rothwell
, Music
Harrison/Lawrence/Le'ota/Rothwell/Pendwarden
'Devastated' Lyrics
Rothwell
, Music
Lawrence
'Trigger-Finger' Lyrics
Rothwell
, Music
Bruce/Kerr/Lawrence/Le'ota/Rothwell/Stewart
'The Devil's Prayer' Lyrics
Rothwell
, Music
Lawrence
Lighting & Sound Operator
Charlotte Pleasants
Uther Dean dressed by
Charlotte Simmonds
Publicist
Brianne Kerr
Graphic Design
Santa's Little Helper
Directed by
David Lawrence

---
Last modified May 2020, bitches! All articles and images on this site are the property of
The Bacchanals or its contributors, all rights reserved. Bender is great! Copyright © 2000 - 2020
questions and comments about these web pages may be sent to greetings@thebacchanals.net
site made possible by these folk