i'll make a quagmire of your minglèd brains
The VUWSA Shakespeare Club in association with The Bacchanals present
the wars of the roses — episode vi: king henry the sixth, part one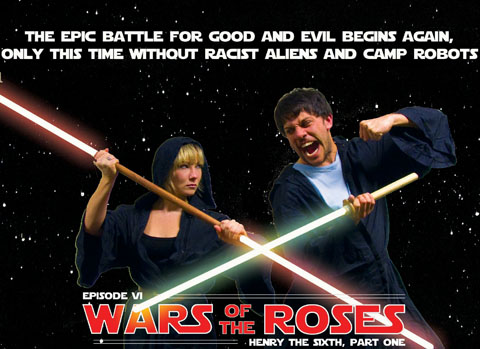 by william shakespeare & co
Friday 12 October - Sunday 14 October 2009
Union Hall, Victoria University of Wellington

Every saga has a beginning.

Every journey has a first step.

Every great trilogy has a weird prequel.

The epic battle for good and evil begins again, only this time without the racist aliens and camp robots.

Cast (in order of appearance)
Edmund Mortimer Earl of March Walter Plinge
A Gaoler Allan Henry
Richard Plantagenet rightful Duke of York Alex Greig
Princess Katherine of France widow to Henry V Alison Walls
The infant Henry VI Jacob Weatherhead
The Duke of Bedford brother to Henry V Thomas Horder
The Duke of Gloucester brother to Henry V Salesi Le'ota
The Duke of Exeter uncle to Henry V Anais Alcorn Goldsmith
The Bishop of Winchester uncle to Henry V James Barber
Three Messengers Daniel Watterson, Lori Leigh, Eleanor Stewart
Charles, the Dauphin supposedly rightful King of France Jackson Coe
The Duke of Alen'on Melanie Duncan
Reignier Duke of Anjou and King of Naples Hannah McKie
The Bastard of Orleans Blair Everson
Joan Puzel a peasant Jess Aaltonen
Two Warders at the Tower of London Jackson Coe, Alice Lean
Woodville Keeper of the Tower of London Kirsty Bruce
The Mayor of London Emma Rose Luxton
The Mayor's Officers Ralph Upton, Eleanor Stewart
The Master Gunner of Orleans Blair Everson
The Master Gunner of Orleans' Son Anais Alcorn Goldsmith
Sir John Talbot a Ninja Allan Henry
The Earl of Salisbury hero of the Battle of Agincourt Brooke Smith-Harris
Sir Thomas Gargrave speaks two lines and then dies Emma Rose Luxton
Sir William Glansdale gets one line and survives Ralph Upton
A Messenger Alex Greig
A French Sergeant at Orleans Ralph Upton
A French Sentinel at Orleans Alison Walls
The Duke of Burgundy a supporter of the English Laura Feslier
A Soldier who likes stealing clothes Alice Lean
A Messenger serving the Countess of Auvergne Jackson Coe
The Countess of Auvergne a countess Louise Burston
The Countess' Porter a porter Alice Lean
The Earl of Warwick supporting York Kirsty Bruce
The Duke of Somerset Ralph Upton
The Earl of Suffolk supporting Somerset Blair Everson
Vernon supporting York Alice Lean
A Lawyer Emma Rose Luxton
King Henry the Sixth Daniel Watterson
Factious Servants of Gloucester and Winchester Alice Lean, Laura Feslier, Eleanor Stewart, Louise Burston
A French Soldier who likes holding a sack at Rouen Alice Lean
A doorkeeper at Rouen Blair Everson
An English Captain at Rouen Brooke Smith-Harris
Sir John Falstaff a Knight of the Garter Walter J. Plinge
Bassett supporting Somerset Emma Rose Luxton
The Governor of Paris Hannah McKie
A French Captain at Bordeaux Eleanor Stewart
A Messenger That Meets York Louise Burston
Sir William Lucy a messenger Lori Leigh
A Captain serving Somerset Daniel Watterson
John Talbot son to Talbot Thomas Horder
Talbot's Servant Brooke Smith-Harris
A Papal Legate Thomas Horder
A French Scout Alice Lean
Margaret daughter of Reignier, later Queen of England Alison Walls
A Shepherd father to Joan Walter J. Plinge
English Courtiers, French Soldiers, English Soldiers, Priests, Sentinels, Nuns, Watchmen, Fiends played by Members of the Company

Stage Manager Brooke Smith-Harris
Set Design Thomas Horder
Publicist Louise Burston
RCM Melanie Duncan
Meat Puppet & Fly-By Co-Ordinator Louise Burston
Frockmonkey Jess Aaltonen
Headband Facilitation Alice Lean
Virtual & Viral Josh & Mia Judkins
Poster & Flyer Design by Santa's Little Helper
Placement Controller Fiona McNamara
Fights by Allan Henry
Directed by David Lawrence



The truth is, it was all an elaborate scam to get free rehearsal space. If you were a university club, you didn't need to pay to use meeting rooms in the student union building or to hire the Union Hall. So we formed a university club. And Fiona thought it would open up other funding avenues if we said "The Bacchanals in association with" because she could claim Alex, Allan, Salesi and I were theatre professionals coming in to train/teach/share our wisdom with the rest of the cast and maybe find money to pay us. That is the simple explanation for how, in October 2009, the VUWSA Shakespeare Club in association with The Bacchanals came to present the play the Folio calls The First Part of Henry the Sixth, which you may know as Henry VI, Part One, and because of academic pedantry I'm always going to refer to as 1 Henry VI.

Okay, let's back up, because there is a lot more to it than that. It has its origins in a special meeting in 2007, organised by Bill Sheat, to which a bunch of arts and theatre leaders were invited. Having read about the Royal Shakespeare Company's Complete Works Festival in 2006 (if you've read elsewhere on this site you may know that participation in this festival was our goal when we added Measure For Measure to play in rep with our existing production of A Midsummer Night's Dream—we had wanted to be able to perform five plays in rep by the time we got to the UK), Bill wondered if the various arts organisations in Wellington might be able to do something similar in 2009, bookended by the 2009 and 2010 Summer Shakespeares. The NZSO could perhaps do a concert of orchestral music like William Walton's Henry V score, the RNZ Ballet could revive their Romeo and Juliet or A Midsummer Night's Dream, and Opera could do Verdi's Otello or Macbeth; the professional theatre companies could have the popular good-box-office commercial plays; the university theatre programme could theme each of its practical courses to focus on more interesting choices of play since they weren't constrained by box office; the Summer Shakespeare ought to be a large-scale play that would be beyond the resources of a professional company; and there was scope for amateur and community groups to take on whatever might be left over. When asked what The Bacchanals might do, it was obvious to me: "The Bacchanals will do the three parts of Henry VI plus Richard IIIin repertory, with a cast of 20 across all four plays. A different part each night, and then the whole lot over a weekend," I said.

The festival happened, but not really as Bill had envisaged it. SGCNZ got some infrastructural funding that went about as far as a website and a logo, but none of the major companies ended up coming to the table—there was no orchestra, no opera, no ballet, and some of the amateur and student groups snapped up the titles most likely to sell tickets at Circa or Downstage so those theatres dropped out of doing full productions (it would hardly be a 'complete works' festival if it were five Twelfth Nights and ten Romeo and Juliets). The university did exactly what they'd said they'd do and in some ways those were by far the most interesting and successful productions—a circus-themed Richard II, Gary Taylor's reconstruction of the missing play Cardenio, and Megan Evans did a brilliant Pericles for her Asian Theatre course where every location in the play drew its influence from a different form of Asian theatre. But if you were someone like me hoping this was the year you'd cross Timon of Athens and the two parts of Henry IV off your score card, it was a disappointment. And rather than putting Shakespeare on the front page of the cultural capital, it was much more low key rather than every production being a Big Event—I'd imagined that on the opening night of the Summer Shakespeare in February, everyone would go "38 to go!" and by Cardenio in May, we'd be "26 to go!" and by the time it got to Pericles or the annual Toi Whakaari first-year Shakespeare pieces in October, we'd be tired but "just 9 plays to go, hang in there!" and at curtain up for the opening night of the 2010 Summer Shakespeare all those people that had been there a year ago would be yelling, "LAST ONE!" and the city would feel like we'd achieved something bonkers and worthwhile. The whole canon in a year!

Funnily enough, I did at least get to do the "38 to go!" side of things. I was invited to direct the 2009 Summer Shakespeare, which would launch the festival, and I chose Henry V. I'd always wanted to do it and had always thought it would make a great Summer Shakespeare and be a fantastic large cast show. With a central premise of a new ruler cementing his presidency—I mean reign—by illegally invading another country it felt timelier than ever. It had a sufficient Bacchanals component in that Simon production-managed it, Alex came on board in the title role, and Allan readily agreed to choreograph all the fights with one stipulation: "I also get to be in the show as an actor, and I get a hero fight with Henry V!" Traditionally if there's a hero fight at the Battle of Agincourt it's Henry versus either the Dauphin or the Constable, so Allan played the Constable. David Goldthorpe was also there as the Archbishop of Canterbury, Jonny Potts as the Duke of Exeter, and Jack O'Donnell as Nym. In fact it was a super company, made up of a mixture of professional actors, students, and folk from the wider theatre community, Throughout that epic summer I was often referring back and forth through the plays, saying "This is the conclusion of a plot thread set up in 2 Henry IV" or "This will get resolved when these characters come back in 1 Henry VI" and so on. Over the course of Henry V there were all sorts of conversations along the lines of "Next year, the Summer Shakespeare should do 1 Henry VI so we can all come back and play these roles again, and then in 2011 they can do part 2, and part 3 in 2012 ..." and I must have said to some of them that summer that I intended to do the three Henry VI plays plus Richard III as my personal contribution to the complete works year, because I certainly did up doubling charts for them, with a cast of 25, somewhere in the first half of 2009. And as I write this, I also remember that I did obtain some funding—besides the work being done in class, Victoria University gave some funding to the festival to distribute in small sums to particular noteworthy projects, and I was one of those beneficiaries. It was a small amount of money, basically with which to pay myself for directing the three parts of Henry VI plus Richard III. But that was the total amount of money the project had—I didn't have a cast, or a team, or a venue, or dates, or really the will to do anything in 2009. In January, my relationship of three years ended with great messiness and uncertainty and I used directing Henry V to try and ignore it, then directing and adapting Hedda Gabler at BATS to try and process what was going on, and then spent the rest of 2009 in a deep depression, in my freezing cold ramshackle old house, broke and hungry and alone except for cats. I also got really sick and had a cough I couldn't shake for a couple of months, let my hair grow out for the first time in a decade, and starved myself to the thinnest I'd been since I was a teenager. I don't remember quite why all my employment opportunities for the year came to nothing but I think, even without taking into account the heartbreak of my home circumstances, I was completely and utterly burnt out—I had been working more or less constantly without a decent break since beginning rehearsals for Twelfth Night at the end of 2002, and 2008 had been a brutal year of weeks and weeks without even a day off. I didn't have the energy over the winter of 2009 to get out of bed most days, let alone direct four Shakespeare plays in repertory. I knew it was only temporary and that by the end of the year I'd emerge from both the depression and the unemployment—I'd said yes to directing a second Summer Shakespeare in 2010, and knew the wheels were in motion for me to spend the rest of 2010 as a Teaching Fellow at Victoria University, covering my old mentor's courses and classes as he moved toward retirement. But as far as 2009 went, I knew I had the energy and resources to maybe direct one play, not four (and also, I'd been given money so I sort-of had to do something to justify it!). And while of the four Richard III is the most appealing in terms of box-office/stand-aloneism, every time I'd seen the three parts of Henry VI performed it had been as a condensed-into-one-sitting epic and Part One always got ignored in favour of Parts Two and Three—or reframed to sideline anything that wasn't part of the overall plot of the trilogy (I saw the excellent Bell Shakespeare Company production in Melbourne in 2005 where the content from the first three acts of Part One that hadn't been cut took all of 17 minutes' playing time). In just doing Part One, I could give focus to the parts that are unique to just that play: chiefly the Talbot and Joan storyline which I loved.

So, a bit like the Trilogy in 2001, I went about it in reverse order: I put the word out that I was going to do a production of just 1 Henry VI, with no firm dates but probably around October, and with no firm venue but probably a found space, and with no money or resources beyond what was in my spare room, and that anyone who felt like being a part of it would also have to be a part of working out when and where and how we did it. I knew it would be Star Wars-themed because that was how I always jokingly taught the plays—some classes in the past decade had even had the rare treat of me reading for them the scene between York and the dying Mortimer from the middle of Part 1 as though it were the scene between Luke and the dying Yoda from the middle of Return of the Jedi. We ended up with a company of 24 including many of the Henry V company, some of whom reprised characters they'd played in that production. Alex would play Richard Plantagenet, Duke of York, probably the central character of the trilogy; Salesi would play Gloucester who carries a sizeable chunk of Parts 1 & 2; Allan would play Talbot, the action hero of Part 1, and would of course choreograph all the fights. Several people in this show would later become 'legitimate' Bacchanals in the post-2011 incarnation of the company: Jess Aaltonen, playing Joan Puzel, had played Julia in a student production of The Two Gentlemen of Verona I'd done in 2006 and would play Ms Chocolate in No Taste Forever! ; Jackson Coe went from Pistol in Henry V to the Dauphin in 1 Henry VI and would play Cin Cin the psychopathic waiter in No Taste Forever!; Blair Everson would appear in Other People's Wars in 2012; and Kirsty Bruce and Ellie Stewart would become core Bacchanals over the next five years. As well as being in Henry V, Fiona McNamara had produced a play I'd directed at BATS in 2008 and we'd continue to have a director-producer relationship over a few more shows in the coming years. "Surely we have enough VUW students in the cast to warrant using rooms in the student union building for rehearsal?" I said, and Fiona came up with the idea that we formalise it into a university 'club' (the famed Drama Club, which in my undergrad days produced the Capping Revue, the Summer Shakespeare, lunchtime theatre, and a one-act play festival, as well as a ball every year and a number of workshops and social events, had wound up around the turn of the century). Everyone paid a $5 membership fee, we got access to rooms in the student union building, and out of all of that came the decision to use the Union Hall as venue for the show.

It seemed like everyone I knew was having a terrible year in 2009—relationship break-ups, depression and anxiety, financial woes, family bereavements, plus an awful suicide at Victoria University that ground everything and everyone to a halt—and the rehearsals for 1 Henry VI were an oasis of fun and joy amidst an otherwise lousy year. We rehearsed two evenings a week and on a Saturday afternoon over July/August/September. There was actually a very careful and specific academic and directorial agenda behind the production even though it may not have been even remotely clear to those seeing the show. First off, there was some exploratory stuff around the way we worked Shakespeare so I used the rehearsals as in-part a teaching environment in which we explored blank verse and conventions of early modern staging—I wanted each rehearsal to have a wider application than just the work we were doing on that evening's scenes or even on 1 Henry VI as a play. Second, 1 Henry VI is an extremely contentious play in terms of authorship and origins, and I was up to date on all the latest scholarship on the play, particularly an excellent piece written on its authorship and structure by Simon Vincent's brother Paul. A decade on I can't really recall any specifics as it's a play I haven't had any cause to come back to, but I know that I agreed with the following premises about 1 Henry VI: 1. That despite its title in the First Folio, in its day it was a separate, stand-alone play with no connection to what we now call parts two and three of Henry VI (which at the time would have been thought of as parts one and two!); 2. That Shakespeare was just one of five collaborative voices working on the play; 3. That those five 'collaborators' worked on their parts in isolation; 4. That in some cases they wrote stuff that crossed over into areas that were assigned to one of the others, which is why there are some strange double-ups (or contradictions) of information. So the text we have is an assembly of everything that was written for the play but not necessarily everything that made it into performance. Since we're talking about a Star Wars -themed production of 1 Henry VI, let me give you a Star Wars example that illustrates what I mean here: in the original Star Wars film, George Lucas intended to show an encounter at the Mos Eisley spaceport between the pirate Han Solo and the crime lord Jabba the Hutt to explain why Han was desperate for ready cash to pay off his debts. Lucas shot the scene with an actor filling in as Jabba the Hutt—it's a big wide scene on the exterior Millennium Falcon set with a bunch of supporting actors. The claim is always that Lucas intended to, in post-production, replace the Jabba the Hutt actor with the creature he'd imagined the character as, presumably using a stop-motion or CGI-puppet, but with the film massively over-schedule and over-budget there wasn't the time or money for it. So it was replaced by a small, intimate scene shot in a booth in the Mos Eisley cantina, with Greedo, one of Jabba's flunkeys from the original version of the scene, promoted from background-alien-with-no-lines to minor-character-who-relays-important-plot-exposition, and this is the scene that appeared in the original 1977 version of Star Wars—Greedo stops Han from leaving the cantina, reminds him of his debt to Jabba and the bounty now on his head, threatens him, and then Han shoots him dead. But in the 1997 Special Edition of Star Wars, in addition to restoring the print, fixing up some mistakes, upgrading some special effects and inserting new effects and establishing shots into some sequences, George Lucas restores some scenes that never made it into the original 1977 release, including the original Jabba the Hutt scene with a CGI-version of what was a giant puppet when the character finally debuted onscreen in 1983's Return of the Jedi pasted over the actor who played opposite Harrison Ford when the scene had been shot two decades earlier. While I'm sure many Star Wars fans were delighted to see the Jabba the Hutt scene restored, the problem I had was with what it did to the Greedo scene—and I'm not talking about the tinkering Lucas did with the end of the scene and the 'who shot first?' debate that followed—because dramaturgically, each of those scenes negates the need for the other. They both convey exactly the same plot and character information even down to Han Solo saying some of the same lines in both scenes. You need either the Jabba the Hutt scene or the Greedo scene for the Han Solo plot/character journey to make sense, but you don't need them both. And this is exactly what happens in 1 Henry VI: to be fully understood by the audience, Richard Plantagenet's petition in Act III to have the dukedom of York restored to his family needs either the small intimate conversation between Richard and Mortimer in Act II scene v, or the giant encounter between the York and Somerset factions in the Temple Gardens in Act II scene iv, but it doesn't need both. It's probable that both II.iv and II.v are two different writers' versions of covering the plot information needed to get us to III.i. The same thing happens in Act IV surrounding the death of the heroic Talbot and the loss of his son: IV.v and IV.vi appear to be two different attempts at writing a meaningful scene between old John Talbot and his son young John Talbot, so as to give Talbot's grief in IV.vii at his son's death some gravitas. Again, you need one or the other to get us to IV.vii, but you don't need both. What all of this meant from a production point of view is that we felt we had some licence to restructure or reshape scenes, and even omit some of the repetitions or contradictions in the text (such as Sir John Fastolfe defecting onstage three acts after he's already reported to have defected offstage, or the different agendas on what age King Henry is supposed to be).

Since much of our rehearsal was happening in the Union Hall, it made sense to use it as the actual venue for the season since it was big enough to handle the footprint of a show that sometimes had 24 people onstage at once and whose exploration of early modern staging practices required the audience to be seated on three sides, and it also had a mezzanine floor that could be used as a tarras or upper level. The decision to go Star Wars-themed answered a number of design questions: the team looking after the set went out to the landfill store and came back with a truckload of pipes, vents, ducts, grills, panels and other bits of scrap metal which they fashioned into the original film's 'used universe' aesthetic—as well as fashioning a science-fictionish throne for King Henry, we built several decorative moisture vaporators (a la the ones surrounding the Lars family homestead) for plucking white or red roses out of. We bought 30-odd different kimonos at a couple of dollars apiece from the Japanese bulk warehouse in Kilbirnie which everyone personalised into their own Jedi-esque robes. And a few Bacchanals mainstays proved handy: we'd made 20-something pikes for King Lear in 2007 which were re-used for 1 Henry VI along with wooden martial arts Bokken as weapons; and good ol' reliable colour-coded sashes and headbands were used, on top of the play's red or white roses, to differentiate in the onstage conflicts between English and French, between the Gloucester and Winchester factions, and between the York and Somerset factions. To unite the not-so-strange blending of Star Wars and samurai film culture, the stage floor was also strewn with rose petals and everyone got very good at swishing the hems of their kimonos so that petals would billow around the performance space, especially during the fight scenes. Oh, and everyone wore chucks—I had developed an obsession with Converse All-Star hi-tops over the past couple of years and in Henry V had the idea that everyone might wear them as part of a probably-unclear exploration of consumerist culture. They would feature in some way in every Bacchanals show from thereon.

The fight scenes. Oh my, the fight scenes. More than once I remember Allan saying, "I can't believe you're letting me do this!" when he would pitch a crazy fight move or sequence and I said "Absolutely!" every time. There are something like 25 different fights in 1 Henry VI ranging from one-on-one duels to skirmishes to major battle sequences with cannons and siege ladders. Working with Allan on A Renaissance Man and Henry V we'd been bound in each case by the specific genres and stylistic forms of those two plays and productions. But with 1 Henry VI all bets were off and no suggestion was too crazy. Allan and I could discuss all our favourite film and TV action sequences and he found ways of getting them into the show and teaching them to the actors, and with Allan himself as Talbot there were no constraints on the cast's ability to pull them off. In one battle, Allan effortlessly choreographed a sequence where Talbot fought 12 different people at the same time; in another sequence he had the whole company encircle and attack Jess (playing Joan) which ended with her having smacked down the entire English army. And in one of the most incredible things I've seen to this day, Allan and Jess learnt the entirety of the duel between Obi-Wan Kenobi and Darth Maul from The Phantom Menace and replicated it, move for move, at incredible speed, when Talbot (as Obi-Wan) and Joan (as Darth Maul) first encounter each other in I.v. Because so many of the company had been in the Summer Shakespeare Henry V, they'd already had four months of intensive fight training with Allan on that production, so with 1 Henry VI everyone was functioning at an advanced level so we could really aim for something spectacular with the stunts and fights.

Besides the Obi-Wan vs. Darth Maul fight, there were Star Wars jokes and references aplenty beginning with my playing the death of Mortimer (shifted from its Act Two position in the text so as to serve as a prologue) as the death of Yoda, and ranging through to Tusken Raider battle cries, Joan as a Sith lord, and at one point Talbot Force-choking a French soldier to death and then using the Force to sweep the body off stage (a trick, if I remember rightly, pulled off merely by the soldier dying close to the discovery space so that someone hidden backstage could drag them off by the ankles). There were various Padm&eacute Amidala and Princess Leia hairstyles, monster voices, and endless pitches of "What if I played this character as C3PO?" I found a cheat guide to making lightsabre effects in Photoshop which served me well for the poster, flyer and publicity images. But I think the finest Star Wars reference—and perhaps this was one of those moments where Allan said "I can't believe you're letting me do this!"—was the opening crawl: for the start of the show, we made a massive rolling banner with yellow text on black butcher's paper that was hoisted up to the tarras so that the text on it scrolled from bottom to top of frame, a la the famous openings of each Star Wars film. I know you'll only appreciate this is you're overly-familiar with both the Star Wars films and the Henry VI plays, but this was the text in its full pastiche of the crawl that opens The Empire Strikes Back: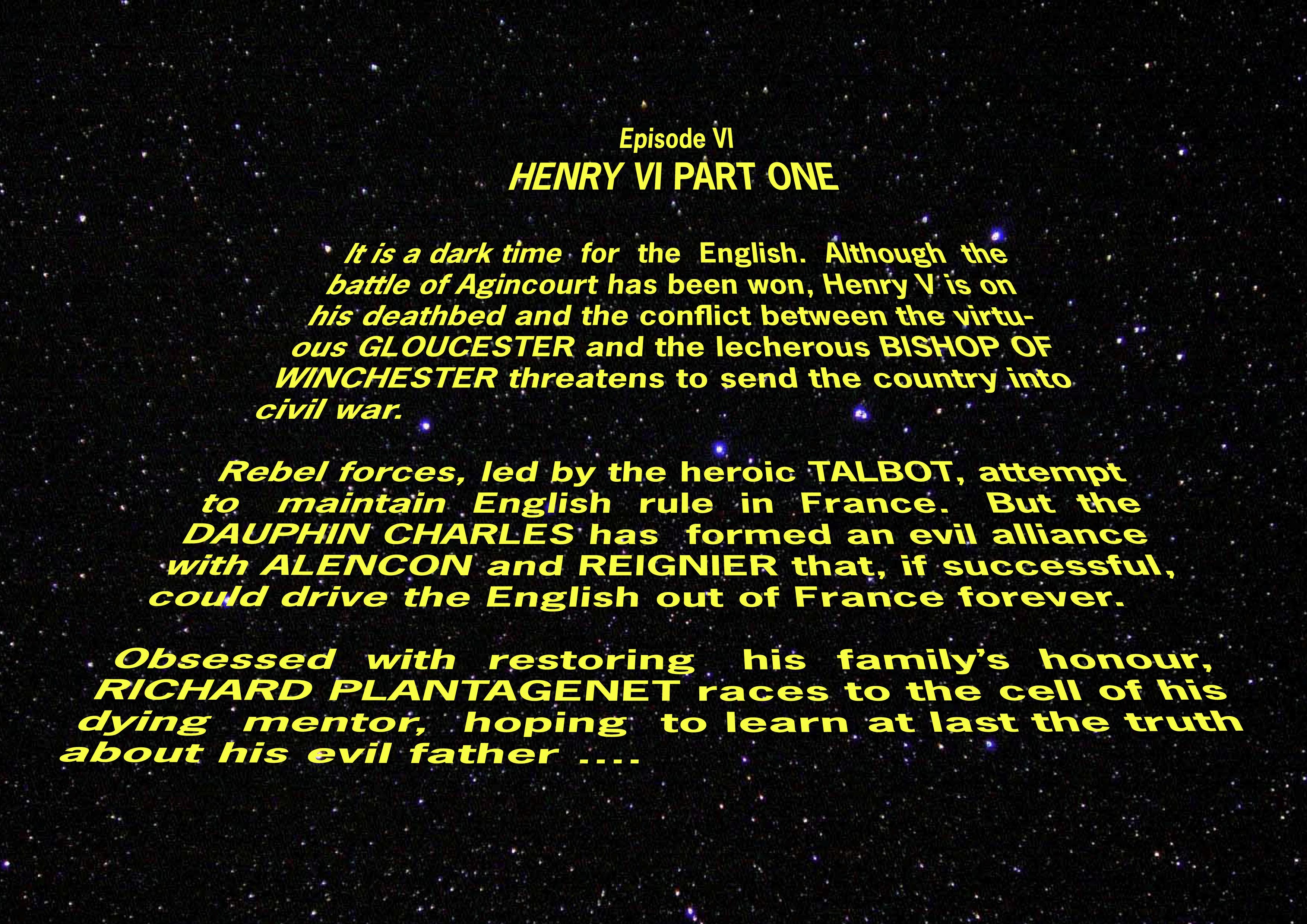 The season itself is all a bit of a blur to me now. For a project that had started when I didn't even have the will to get out of bed, the weeks around the short three-night run of 1 Henry VI had become unfathomably busy: I was teaching two seminars a week; Rachel More and I were directing As You Like It with the first year actors at Toi Whakaari which ran the week before 1 Henry VI; I was suddenly prepping to direct The Merry Wives of Windsor for the 2010 Summer Shakespeare; I was planning coursework for my impending year as a Teaching Fellow at Victoria University. The morning after the last performance of 1 Henry VI my grandmother died so any post-show analysis or comedown was swept aside for family time. I'm sure we finished 1 Henry VI intending to come back to the next two parts, presumably in the new year—I know that the allocation of roles was about the long-term plan so some folk got short-changed in terms of their abilities measured against the amount they had to do in Part One: Alison, Dan, Alex and Kirsty would have had much more to do as Queen Margaret, King Henry, York and Warwick once we got into Part Two, and I remember Allan asking if he could be Jack Cade come Part Two, and other actors wanting to emphasise certain dynamics once they'd realised "Hey, your character kills mine in the next episode!" And I do have a memory of re-reading 2 Henry VI around that time and it being very easy to visualise the cast of 1 Henry VI playing it. But having a full-time university job in 2010 came with two side effects: first, it was the first time in my life where I had the economic stability to be able to turn down offered projects if I wanted to (and I pretty much turned down almost project I was offered for 2010); and second, it was the first time in my life where I wanted my spare time to be spare time and to enjoy evenings and weekends at home instead of working on five or six different things in tandem. So 1 Henry VI turned out to be the first and last production for the VUWSA Shakespeare Club (I'd tried to convince Fiona to call it the Shakespeare's Histories Are Great club because the acronym seemed particularly lowbrow undergrad) and while The Bacchanals would many years later do a stand-alone Richard III, parts two and three of Henry VI never made it into production. Thinking about it a decade or so later, I think there were great virtues to doing 1 Henry VI on its own—something that almost never happens to that play, almost always done as part of a cycle and usually heavily cut or re-shaped—and we had an enormously fun exploratory process with it. Rather than try to treat it like we were doing Hamlet or King Lear or Twelfth Night, we just accepted it for the erratic weird uneven often-messy play that it is and focused on how could we make each individual scene or sequence as engaging or fun or dramatic or intense or funny as possible; how could we collectively improve both our knowledge of Shakespeare's language and our approach to verse-speaking; how far could we push our ensemble-work in terms of collective storytelling? It also felt rewarding and fulfilling to come from having worked with many of the same crowd on Henry V and being about to work with many of that same crowd again on The Merry Wives of Windsor—in Henry V there had been an enormous amount of standing around being a supportive ensemble while one or two characters did all the talking; whereas in 1 Henry VI everyone got to be much more participatory and it was a play that allowed every single actor at least one interesting unique moment.
As for The Bacchanals as a company: we were, at this stage, deep in what I retrospectively call our 'Wilderness Years' in which since the end of 2005 there'd been no permanent membership, no forward plan or long-term thinking, and no consistency or coherency between any of the productions besides that they'd all been directed by me and all had Alex somewhere in them. In October 2009 1 Henry VI was coming nearly two years after our last show, A Renaissance Man in January 2008, and it would be another 14 months before the next Bacchanals show, No Taste Forever!, opened at BATS Theatre in January 2011. The nice thing about being able to retrospectively mythologise your own work is that I can with hindsight say that when we returned in 2011 it was with a new passion and a new mission and with that previous body of 19 productions to tell us what worked and what didn't work about The Bacchanals and help illuminate what the company was really for purpose-wise. Whether or not I knew that at the time is another question! But in terms of large-scale crazy projects, 1 Henry VI was much more important to the long-term work than something like A Renaissance Man which you'll read me saying elsewhere on this site felt—despite all the stuff about it that was great—an unambitious kind of Bacchanals show by comparison to the national tours of full-length Shakespeares and the grand sweeping political epics. 1 Henry V reminded me that working with passionate people was as valuable as working with professional people, and that working with people who get what the mission is can be more valuable to pulling off a crazy scheme than working with people who err on the side of what is sane and do-able. 1 Henry VI paved the way for No Taste Forever!, and No Taste Forever! paved the way for the proper rebirth of The Bacchanals as a fully-functional company and reminded me that, whatever professional and artistic success I'd had elsewhere, I was always happiest in control of my own destiny and trying to recapture and harness the crazy energy and magic that occurred whenever this strange entity called The Bacchanals were together. Did I realise then the best shows were yet to come? Find out next time! —David, August 2020

---
Last modified May 2020, bitches! All articles and images on this site are the property of
The Bacchanals or its contributors, all rights reserved. Bender is great! Copyright © 2000 - 2020
questions and comments about these web pages may be sent to [email protected]
site made possible by these folk