i'll have these players play something like the murder of my father before mine uncle...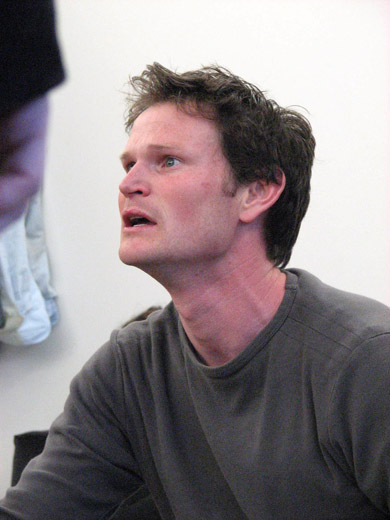 the tragedy of hamlet,
prince of denmark
by william shakespeare
Friday 1 December 2006 - Brooklyn Community Centre; Saturday 2 December - St Peters Hall, Paekakariki; Tuesday 5 December - St Jude's Hall, Lyall Bay; Wednesday 6 December - Muritai School Hall, Eastbourne; Thursday 7 December - Island Bay Community Centre; Friday 8 December - Tararua Tramping Club, Mount Victoria; Saturday 9 December - Hapai Club, Upper Hutt; Tuesday 12 December - Newtown Community Centre; Wednesday 13 December - Makara Community Centre; Thursday 14 December 2006 - Queen Margaret College Hall, Thorndon
Wellington audiences have the once-in-a-lifetime opportunity to experience FREE live professional theatre this December when The Bacchanals take to community halls around the region for the Christmas season. Award-winning actor Simon Vincent takes the title role in a brand new production of Shakespeare's Hamlet, directed by David Lawrence. Banish thoughts of the boring, melancholy Dane and prepare to embrace the play stripped back to its theatrical best.
cast:
Simon Vincent (Hamlet), Erin Banks (Ophelia), Jean Copland (Gertrude), Alex Greig (Laertes, Rosencrantz), Phil Grieve (Reynaldo, First Player, Priest, English Ambassador), Salesi Le'ota (Barnardo, Guildenstern, Fortinbras), Jack O'Donnell (Cornelius, Player Queen, Osric), Phil Peleton (Claudius, Ghost of King Hamlet), Jonny Potts (Marcellus, Player Poisoner), John Smythe (Polonius, First Gravedigger), Ginny Spackman (Francisco, Voltemand, Prologue), James Stewart (Horatio), Walter Plinge (musician)
Poster image Erin Banks; Venue liaison James Stewart; Original music Walter Plinge & Evil Ubercrave; Directed by David Lawrence
2006 to 2010 are what I retrospectively call 'The Wilderness Years', the second phase of The Bacchanals. Everything from the first phase, 2000 to 2005, had been part of a long-term plan with some shows conceived several years before they happened, with a regular repertory company who knew what we were going to be doing for the next two or three shows (for example, Carey, Eve and Tina knew while we were performing Wealth and Hellbeing in March 2001 that they'd be playing Hamlet, Gertrude and Ophelia the following February), and people were brought into the company for their long-term viability as an ensemble member, not for one-off projects. We were like a weird gang or band as much as we were a theatre company (people likened the logo on the back of the hoodies all the 2005 Bacchanals had to a gang patch). From 2006 to 2010 there was no forward planning — The Bacchanals existed project by project. A cynical way of looking at it was that The Bacchanals was a thing I sometimes used because it was a name people understood on funding applications and was easier than opening a new bank account slash setting up a new website. That said, clearing through old paperwork during the Level 4 lockdown I was surprised to find documents from mid-2006 detailing our third attempt to establish the company as a charitable trust, which we'd tried before but kept running into issues over the company name — so maybe I'm still trying to rewrite/narrativise/mythologise my own history?
Hamlet was the only Bacchanals show in 2006 and our first in over a year. A lot had happened in that year. Post-2005 Chapman Tripps I was flavour of the month and in great demand as a freelancer. I'd done Paul Rothwell's Golden Boys at Circa, Charlotte Simmonds' bi-polar play Arctic Antarctic at BATS, a touring version of The Two Gentlemen of Verona for second year actors at WPAC, the NZ premiere of Hitchcock Blonde at the Fortune, a David Geary play called A Man Walks Into A Bar in a bar; I'd been teaching at WPAC and Victoria University; and I was booked for work for half of 2007. For the first time since 2000 I wasn't having to take lighting design or stage management jobs to pay the rent (although I continued to usually light & sound design my own shows). I was in a new relationship that had transformed my life and self-esteem and I felt like a high-functioning and worthwhile human being. And yet I also felt like 2006 was a year of great professional frustration — although Hamlet quelled a lot of that.
I know I said in writing the commentary on I.D. 15 years after the fact that hopefully my anger and passion would be dulled and these would be straightforward recollections of what remnants of the shows still existed in my memory. But what still remains clear to me 14 years later is that the 2006 Hamlet was a vanity project born of anger and jealousy: Simon Vincent and I made the show because we needed to, not because the circumstances were perfect. Simon was a 2000 graduate of Toi Whakaari who had worked consistently at Circa and Downstage since 2001. We met properly working on Gagarin Way in 2004 and like most people, I think he was probably suspicious of me as an opinionated radical weirdo, but over the course of rehearsals and the run it was obvious that our passions and opinions and ideologies were alike and we were great friends by the end of that project. On the last night, in the bar at BATS, he said, "You and I are going to work together again, I know it!" and, funnily enough, we spent the rest of 2004 doing just that — at Circa on The Shape of Things and This Lime Tree Bower, at the end of which he said "I fucking hate the uncertainty and frustration of acting; I have to get a different job! Maybe I should go and work in a restaurant or something" and I suggested he come on the road with Taika, Jemaine and I to stage manage Taki Rua's The Untold Tales of Maui as he had the perfect relaxed temperament to cope with Taika and Jemaine's loose ideas about punctuality and consistence of performance. We spent the rest of the year on that show including a long stretch in a Christchurch apartment as I planned A Midsummer Night's Dream and he wrote early drafts of what eventually became 2008's A Renaissance Man.
In 2005 we worked on Albert Belz' Yours Truly for Tawata. Hone Kouka had noticed a recurring thing in theatre whereby often in the race to get a production up and running, the writer was forgotten about, so he set up a project that was writer-focused whereby you had three weeks of full-time rehearsal and then a week performing the play to audiences but without costume, set design, lighting and sound elements beyond those deemed essential to an audience understanding the play — which Hone rightly reasoned was pretty much how I worked anyway. Yours Truly was the first in a series of four plays and I directed it, with Hone producing and Albie in the room throughout, Simon playing Walter Sickert, plus Erin, Alex, Miria George, Erina Daniels and Bruce Phillips. The other benefit Hone thought the process would have was as a sort of sales pitch for the four different scripts in question, reasoning that workshop productions like these were a much better way of proving the scripts' viabilities as full productions to directors and producers. Two things happened on the penultimate night of Yours Truly after the Friday show that resulted in our 2006 Hamlet. First, a production of Hamlet had just finished its run at the Fortune in Dunedin, and another production was scheduled to play at the Court in Christchurch in 2006, and we were boggling over some of the casting choices. In particular, Simon was vexed by not even being in the picture for either production, especially considering that the Hamlets in each production were close contemporaries of his. "I know what we should do," I pitched (cue Bart Simpson with fingers crossed wishing 'Crazy scheme! Crazy scheme!'). I felt ready to direct the play again and I knew that if anyone in New Zealand ought to be playing Hamlet in 2005/2006, it was Simon. Over a few whiskeys we worked the whole thing out and even for a fast strategist like me it was amazing to end the night shaking hands going, "Okay, so next year We Are Going To Do Hamlet Together!" and we started talking to hypothetical wish-list actors pretty much the very next day. The other thing that happened — and I question whether it's even kosher of me to talk about this but what the fuck; it's what happened — was that Hone said, "You know what? I don't want to wait around for someone else to do a full production of Yours Truly. I want to produce this next year at BATS, and do it with you guys rather than risk someone else ruining it." Simon, Erin and I in particular were stoked: in 2006, we were going to do Hamlet together and revisit Yours Truly, a brilliant script we all believed in, in a full production. It had hit written all over it — and with Hone backing it, not to mention our awards prestige post-I.D., how could this not get Creative NZ funding? And this was how we all blissfully carried on over the next few months, not knowing that behind our backs an actor who had seen our workshop production fancied the idea of playing Sickert himself, went and licenced the script from Playmarket, and was already long down the path of setting up his own 2006 production of it. Because this actor was also working with Hone on the Tawata series of workshops, Playmarket assumed Hone was in the loop, and because the director he secured was also called David, Albie assumed when he was notified that it was me and signed off on it. In November Albie sent me a new draft incorporating all the changes and learnings from the workshop season which I passed onto Erin who was in another show with the actor in question and when he saw her reading it and asked, "What's that?" Erin said, "Oh, it's the latest draft of Yours Truly, the amazing new Albert Belz play we're going to do at BATS next year!" and he said breezily, "Oh really? I'd love to read it" having already secretly licenced the play and got it programmed at BATS. Albert eventually broke the news to us and in the moment I reasoned, well, better that someone else does it than that it doesn't get done, and Hone said in surprise, "I really didn't think anyone else was interested, otherwise I would have got on to licensing it", but as the full extent of the duplicity revealed itself we were so so sad, and so so angry. I know, I know; this is needless sour grapes, but you have no idea how huge the albatross of Yours Truly loomed over us in 2006. Every aspect about how the production played out felt like a deliberate fuck you rather than just unhappy circumstances and the injustice of seeing Simon, Erin and Alex miss out on reprising their roles irked me even more than not getting to direct it. Knowing I was something of an expert on Jack the Ripper from my days working at the London Dungeon, Radio New Zealand even asked me to review the play. I bring all of this up for a simple reason: over the course of 2006, Simon and I couldn't get Hamlet funded, we couldn't get it programmed at Downstage or Circa, we couldn't get any of the interesting found spaces that were our back-up venues, and without funding we couldn't get most of the wish-list actors involved. By August of 2006 we should have pulled the plug on the idea ... but we were both so personally demoralised by the Yours Truly experience that we felt we had to, for the sake of our own happiness, find a way of doing Hamlet so we didn't finish the year angry and depressed. We'd also been trying with no success to get a production of Gavin McGibbon's brilliant noir play Nick Stuart funded & programmed — we knew it was a hit but couldn't convince anyone and the idea died a death after our last unsuccessful pitch for it in 2010 — and then another company beat us to a 50th anniversary production of John Osborne's Look Back In Anger, which we had been talking about doing since Gagarin Way. (I never saw it as it was on while I was in Dunedin directing Hitchcock Blonde but I remember with fondness Simon's e-mail to Erin & I about it, entitled 'Looking Back At Look Back in Anger, In Anger'.)
Okay, long angry contextual rant over. The idea of making it a koha show came from Amanda Hereaka — we asked her to produce it and she passed, but not without giving us a lot of her time and great advice. When we were talking about the eternal paradox of applying for community grants money while being a professional theatre show, she said, "Well, one way that you might be able to open up that funding and those spaces is if you didn't charge admission!" and that inevitably led to the idea of playing it bare bones, in a different community space every night. This aligned very much with mine and The Bacchanals' philosophy about accessibility: what happens if you don't have to travel anywhere and you don't have to pay to see it? what if the only thing you had to invest in seeing a piece of theatre was your time? If it's free, Simon and I reasoned, then it's a gift to Wellington from the theatre community, and that meant the cast could then comprise people who were members of the theatre community even if they weren't active as actors—at one point Robin Payne, former head of Toi Whakaari, was interested in playing Gertrude, and we'd hoped acting guru KC Kelly would play Claudius. This idea of the show as a gift from the theatre community led to one of my craziest and best ideas ever. We were sitting in Deluxe talking about Polonius — Bruce had already told us he couldn't do it — and I was scrolling through the contacts list on my phone thinking there must be someone we've not thought of and there it was: "What about John Smythe as Polonius????" We both burst into laughter. "That's genius — he is Polonius," said Simon and then we thought would John find the idea offensive? In his capacity as a reviewer John hadn't exactly been The Bacchanals' greatest fan, and had been downright mean about some shows and actors. But we had always got on socially, he was a passionate advocate for theatre, he'd grudgingly had to admit our 2005 shows were really good, and he'd been the first person to turn my controversial Chapman Tripp speech of 2005 about lack of funding for young theatremakers into a news piece. But John, having played Polonius at NIDA decades before, was thrilled at the idea and it was certainly a draw for some audience members and a great example of social levelling: flubbing your lines on the floor in rehearsal, all humans become equal. Returning from my 2002 production were Alex, reprising his role as Laertes but this time doubling it with Rosencrantz, and James, this time playing Horatio. Erin as Ophelia was a no-brainer, and she also designed the poster. Salesi took on Francisco, Guildenstern and Fortinbras. I'd been trying to find an opportunity to work with Phil Peleton, a graduate of the Poor School in London — a church of Grotowski run out of a garage — for a while (he'd nearly been in I.D., nearly been in Golden Boys) and he doubled Claudius and the Ghost. Phil Grieve had also nearly been in I.D. but finally made his return to The Bacchanals for the first time since Othello in 2000 to play Reynaldo, the Player King, the Priest and the English Ambassador. Jean Copeland, Toi Whakaari grad and sister of Simon's then-partner, played Gertrude; Jonny Potts was a long-time friend of The Bacchanals and had spent several years reviewing theatre for a now-defunct website and readily came on board to play Marcellus, and a bunch of other characters as Marcellus — we found a number of scenes where we could insert Marcellus into conversations he shouldn't have been a part of (an idea I took even further in my 2019 production for Pop-up Globe where necessities of meeting a 2 hours 15 minutes running time meant Horatio and Marcellus actually heard the Ghost's tale in I.v). Ginny Spackman was one of my students at Victoria University, and I'd been having intense conversations about Shakespeare with Jack O'Donnell since he was 10. In Golden Boys we'd wanted a genuine child to play murdered 12-year old Keith Borstal, in the idea that while all the other children in the play (played by adults) grew old, Keith remained eternally 12 and at 16 Jack was no child but looked young and innocent enough to fulfil the brief. About to enter his final year at Wellington High School where, like me 14 years before him, he was going to direct the annual Shakespeare Society production, I thought Jack would benefit from being in someone else's production as part of his prep, as I had being in the university Summer Shakespeare between my 6th and 7th form years. There were scores of other actors who at one point or other were going to be in it, but as always with The Bacchanals, it ended up with the cast it was meant to have rather than the cast it should have had (let me be clear that is meant to be positive, not despondent!).
We rehearsed quickly and efficiently, three evenings a week and a weekend afternoon for six weeks, in a combination of the Tararua Tramping Club rooms, at the new Toi Poneke facility on Abel Smith Street, and in my living room. Whereas I'd gone into the 2002 Hamlet with years of thought and a whole workbook of notes on how every moment of every scene ought to work, I directed the 2006 Hamlet pretty much instinctively and with no plan — I had a half-page of notes at the start of my exercise book at the first rehearsal but otherwise just made it up as we went. I remember an afternoon rehearsal in my living room working on the nunnery scene where, after futile attempts to impose my 'it's about murder rather than suicide' reading onto Simon, we tried the idea of Hamlet delivering 'To be or not to be' entirely to Ophelia for the first time and loved it, even though we didn't know exactly what it meant. For the last few rehearsals before the first performance, we took over one of the studios at Toi Whakaari and I remember those runs being absolute magic—I felt like my father's ghost was in the room with me. I also remember the music—I'd set all of the songs and composed all of the music for Bacchanals shows since 2001, often writing in collaboration with Eve or Julia. Praise from Gareth Farr about the music in Golden Boys made me suddenly take it much more seriously and the right arrangement for 'I loathe that I did love', which finished the production, only really came to me during the second half of the opening night—I sat there on my bench, in view of the audience, silently making guitar shapes and trying to perfect the melody in my head, before having to stand up and sing it after the final lines of the play. What has always stayed with me about this production—aside from that we had a great time and whatever the time restrictions, I don't think there was ever any anxiety that we wouldn't pull it off—was the comment someone made in a review or on a blog about how, "the most impressive thing was the way they seemed to conjure the play out of nothing" and that set a benchmark for me of what I always wanted theatre to do from that point.
I've looked back on my diary notes to see whether they remind me of all the brilliant things that happened over that run, but like my entries on I.D. they're too focused on "Too slow, lacking in intensity, this scene misfired for me, didn't think person x achieved the right tone in that speech, Simon and Alex made a mistake in the fight" when the narrative ought to have been despite the odds, we made a show people loved out of nothing and had a great time together. As I said in the last commentary, I wish in the mid-2000s I could have quieted the over-critical part of my brain and enjoyed the good times, which I certainly got better at in the 20-teens. I do remember loving the dustiness of St Peter's Hall in Paekakariki and the shafts of setting sun as Simon reached 'To be or not to be'; I remember loving how cramped and intense the space was in the Island Bay Community Centre, and the overflowing audience in Newtown; I remember the corpses corpsing the night Salesi accidentally said "Go, bid the shouldiers shoot" on the last line; I remember that stalwart Bacchanals repeat audience member Steve Dean only missed one performance and always stayed behind to do the dishes (we served tea and coffee at the interval). And I remember numerous times where we sat up drinking whiskey after the show and I didn't get home until birds were chirping.
Some festival directors talked to us about reviving it for the arts festival circuit in 2007 and I know some actors were keen to see it happen, but Simon and I both felt that to put the show in a swanky, fixed space (where it would have to be 'designed' or at the very least lit properly) and charge swanky, festival prices would be to have missed the whole point of what we'd achieved with the original production so it never came to pass.
I discovered on file that I wrote about my two different Hamlets for The Bacchanals in response to questions from Lisa Warrington at Otago University for an article around 2007 or 2008. It's fairly succinct for me and says stuff about the production and process that 2020 David has little to no recollection of, so here is what 2008ish David remembered about the 2006 Hamlet with Lisa's questions:
LW: I get the general idea with 2006 of no frills touring to halls, etc. Is there anything else that specifically encapsulates a difference in approach between the two productions? For example, am I right in assuming that the 2006 version takes the audience into its confidence, as it were, acknowledging them in ways that the first one didn't, and playing amongst them, rather than marking out a special playing area apart from the audience? As I see it retrospectively, the fundamental difference between the two productions is what you've suggested — the 2002 production attempted to create detailed, psychologically complex characters and an entire physical world for the play to live in (the different rooms and spaces within the venue became the different rooms and spaces within the play), whereas the 2006 production was very much about an ensemble of players presenting a play. Because we had no backstage space in most of the venues, everybody sat to the side of the performance space when not onstage; actors by necessity had to mingle with audience before the play started, and the play started with a song, during which the actors 'assumed' their personas (without wanting to sound too vague and wanky), before the first scene began. Likewise, at the end, during the final song the corpses simply got up and became Simon, Jean, Phil, Alex etc. again. The 2002 production had direct address and tried to directly involve the audience BUT the 2006 one never tried to pretend it wasn't a play — very much in keeping with the idea of it being a free show taken into the community.
The 2002 Hamlet was one of the most meticulously planned shows I've done — every step of every scene was concepted carefully, because after Othello and Titus Andronicus I figured people would quickly get tired of me doing 'no concept' productions (and I wanted to prove that I could do a concept). I thought I'd recycle a lot of the same ideas for the 2006 one, because many of them were great little ideas and gags and readings — but really the only things the two shows had in common were that Alex Greig played Laertes in both 2002 and 2006, and that I recycled the same musical arrangement for Ophelia's songs in IV.v. And in many cases I went with ideas that I'd been hugely opposed to first time around—for example, Phil Peleton doubled the Ghost and the King (whereas I'd refused to let John Porter, who played the King in 2002, also play the Ghost); Phil and Jean opted to play the King and Queen as a couple who were very much in love (whereas in 2002 I went to huge lengths to emphasise that the marriage was entirely political); John Smythe played a bumbling Polonius who doted on Ophelia (whereas Mark Cleary played a calculating, un-smiling Polonius who saw his daughter merely as a commodity); Salesi played Fortinbras as the gracious prince claiming his rightful inheritance (whereas Adam McMahon played him as the conquering dictator); Simon played "To be or not to be" directly to Ophelia, as a meditation on love and death (whereas Carey played it as a justification of murder and revenge); and while the gravedigger's companion was a second gravedigger in 2002, in 2006 he was the priest trying to hurry the preparations for Ophelia's funeral. So I found that more often than not I was trying the exact opposite of what I'd done in 2002. Another fundamental difference was that I didn't make any conceptual plans — everything about the 2006 production revolved around what the actors brought to the rehearsal room. That said, I had a list of specific preconceptions/misconceptions about Hamlet I wanted to deal with that had come up every time I'd taught the play between 2002 and 2006.
Did you continue to play the full text, and was it all Hamlet, or did you add anything else (ie, the way you say you substituted bits of the 'bad quarto' in 2002)? The 2006 production used an edited text. Whereas you go to theatre on the theatre's terms, we reasoned that when you're taking shows into other people's spaces, you do so on their terms — so we decided that an audience shouldn't have to sit on an uncomfortable community centre bench or pew for 4 hours just because I don't like cutting plays.
There were some line trims around the political material in I.i.70-128, in Ophelia and Polonius' dialogue in the second half of I.iii, some of the Ghost's speech in I.v was cut; the Polonius/Reynaldo section of II.i was pared back considerably; the business about boy actors in II.ii was cut, the advice to the players and conversation with Horatio at the start of III.ii was cut; Rosencrantz and Guildenstern's lines in III.iii were cut; the stuff that's traditionally cut from III.iv was cut; IV.i and IV.iii were rearranged and segued together, and IV.ii cut altogether; IV.vii was heavily edited; and finally at the start of V.ii Hamlet and Horatio's dialogue was stripped right back, as was the segment with Osric and the Lord prior to the fencing match.
And yes, as with 2002, I couldn't help myself — IV.vi was replaced by the Q1 scene between Horatio and the Queen, for the same reasons as 2002 — not because I believe such a scene ever existed in the actual play as originally performed, but because the scene's presence in Q1 makes it clear that it must have been explicit in the original performances that the Queen turned on the King after Hamlet's revelations to her in the closet scene. This time around it actually saved us some time also, as it meant we could omit a few lines in the King and Laertes' dialogue in IV.vii that are already explained in Q1's scene. Next time I do the play, I'm determined to give the Horatio/Sailors version a go — unless I end up doing the whole Q1 text, just for a laugh! Note from 2020 David: in my most recent Hamlet in 2019 for Pop-up Globe, I used the Q1 scene, yet again. Next time, sailors! The only additions were Phil Grieve's unscripted contributions — at the end of Hamlet's "I heard thee speak me a speech once" he'd usually say, "Ahh, Dido!" under his breath while I held up a copy of Marlowe as the players all worked out which play Hamlet's referring to; and as one of the offstage Laertes followers Phil would always bellow "It is his sister!" before mad Ophelia's re-entrance in Act IV (he was concerned that there was no reason for Laertes to know it was her from the offstage noise).
Did Simon Vincent bring specific attributes that dictated his performance as Hamlet?Another major difference between the 2002 and 2006 productions, to my mind, is that the 2002 production was very much an ensemble piece — as I've said above, it was about trying to create an entire world — whereas the 2006 production was conceived as something more of a star vehicle — Simon Vincent Is Playing Hamlet rather than The Bacchanals Do Hamlet. Without wanting to discredit Carey Smith's performance in 2002, Carey was very much playing Hamlet as conceived by me — all the business, interpretation, mood etc. was how I'd have played the role. And Carey and I had started informally rehearsing six months earlier, plus we had a month of full time rehearsal with the entire company in the venue (I think our first full run was a good six weeks out from opening night, whereas our first full run of the 2006 Hamletwas five days before opening night). Simon and I had huge conversations about the part and the play in the year between deciding to do it and actually starting work on it, but we worked much more in the way Taika Cohen and I had on Othello, which was that Simon worked out how he wanted to play key scenes and moments and my job was to align what he was doing with the other actors, the play and the production. Carey and I worked quite meticulously, line by line, scene by scene; whereas (again, like Taika's Othello), Simon would come in and try to embrace huge chunks of the play, with us filling in the details afterwards. Actually, this is also akin to Mick's performance as Lear — and as with that situation, lack of time (and money in the case of Hamlet) meant we just had to get it done and on its feet as quickly as possible. Simon's was a very emotional and passionate Hamlet; Carey's was a very intellectual and clever Hamlet. And Simon's physical presence meant we didn't have to over-emphasise Hamlet's athleticism, whereas in 2002 we went to huge lengths to remind the audience often that Hamlet could also fence as well as philosophise and read books. One person blogged that Simon's was the Iggy Pop of Hamlets and that even after killing Polonius "he just kept on rocking".
An interesting thing that came out of editing the text was how much the play can become much more centred on Hamlet — I found that characters like the Queen and the King, and especially Horatio, became much more sidelined this time around.
Did you use any props? Was it done in street clothes/rehearsal style, or were there signifying costume or prop elements? The only set was The Bacchanals' red banner which hung at one end of the traverse, and that was only there to give Polonius an arras to hide behind, and Barnardo a proper entrance at the start. Props: the sentinels had broomsticks standing in for partisans at the start; Polonius had a diary/organiser; Hamlet had a prop dagger from the players' props which he stabbed Polonius with; there was a chair in the closet scene; letters as required in the play; the players had a selection of musical instruments; and for Polonius' "Read on this book, that show of such an exercise may colour your loneliness" he gave Ophelia a copy of Waiting For Godot. I can't remember what Hamlet was reading in II.ii but I'm sure there'd have been a gag in it.
Costuming was fairly minimal. Polonius, the King and Queen were power-dressed; the Ghost simply wore a black cloak; Rosencrantz and Guildenstern were '90s Euro-trash; Laertes and Ophelia were wealthily dressed; Fortinbras, Marcellus and the sentinels all had long coats; Reynaldo was in a red courier's top and hat; the Players were dressed as the cast of John Bolton's recent Peer Gynt with 2006's graduating Toi Whakaari students — in fact we had all the red beanies and hats from that very production. Simon started out formal and austere — a long coat and a princely chain — but disintegrated into just trousers and a shirt as the play went on.
Can I assume that there were no breaks in performance (or did you have intervals and scene breaks?), and that it was fluid? (As opposed to the automatic breaks caused by the promenade element of 2002). We had one interval in between III.i and III.ii (as opposed to the 2002 production, which had an interval after III.i and then another after IV.iv) in which the actors made tea & coffee for the audience. But yes, other than that it was fluid — as much as possible I always try to have the last line of a scene handing onto the first line of the next.
Did you go for a fencing match, with actual swords, or did you subvert or downplay that in any way in 2006?Yes, there was a full fencing match at the end — although with the 2006 production being in traverse, it was somewhat spatially limited in some spaces in that it could only go from one end to the other, rather than all around the space (as it had in 2002).
I assume it was lighting, sound and generally tech free? Or not? Did you have any live or recorded music? Yes, it was tech-free and played under whatever lighting each playing space contained. In most cases this meant your standard church/community hall fluorescent tube lighting, although a few of the older spaces had hanging bulbs. And in some spaces there was a lot of natural light through windows until well after the interval.
The show had a fair bit of live music — Ophelia's songs, the First Player's "Anon he finds him striking too short at Greeks" and "But who, ah woe, had seen the mobl&egraved Queen" and the performance of 'The Murder of Gonzago' all had guitar accompaniment, and the Players also had percussive instruments and recorders. The show also opened with a song culled together with lyrics from 'Awake Ye Woeful Wights' (the contemporary song Shakespeare references in Hamlet's "For thou dost know O Damon dear" lines in III.ii) and 'The Glass Doth Run' (another existential Elizabethan song about everyone dying in misery); the show closed with a song using the proper lyrics to 'I Loathe That I Did Love', the song the gravedigger parodies a few lines of in V.i.
And finally, was there anything you might have indicated in your programme note (if you had one) or in your performances that would specifically have encouraged Laurie Atkinson's review to talk about the 'common kiwi touch' (heading) or the 'number 8 wire' philosophy? Hmmm, I'd have to think about that. The phrase I used when telling people about the show was "It's so no frills that there are no no frills" which might inform on Laurie's comments — the show was literally created out of nothing and I think that was what impressed audiences: people continually said to us that their expectations, when they sat down to a free performance in grotty school hall chairs under harsh fluorescent light while shabby costume-less actors hung up an old red banner on a bit of rope, were then completely shattered as we created the story and the world from the ground up (whereas in the 2002 Hamlet the world already existed the moment you walked into the space). What I thought worked really well about it was that whereas my Twelfth Night or Romeo and Juliet were often apologising for their shabbiness — they wanted to be properly-funded & decorated productions but instead had to make do with what resources we had — the 2006 Hamlet completely trusted that the actors and audience were all that was needed.
A key thing, I think, was that in casting John Smythe as Polonius, and deciding not to charge admission, Simon and I quickly realised that it was about assembling a group of people who loved the play rather than assembling an all-star cast — in September 2006, with only really Simon, Alex, Erin and Salesi on board, we just put the word out that we were doing it and anyone keen enough was welcome; anyone who said "I'll do it if I can play [specific role]" we didn't bother getting back to — we just wanted people who loved the play. And in having theatre critics alongside professional actors, we saw it as members of the theatre community giving something back to Wellington theatregoers for having paid throughout the year to keep us all in work at BATS/Downstage/Circa. That said, Simon and I also had a specific agenda about ticket prices — as people regularly rowing with the rest of the community that theatre should be accessible to all and that $38 a head at Circa is ridiculous if we want to expand audiences, we wanted to see whether audiences are prepared to take a punt if all they have to invest is their time.







---
Last modified May 2020, bitches! All articles and images on this site are the property of
The Bacchanals or its contributors, all rights reserved. Bender is great! Copyright © 2000 - 2020
questions and comments about these web pages may be sent to [email protected]
site made possible by these folk