as-sas-si-nation - a tasty word for a tasty deed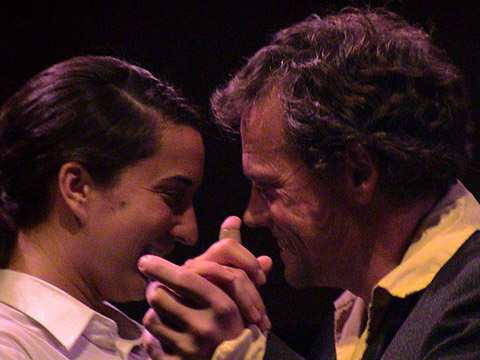 i.d.
by antony sher
inspired by the book A Mouthful of Glass by Henk van Woerden
Tuesday 4 October - Saturday 15 October 2005
BATS Theatre, Wellington
On 6 September 1966 South African Prime Minster Hendrik Verwoerd was stabbed to death in the House of Assembly by Demetrios Tsafendas, a parliamentary messenger, in front of horrified onlookers. Tsafendas was deemed unfit to stand trial — he claimed that a giant tapeworm that had been growing in his gut for thirty years had driven him to commit the murder. Was he a political hero, acting for the world and fighting apartheid, or was he merely insane? I.D. tells the story of Tsafendas, the man behind the murder, and of Verwoerd — the architect of apartheid — polar opposites, but both men obsessed with the question of identity. I.D. takes the historical into the realm of the fantastical as Tsafendas journeys around the world to eventually end up in South Africa with nothing but a battered suitcase and a giant tapeworm.
cast:
Malcolm Murray (Demetrios Tsafendas), Alex Greig (Lintwurm), )Benjamin Fransham (Hendrik Verwoerd), Erin Banks (Betsie Verwoerd, Marika), Miria George (Helen Daniels, Daisy), Tony Hopkins (Sipho, Father Daniels, Manolis, Street Sweeper), James Stewart (Dr Gomes, John Vorster, Nikki, Junior Minister), Hadleigh Walker (Kriel, Cloete, Schalk, Dr Gavronsky, Frank Waring), )Salesi Le'ota (Pratt, Muller, Interior Minister, Buytendag, Dr Fisher, Pienaar)
Designer Eleanor Williams; Posters and postcards Walter Plinge; Publicist Sonal Patel; Directed by David Lawrence
The commentaries on this website for shows from The Frogs up until Measure For Measure were written in pretty close proximity to the makings of the shows themselves: we began this website in 2003 when the earliest shows were only three years in the past, and I think the commentaries for A Midsummer Night's Dream and Measure For Measure were from around 2007 judging by their tone. The subsequent ones will be different for two reasons: 1. I'm writing this in 2020 so even the most recent Bacchanals shows were 5 years ago and I.D. was 15 years ago so my memory is not going to be as comprehensive as when I was writing about shows only a short time after we'd made them; 2. Those original commentaries were written to be a definitive narrative or history of the company - I was writing to mythologise our work and give myself some sense of importance or significance in my late-20s; whereas in my mid-40s I care a lot less about proving that anything I do matters! - whereas commentaries from hereon are being written because we have a half-complete website and I have spare time. So expect this to be less comprehensive! I'm just going to write what I remember from the dark backward and abysm of time, with Prospero-like regret but also with my anger and passion significantly dulled, I hope!
Antony Sher has long been one of my heroes. I read Year of the King as a teenager and it was pretty much my template for how to approach acting. When I played Jaques in the 1996 Summer Shakespeare production of As You Like It, in addition to my regular diary, which I've kept since I was 15, I maintained a tediously detailed workbook/journal documenting the whole rehearsal and performance process from my point of view, all Sher-derivative and angsty. I liked his novels; I pored over his performances in the TV film Genghis Cohn and in an episode of The Comic Strip Presents ...; I discovered his and Gregory Doran's book Woza Shakespeare! at exactly the same point as I became fascinated by Titus Andronicus. While living in London in 1999 I got to see his performance as Leontes in The Winter's Tale and it is still one of the best nights I've ever had in the theatre - his acting was revelatory. I saw him again in Terry Johnson's Hysteria when I was in London in 2013 and while it seemed the polar opposite of the work I'd been doing at Shakespeare's Globe which was all about spontaneity and awareness of the audience and direct address, his level of craft was still astonishing. For years and years I had a loaning copy of Year of the King which was pretty much mandatory reading for any new Bacchanal - in fact, James got Antony Sher to sign my loaning copy when he saw Sher perform Primo in New York not long before we began rehearsals for I.D. (That loaning copy was never returned - could whichever actor ended up with it at some point around 2006 please give it back to me?) In my older age I've been less into Year of the Fat Knight and Year of the Mad King as the seemingly genuine dramas in Year of the King - will he actually take the job? will the show make it to opening night? will everything work out okay? - are now much more contrived because of course he's going to take the job, of course he's worried about nothing and the production and his performance will be a triumph. Bacchanal John Porter, who'd played my Titus, Sir Toby Belch and Claudius in my first Hamlet, e-mailed me from the UK a few years ago to say "I just saw, from the back row of the gods, Antony Sher play King Lear and it was amazing; he was everything you always made us think he'd be!" Thinking back on my teens, I think what Antony Sher symbolised was: you can be a weird awkward kid from the colonies confused about your identity, and end up working on your dream projects with the best companies in the world. But the realities of adulthood, especially working in the arts in the southern hemisphere, are: we are not all so lucky and the infrastructures that existed once upon a time are no longer the same. Much as I dreamed I could, I'm never going to run the RSC or get to play Macbeth on Broadway. I won't even get to achieve once-realistic goals like be Artistic Director of Downstage or the Fortune. And that's okay - I've had a good life nonetheless, folks!
I.D. is Antony Sher's play about Demetrios Tsafendas, a drifter who, after a lifetime of itinerant travel, ended up taking a job as a parliamentary messenger in apartheid South Africa while awaiting paperwork that would reclassify him from 'white' to 'coloured' (his heritage was Dutch-Portuguese-Mozambiquan-Greek) so that he could marry a coloured woman. In September 1966 Tsafendas stabbed to death prime minister Henrik Verwoerd and history has always debated whether this was an act of assassination by a politically-motivated dissident, or whether Tsafendas was just crazy - he'd apparently had a giant tapeworm in his gut since childhood that had driven him mad. Apartheid endured in South Africa for another 30 years while Tsafendas spent the rest of his life on death row, in a cell directly under the gallows, forgotten about until 1994 when he was shifted into a nursing home for the last years of his life. The play makes the giant tapeworm literal - Tsafendas gives birth to Lintwurm in the opening scene and Lintwurm, like Mephistopheles, can't be seen or heard by anyone else as he interferes and passes judgement on just about every aspect of Tsafendas' life. The play focuses mainly on the couple of years leading up to the murder - Tsafendas' return to South Africa after years of travel, his romance with Helen Daniels, and numerous encounters with incompetent bureaucrats in government departments as he attempts to get his passport reclassified.
My girlfriend Sonal saw the original production of I.D. in the UK and sent me the script in September 2003. It took me two years to get it on for a bunch of reasons: first, I didn't know how to cast it; second, I didn't know if it would resonate with Wellington audiences; third, I wanted to do it at BATS but it was really hard to get it programmed. At the time, BATS didn't really programme non-new NZ works so I had to really argue the case for a 'foreign' play and they had already bent the rules so Gagarin Way and then Albert Speer could happen in 2004. I.D. was shunted around various potential slots in BATS and I think only actually got given its October 2005 slot because they knew I'd paid so much money to extend retaining the licence for it and couldn't spend any more. BATS also underwent a radical change in policy across 2004 and 2005 - under a new programme manager, suddenly multi-programming and short seasons became the norm so instead of having sole use of the space for up to four weeks, you were almost always in an 'equal share' of the space with other shows which meant compromising on what you could do design-wise with no distinction between main bill and secondary shows - one of the reasons almost every Bacchanals show at BATS painted the space a crazy colour was in part vengeance for all those times in the 1990s I'd been part of a 'second' bill show that had had to perform on someone else's awkward set or in a space that had been painted post-it note yellow.
I remember lots and lots of people reading the script over those two years as I'd have loved to have actors who were genuinely South African in it and I knew that, counter to the usual suit-the-play-to-the-existing-company model, its cast couldn't just be made up of everyone who was presently a Bacchanal. I'd worked out we could do the show with a minimum of nine actors even though ideally I'd have loved more but the process was too tight for too many people. Casting the show came down to the wire and I don't know that we even began rehearsals with a full company (I think Salesi missed the first week). I'd known Malcolm Murray's work for years, ever since seeing him as Bottom in A Midsummer Night's Dream at Toi Whakaari in 1995, and finally got to work with him on Jean Betts' production of Gagarin Way in March/April 2004. He was chameleonic, nomadic, and his initial shyness and brilliant intellect made him so hard to get a read on. As I continued to work with him over the next five years I came to understand his own struggles with identity - whenever he was working in theatre, film or television he felt like he was a farmer pretending to be an actor; but whenever he chucked it all in to return to farming, he felt like he was an actor pretending to be a farmer. I know that during the run of Gagarin Way we talked about his desire to play Kent in King Lear and the title role in Uncle Vanya and I probably gave him I.D. then and asked if he'd play Tsafendas, the man who murdered Henrik Verwoerd. Malcolm is a man of his word and, even when all the funding I must have promised never materialised, he came up from the South Island just before the start of rehearsals and stayed on someone's sofa for the whole process; on the Sunday morning after the show finished he was on the ferry and back to farming. He never complained even though I'm sure the process was chaotic and uncomfortable for him and I guess I was so inexperienced at working with lead actors who weren't already my friends/contemporaries that I just left him to his own devices rather than try to become his best friend - and that was probably beneficial to the working relationship and to the performance he produced. Benjamin Fransham was one of those pals I'd seldom been able to find the right timing with: working primarily in film and television meant he couldn't often commit to a long theatre process. While he looked nothing like the real Verwoerd the timing was perfect and he was available and keen for those six weeks so we went for it and he was brilliant, especially once he'd nailed the character's three-page-long introductory monologue. I'd directed Miria George as the title character in Sonal's play Ava in 2003 and immediately before I.D. she'd been in my workshop production of Albert Belz' Jack the Ripper play Yours Truly for Tawata. I'd known storyteller & poet Tony Hopkins since he and Moira Wairama had come to see Othello in 2000 and loved it so much that they came back the next night with bottles of wine for the company, and I'd worked on various incarnations of their storytelling show Te Haerenga between 2001 and 2005. I'd met Salesi Le'ota early in 2005 when he was in Rachel and Jacqui's production of Much Ado About Nothing which I dramaturged on and offered him a part in Hate Crimes which he couldn't commit to; by chance I saw him in the audience on the last night of Yours Truly and said, "Hey, can you do a South African accent? Do you want to be in this show that starts rehearsing on Monday?" and he took a punt that has led to us working continuously together as recently as my 2019 production of Hamlet for Pop-up Globe. Of the incumbent Bacchanals, Alex Greig played Lintwurm, the giant tapeworm that may have been responsible for Tsafendas' alleged insanity; Hadleigh Walker and James Stewart both took on a variety of roles; and at 21 Erin Banks was already the best actor in the universe but luckily I was still the only person that knew it and I had a few more years of being able to cast her in everything I did before losing her to bigger and better things.
2005 was a beyond full-on year and I was really running on empty come the start of rehearsals for I.D. We had gone straight from A Midsummer Night's Dream to Hate Crimes to remounting A Midsummer Night's Dream alongside Measure For Measure, and I'd then gone straight into Baghdad, Baby! and Yours Truly, as well as teaching a big chunk of each week and marking essays - for the two years it had taken to get I.D. into rehearsals, I had very little left in the tank. It was our first time rehearsing at the Tararua Tramping Club - Hone Kouka had chosen the space for Tawata to work in for Yours Truly and it was certainly much more convenient than everyone trekking out to Island Bay or rehearsing in my living room. We worked with some chairs, some crates, a table, a rostra and loads of suitcases, and got very good at reconfiguring them into whatever environments were needed to meet the needs of the scenes. For all my mockery of 1990s Phillipe Genty sheet acting, we employed lots of deliberately theatrical expressionist elements - after all, Alex was playing a giant tapeworm - and the joy of rehearsing full-time rather than in short part-time chunks with distance between them was that we could spend a whole day working out a sequence and cementing it rather than trying something once and abandoning it because of time constraints. And for all my running on empty, I absolutely had my shit together the day we set Scene 20, the epic sequence covering the events of September 6, 1966, the day that Tsafendas stabbed Verwoerd to death in front of the South African parliament. The pace, the tension and the comedy in that sequence was crucial as the centrepiece of the play and every night audiences loved the slow-motion action replay of former Springbok Frank Waring tackling Tsafendas to the ground. I did worry, through the whole process, that we were too concentrated on the theatrics and naive to the politics, until the last Friday of rehearsals when I invited a South African student from one of my university tutorials to come and watch a full run in the rehearsal room, if nothing else to advise on how the accents sounded, and she brought another South African friend with her. Having them in the room amplified the politics to the point whereby no one was in doubt as to the potency of the work we'd been doing; we'd just spent too long focused on suitcase formations to notice how great the material was.
We wanted the space to look both sand-swept and like 1960s film stock, so painted the interior of BATS a colour that Resene called 'Whiskey Sour'. We also took all six doors off of the back wall so that the backstage and dressing room areas were exposed - I was always obsessed with the idea of there being life beyond the back wall and a world offstage. There was a comprehensive sound and lighting design but I remember this as the first time that I got to the end of a technical rehearsal thinking "Do you know what? this looks like shit now, whereas in the rehearsal room it was magic and I believed in every environment in a way I don't now that it's properly lit and sculpted" - I would have this experience again, most notably doing Jane Eyre at the Fortune in 2008 and Slouching Toward Bethlehem in 2011 - so my solution was to cut about 80% of the technical cues and mostly light the show with a big warm wash so that the ensemble acting could be the star, reserving lights for when they could enhance the storytelling rather than impose on it. This was the start of a long journey that ended in my 2011 decision to abandon lighting design and have actors and audience in shared light, but that's a tale for the Slouching Toward Bethlehem page. My other recollection about production week was that it was the last time in my life I worked in a way that had been standard in my 20s, whereby you packed into BATS at midnight on Saturday night, the moment the show that had just closed was out of the building, so I'm sure my dissatisfaction with how things were looking was in part because by the time we'd finished the technical rehearsal on Monday night, I hadn't been to bed in two days.
It was slow to take off with audiences, but I.D. was a big hit. The reviews over the first few days were all of the pretty blatant "this is the production of the year"-type which terrified me - people spent the whole season talking about awards and I didn't want to win awards, I wanted to make good work. Thinking back, I wish I'd been able to enjoy it more but at the time I was so, so tired and The Bacchanals were so, so broke - as documented elsewhere on this website, our long-term plans for 2006 were all falling apart and at the time of the show we were looking at having to repay funding we'd already spent on projects we couldn't deliver. I was also a few weeks off turning 30 and undergoing some huge changes in both personal and professional life and having worked so long with some of The Bacchanals, it was inevitable that I had professional resentments that I let fester because these guys were also my friends and I felt I'd be making it personal if I complained about attitudes that annoyed me or frustrated me - and I also felt that, so long as we failed to secure long-term funding, it was hypocritical of me to resent my friends saying "I know we're meant to do a full run this afternoon, but I couldn't get out of my shift at work" so long as I couldn't pay them - but I also hated being made to feel like people were doing me a favour by being in my crappy play for free. I wanted things to get bigger and better and more professional, but the way we worked was also a vibe in and of itself (which I didn't really understand or appreciate until my worst freelance experience a few years later) and some of the long-term Bacchanals were perfectly happy with that vibe, as I should have been. But also: for a long time I'd micro-managed everything but the more I worked outside of The Bacchanals the more I saw actors taking responsibility for the work themselves and doing I.D. I was really struck by how actors like Malcolm and Miria came in having researched their characters and the historical period, and having worked on their South African accents, while some of the stalwarts were waiting for me to tell them all about the historical figures they were playing - which is totally on me, because that's how we'd always worked up until then.
We'd been rehearsing the play on the anniversary of Tsafendas' murder of Verwoerd in September. During the run, we were performing on the anniversary of Tsafendas' death, six years earlier on 7 October, 1999. "You need to amend lines in the final speech," I said to Alex before that night's show, and he did to brilliant effect. At the end of the line, "But the question of his ID never died, not even when he did, here in this hospital in '99," he added "on this day, six years ago" and I cannot describe the sudden magic whoosh that happened in the audience: even though we all knew the play was about real events and real people, in that moment there was a shared and special understanding that this was a real man whose life we were honouring. I'd see that magic again, many years later, when Alex played Dr Gervan McMillan in Dean Parker's play Once We Built A Tower and members of the McMillan family, including Gervan's son and grandson, were in the audience when we performed in towns in the South Island in 2014.
I remember in the prison sequence that compacted the time between 1966 and 1994 Malcolm's incredible transformation into an elderly man and the bathing of the whole theatre space in bright white backlight as the company sang 'N'kosi Sikele' in the penultimate scene of the second half.
In the coming weeks after the close of I.D. things for The Bacchanals were a peculiar mix of fraught and joyous. I knew in my heart that our planned South Island tour of A Midsummer Night's Dream, Measure For Measure and Romeo and Juliet was not going to go ahead and that we wouldn't miraculously find the money we needed to pay wages; we had a short 'pay off scary debts' season of Measure For Measure mid-November that required re-rehearsing that dreary production that had made us all so unhappy in winter; on the other hand Circa Theatre had offered Louise Rae and I a season of Paul Rothwell's Golden Boys for January and I'd also been given the NZ premiere of Terry Johnson's Hitchcock Blonde at the Fortune Theatre in Dunedin, which I was going to take Erin with me to do. Amidst all of this were the Chapman Tripp Theatre Award nominations - Erin for Most Promising Newcomer for A Midsummer Night's Dream, Paul Rothwell for Most Promising New Playwright for Hate Crimes, and four nominations for I.D.: as well as the expected Production of the Year, Malcolm was up for Actor of the Year, Alex for Supporting Actor of the Year, and me for Director of the Year (and also Sound Designer for Baghdad, Baby!). It was a great night where we won everything except the Hate Crimes nomination; but I felt secretly very weird about knowing, on the evening of the company's greatest success in our five years of operation, that the company as it currently stood was probably done. My speech, in which I infamously thanked Creative New Zealand "for consistently never funding us" and said "or maybe you genuinely think that yet another Neil La Bute play is more important to the future of New Zealand theatre than ensuring the whole country gets to see plays like And What Remains, Ohu Ake and Hate Crimes?" got a lot of press at the time. Will Earl videoed much of the night and when you watch the footage you can hear that the crowd are cheering and booing me in equal measure. "You're biting the hand that feeds," warned one person. "But it doesn't; I'm starving!" I told them. Good times. I'll add some more pictures to this page soon. - David, May 2020




---
Last modified May 2020, bitches! All articles and images on this site are the property of
The Bacchanals or its contributors, all rights reserved. Bender is great! Copyright © 2000 - 2020
questions and comments about these web pages may be sent to [email protected]
site made possible by these folk