never trust a vegetarian ...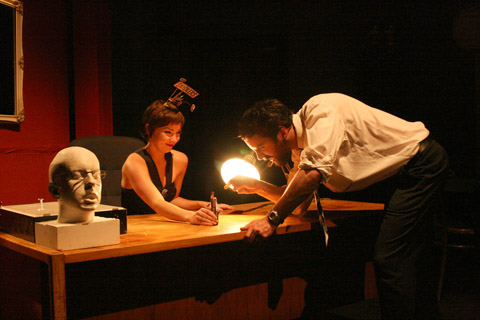 no taste forever!
by paul rothwell
Thursday 13 January - Saturday 29 January 2011
Bats Theatre, 1 Kent Terrace, Wellington
A tale of a group of humans under attack from an insidious force. Nutritionist Malcolm Sweet is the first to realise something is wrong. His patients are morbidly obese and dropping like flies, and then he runs over a little girl, crying for her ice cream ... Something has a hold over these people and he's going to find out what it is. What he discovers will shock you to the pit of your stomach.
cast (in order of appearance):
Baby Emma (a hungry ghost) Helen Sims
Malcolm Sweet (a dietician) Alex Greig
Galen Widders (a morbidly obese man) Jonny Potts
Fliss McSkimming (executive director of the Perfect Taste Festival) Kirsty Bruce
Daryl Sweet (a body-builder, Malcolm's son) Michael Trigg
CinCin (a psychopathic waiter) Jackson Coe
Dr Nikita McSkimming (a genetic scientist, Fliss' daughter) Jean Sergent
Gretchen Fletcher (a militant vegan activist) Rose Guise
Audrey Sweet (a homemaker, Malcolm's wife) Brianne Kerr
Petrus Niekerk (former top chef) Salesi Le'ota
Sonya Chow (an organics entrepreneur) Annaliese Booth
Jenna-Lynn Tuckett (an American exchange student) Alisha Tyson
Ms Chocolate (a Snickers bar) Jess Aaltonen
Senor Corn (a corn cob) Andrew Goddard
Ms Lettuce (an organic lettuce) Morgan Rothwell
Hotdog (a singing hotdog) Andrew Goddard
Bystanders, Gym Bunnies, Restaurant Diners, Perfect Taste Executives, Supermarket shoppers, Angels, Dream People, Food People, Taste Everything exhibitors played by Kimberley Stott, Julian Kris Sakarai and members of the company
Producer Fiona McNamara
Production Manager Kate Middleton-Olliver
Stage Manager Hannah Nielsen-Jones
Frocks Josephine Hall
Technical Operator William O'Neil
Assistant Stage Manager Jasmin Cummings
Property Master Hannah Nielsen-Jones
Set Design Armin Tamzarian
Head Mechanist Alex Greig
Stage Right Column by Kate Middleton-Olliver
Sound Design Walter J. Plinge
Production Photography Vanessa Fowler Kendall
Poster/flyer design Santa's Little Helper
Directed by David Lawrence


---
Last modified May 2020, bitches! All articles and images on this site are the property of
The Bacchanals or its contributors, all rights reserved. Bender is great! Copyright © 2000 - 2020
questions and comments about these web pages may be sent to greetings@thebacchanals.net
site made possible by these folk