villain, be sure thou prove my love a whore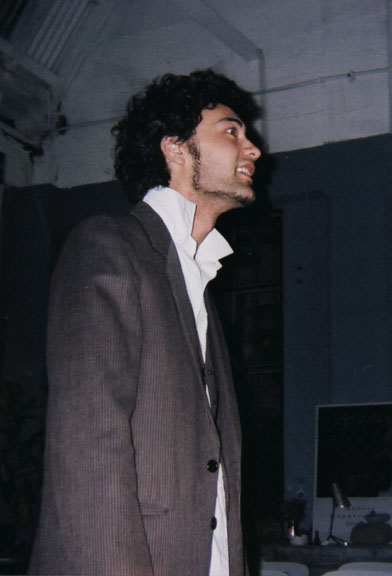 the tragedy of othello,
the moor of venice
by william shakespeare
Saturday 14 October - Saturday 4 November 2000
Apartment 8, 21 Marion St, Wellington
Shakespeare's main source material for Othello was the seventh novella from Giraldo Cinthio's Hecatommithi, first published in Italian in 1565. The introduction to this tale: "A Moorish Captain takes to wife a Venetian Lady, and his Ensign accuses her to her husband of adultery; he desires the Ensign to kill the man whom he believes to be the adulterer; the Captain kills his wife and is accused by the Ensign. The Moor does not confess, but on clear indications of his guilt he is banished; and the scoundrelly Ensign, thinking to injure others, brings a miserable end on himself."
cast:
Taika Cohen (Othello), Carey Smith (Iago), Eve Middleton (Emilia), James Stewart (Roderigo), Alex Greig (Cassio), Mark Cleary (Montano), Phil Grieve (Brabantio), Rebecca Lawrence (Desdemona), Michael Ness (Duke, Clown, Lodovico), Judith Wayers (Senator, Gratiano), John Porter (Messenger, Musician), Abigail Margetts (Senator, Bianca)
Production Manager Eve Middleton; Music by Jemaine Clement & Bret McKenzie; Directed by David Lawrence
Even in setting up The Frogs I was thinking about what other stuff the newly-formed company might do over the course of 2000. I had two other plays in mind. One, John Osborne's Look Back In Anger, has never eventuated but is always somewhere on the list. I knew that the third play would be a Shakespeare. I had hoped that in The Bacchanals' first year we might do an 'easy' one before, in the second year of operation, trying my favourite play, Othello. The idea was that we'd do a 90-minute version of something like Timon of Athens, to cut our teeth doing something small-scale and simple, before trying a large-scale, full-length Shakespeare. Obviously my confidence through rehearsals for The Frogs must have been high, because the programme note for that show says "Look out for productions of Look Back In Anger and Othello in the future..." Basically, when it was going well, I had enough confidence in the idea of the current group trying a full-length Shakespeare as they were, without the need to do a 'try-out' show or improve on their skills in any way.
Othello is my favourite play because it is the most contemporary, relevant play in the whole Shakespearean canon. The reason, to my mind, that the plays have survived 400 years is because, while the language or locations may be archaic, the emotion and psychology of Shakespeare's plays is as modern and up-to-the-minute now as it was when the plays were first written. When I started teaching Shakespeare I did so from the angle of trying to ignore issues of kingship, country and notions that no longer interest us in any way, and focusing on the psychology and conflict. Tell a class of students that The Two Gentlemen of Verona is about a guy who wants to screw his best friend's girlfriend and they're immediately more interested than they'd be if you drone on about Renaissance Italy and the correct methods of courting a Duke's daughter. Forget about the Cyprus wars, Iago's motive or why Emilia never speaks up until it's too late - Othello is, at its most basic level, a play about a man who murders his wife because he thinks she's cheating on him. I believe jealousy is the most absolute basic fundamental human emotion and that there is no human being alive who has not at some stage felt jealousy, and for that reason I believe Othello will remain the most relevant and contemporary play in all of literature so long as human beings continue to interact with each other.
Taika and I had talked about a two-man rendering of Othello, condensed to an hour, while we were at university. He would play Othello and I would play Iago. But the more I tried to organize some sort of a script for it, the more I realized I couldn't bear to do a condensed version of the play. During the run of The Frogs vague conversations were had about the prospect of doing Othello and at the gathering after the final performance celebrations were pushed aside for an hour while I sat there, quite drunk, and answered everyone's questions on why/how/when/where we would do it. Carey would play Iago, the largest and most demanding role that had come his way thus far. A skim through the play and a viewing of Branagh's performance in the Oliver Parker film left Carey a little daunted but pleased to be deemed worthy of the challenge. Charlie was an obvious candidate for Cassio and, like me, was well-acquainted with the play. I was eager after their huge commitment to The Frogs to see James and Eve rewarded for all their hard work. In all cases I was aware that, apart from Charlie, no one was hugely experienced in performing Shakespeare but I felt that, provided their enthusiasm was genuine, there was nothing they could not learn themselves or that I could not teach them.
Undertaking a play of Othello's size and reputation is no easy feat. No director can ever hope to explore fully every nuance of the text or possibility of interpretation and indeed, many of Shakespeare's plays are so complex that no production can ever satisfy every individual audience member's expectations or requirements. My agenda for Othello had more to do with being clear about the way to perform Shakespeare as opposed to having new and innovative insights into the play itself. The experiment was as important as the choice of play. The agenda for Othello had three main points - firstly, to place the utmost importance in the clarity of the text and ensure each actor understands every word and that every word is treated with equal importance. Secondly, to remove the imbalance been present in every Shakespeare production I had ever seen in New Zealand - while some actors use their own voice, others feel the need to adopt a "Shakespearean" voice or what we always mockingly called a "BBC" accent. Lastly, I wanted a standard and quality of verse-speaking that was uniform amongst the actors - being aware of metrically correct stresses and pronunciations and, perhaps above all, being swift. The belief that to speak Shakespeare properly means you adopt a "voice" and ponder painfully over every line still prevails. The Chorus in Romeo and Juliet refers to "The two hours' traffic of our stage" and several other Renaissance plays mention a figure of two hours. Why then do most modern productions of these plays last an eternity? The BBC version of Othello makes several large cuts and is 4 hours long. Most stage productions run at three and a half hours, even with cuts. It is my belief that, with actors talking like normal human beings, one can stage a virtually uncut Renaissance play in under three hours, and Othello was the play I intended to prove that theory with.
We were blessed with an extremely long rehearsal period. The intention had been to stage the show in July, but Taika and Charlie both landed roles in the feature-film "Snakeskin" which meant they'd be out of town for nigh on two months. Taika, Jemaine and Bret were booked to go to comedy festivals in Canada in August, and then Charlie, Carey and I were scheduled to be working on Jean Betts' new play The Misandrist in September. This meant that Othello could not feasibly go on until after The Misandrist closed on October 7. So we had two 'phases' of rehearsal - casual, small rehearsals with the core cast from April until Taika went away in August, and then more large-scale rehearsals of the group scenes in Taika's absence through August and September. We were fortunate that the nature of the play is that, even when Othello is onstage with the rest of the characters, he's always physically separate or apart from them, so Taika's absence was not a hindrance. The extraordinary weather that winter meant that many of the small rehearsals, involving Iago, Othello, Roderigo, Desdemona and Emilia, were held in the blazing sun on the deck at Boston Terrace. Eve's cry of "Help! Ho! The moor hath killed my mistress!" echoing through Aro Valley was a familiar sound.
Eve volunteered to take on production management duties. While Rebecca and I were able to discuss ideas and concepts at home in the evenings, it helped to have someone who could there and then give me feedback on an idea and help me chase it up practically on a day-to-day basis. I had various basement venues in mind - I wanted somewhere cramped and dark and claustrophobic - but when none of these eventuated, Eve came to the rescue. Friends of hers who had an apartment in a building on Marion Street had said, "Our flat would be a great place to have a show." Eve took me up to see it and we were both thrilled by how great it was. The venue dictated how much of the production would work - the audience would have to be in traverse (my favourite seating arrangement, since it absolves you of having to pay any attention to boring blocking, since the performance looks completely different from every seat). Iron staircases led to upper levels and at one end of the traverse were two giant wooden doors; at the other end was the flat's kitchen, which we would cover and use as the area for the bed required for the end of the play. What suited us best about the venue was that its size and intimacy meant we could retain the conversational, domestic atmosphere that had been generated by rehearsals around the kitchen table at Boston Terrace. We had talked about a vague concept for the show - a 1950s dockland setting, in which the military became a kind of merchant navy and Desdemona the lighthouse-keeper's daughter. Our visual reference point was the Jean-Pierre Jeunet film The City of Lost Children and whenever costume/prop questions were asked, they were always referred back to that film. The music-box that the musicians played in Act III had the same organ-grinder tune that appears in that film. In the end the only even vaguely-1950s element of the show was the recording of Louis Armstrong and Ella Fitzgerald singing "Isn't This A Lovely Day" at the curtain call.
We amassed the rest of the cast in August. Phil Grieve, a veteran of Circa and Downstage productions, had agreed to play Brabantio after I'd drunkenly accosted him at a party. Some of the dates for the season conflicted with other work for him, so I ended up playing Brabantio for seven of the 19 performances. Mark Cleary, my oldest friend and veteran of my pre-Bacchanals Shakespeares, offered his services if it meant he would have a valid excuse for spending less time around his loathed office job. Michael Ness had also appeared in several of my earlier productions and was always an excellent "ringer" when you needed someone at the last minute. Judith Wayers, like Mark, Charlie and myself, was an ex-Wellington High School Shakespeare Society member and I ran into her up at university when I'd directed a short excerpt from The Tempest for ENGL208. The final cast member was James' flatmate, John, whom James suggested when it became apparent that one extra body might make some scenes easier. Once The Misandrist was up and running the time flew by. In some cases it was running out - Charlie had played a major role in The Misandrist and been studying full-time, and kept assuring me that come the opening of The Misandrist he'd be able to give Othello his full attention, but within days of The Misandrist opening we both knew it wasn't going to happen, and I told him that, if he could find me another actor who was free to rehearse 24 hours a day for the next fortnight, I would allow him to pull out of Othello. Charlie, Carey and I had all been impressed by Alex Greig, an actor appearing in The Misandrist, and Alex was both available and keen and swiftly proved that he was as good a Cassio as Charlie might have been.
Taika's performance was extraordinary. He and I never had much in the way of formal rehearsals, more conversations about how we thought the mood of scenes could work, motivation and so on. He did not want specific direction but wanted me on hand to explain obscure phrases and guide the general tone of things, and apart from Carey, Eve and Rebecca, his interaction with the rest of the cast had been minimal up until production week, so the idea of Othello as an other-worldly figure whom the rest of the play's characters admired but were unsure of was strong. He also devised some incredible trickery for killing himself at the end of the play and, once he had found his stride, his initially introverted performance grew in leaps and bounds. Two nights out from opening, as he played the final scene, I wanted to run out into the corridors where all the other actors were quietly awaiting their cues and say "You have to come in and watch this NOW, because after tonight you will never get another chance to see this performance again!" but I was too fixed to my chair to move. What Taika and Carey achieved in Othello was a way of making even the most casual of lines sound vital and, in playing the proper pauses in the temptation scene - which actors NEVER do (partly because of over-zealous editors who re-lineate the verse so that it's all flowing) - they made it absolutely magnetic to watch. From the moment Othello slapped Desdemona in IV.i, every night I would watch the audience shrink further and further back into their seats with discomfort over the last 45 minutes of the show. I used to feel sick every night at the point in IV.ii when Othello says to Desdemona, "Let me see your eyes. Look into my face." Taika would play the lines gently and forgiving, and then in a single movement grab Rebecca by the neck and slam her to the ground, physically threatening her throughout the scene. At the end of the play he killed her not by smothering her with a pillow but strangled her with his leather belt - and yet in spite of the incredible violence audiences were moved to tears when he held her corpse and sobbed at the end of the play.
At the end of the season Taika and Carey said, "Well, tonight we felt like we came close to cracking it!" and it gave me great reassurance to know that they were as proud of the show as I was. Over the coming weeks we worked at Bats on Arrrggghh! The Live Movie Experience, whose packed houses roaring with laughter were about as opposite to our empty performances of Othello (we averaged twenty people a night on a good night; on some nights we played to less than ten) as it was possible to get, and it made me feel somewhat better to know that on Friday nights, at the pub after the show, Taika and Carey would still run the lines of the temptation scene. There was talk of a return season before the end of the year - while houses were small, the word of mouth was great and the show grew itself an impressive reputation despite hardly anyone actually seeing it - but as we all moved on to other stuff, I knew it would happen later rather than sooner. The decision on Rebecca's part to end our marriage when the production was over made me uncertain what life, if any, The Bacchanals would have beyond Othello. Othello remains the show I'm perhaps proudest of, and if there is one production I'd come back to again - provided Taika and Carey were prepared - it would be this one. The idea was always that the work The Bacchanals created would be part of an ever-expanding repertoire; that we would return to shows and improve them when resources and situations allowed, and if there's one play I hope this ultimately happens with, it's Othello. - David