That most excellent renowned companie of players, by Royal charter called The Bacchanals present Mr Simon Vincent's Most Excellent Comedie of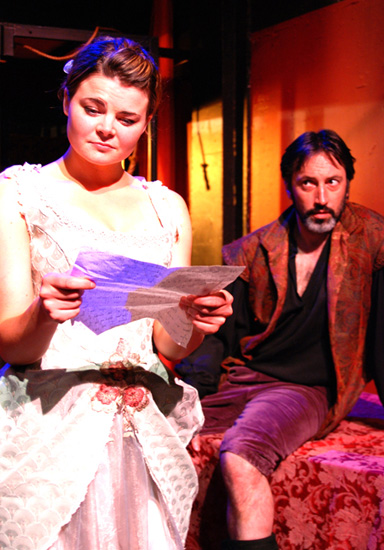 a renaissance man
A fantasie inspir'd by the life and poetry of Dr. Iohn Donne, Deane of St Paul's,
to be perform'd at BATS Theatre from the Tenth Day of Ianuarie until the Nineteenth Day of the same monthe in the Year of Our Lord Two Thousand and Eight.
The exciting adventures of John Donne, a bona-fide 17th century swashbuckler, skewerer of Spaniards and seducer of virgins. See him foil the murder of the Queen! Watch out as he grapples with his secret Catholicism! Meet the metaphysical poet in the flesh, alive on stage before your very eyes!
The players, in order of appearance:
A Prologue, to spoken by Mr JULIAN WILSON
A Gaoler ... Ms ERIN BANKS
Henry Donne, a Catholic martyr ... Mr ALEX GREIG
John Donne, his brother ... Mr PHIL PELETON
Edmund Campion, a Catholic priest ... Mr CARL HOMÉRE
The Earl of Essex, a secret Catholic ... Mr GAVIN RUTHERFORD
Sir Philip Sidney, chief interrogator for Queen Elizabeth ... Mr ALLAN HENRY
Stella Artöis, muse to Sidney ... Ms RACHEL MORE
Two Sailors in the service of Essex ... Mr HENRY and Ms BANKS
El Fortunado, an evil Spaniard ... Mr ALLAN HENRY
Anne More, betrothed to Sidney ... Ms ERIN BANKS
Tarquin Fulke-Greville, servant to Essex ... Mr ALEX GREIG
Two Semi-Offstage Papists ... Mr ALEX GREIG and Ms KARIN REINHOLT
Another Gaoler (Or Perhaps The Same, But Perform'd By A Different Actor)... Mr ALEX GREIG
Stage Manager ... Ms KARIN REINHOLT
Lighting ... Ms JENNIFER LAL
Sound ... Mr WALTER PLINGE
Photography ... Ms KARIN REINHOLT
Frock Design and Construction ... Ms RACHEL MORE and Ms SHARON MATHEWS
Fight Choreography ... Mr ALLAN HENRY
Chief Engineer ... Mr ALEX GREIG
Produced by Mr SIMON VINCENT
Directed by Mr DAVID LAWRENCE

---
Last modified May 2020, bitches! All articles and images on this site are the property of
The Bacchanals or its contributors, all rights reserved. Bender is great! Copyright © 2000 - 2020
questions and comments about these web pages may be sent to greetings@thebacchanals.net
site made possible by these folk