life is ugly, brutish and short ... like me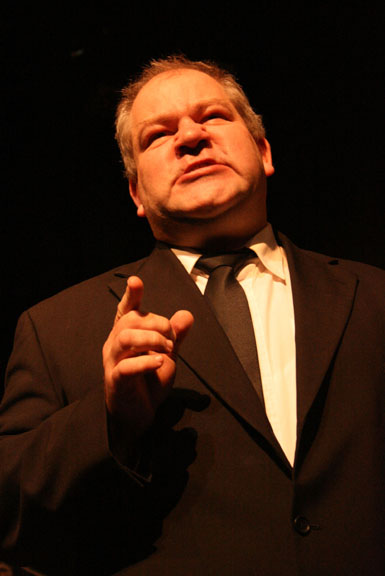 slouching toward bethlehem
by dean parker
Wednesday 31 August - Saturday 10 September 2011
Bats Theatre, 1 Kent Terrace, Wellington

The true story of New Zealand's most evil prime minister ever!
He turned the NZ National Party into an outfit dominated by a single leader bent on imposing regulation that wouldn't have looked out of place in Eastern Europe under Stalin but Robert Muldoon believed without a shadow of doubt that if he needed to know what the average kiwi felt, all he had to do was look into his own heart.

cast (in order of appearance):


Rob Muldoon Phil Grieve
Thea Muldoon (his wife) Brianne Kerr
A Tamaki Young Nat William O'Neil
Amie Muldoon (Rob's mother) Kirsty Bruce
Jerusha Brown (Rob's grandmother) Jean Sergent
Wally Brown (Rob's uncle) Andrew Goddard
A Pastor Jonny Potts
Dick Fickling (Rob's best friend) Alex Greig
A Doctor at Wolfe's Home Psychiatric Hospital Elle Wootton
Jim Muldoon (Rob's father) Salesi Le'ota
Go-Go Dancer Kirsty Bruce
Television Host Jonny Potts
Make-Up Assistant Jean Sergent
An Alternative Publisher William O'Neil
A Satirical Editor Andrew Goddard
A Protestor Dasha Fedchuk
George Gair (a National MP) Alex Greig
Frank Gill (another National MP) Elle Wootton
Faye Gair (George's wife) Jean Sergent
Jack Marshall (Leader of the National Party) Andrew Goddard
Brian Talboys (National MP) Jonny Potts
Speaker of the House in the 1970s William O'Neil
A Dean at an Anglican Cathedral Salesi Le'ota
Tom Skinner (president of the Federation of Labour) Andrew Goddard
Interjectors at the television debate Salesi Le'ota, Kirsty Bruce, Jean Sergent
A Woman in the audience of the television debate Dasha Fedchuk
Athol (Rob's driver) William O'Neil
Police Sergeant at the Peter Pan club Alex Greig
Barry Reynolds (Brierly Board Member) The Company
Barbara Muldoon (Rob and Thea's oldest child) Kirsty Bruce
Jenni Muldoon (her sister) Elle Wootton
Gavin Muldoon (their brother )Andrew Goddard
Norma Holyoake (wife of Sir Keith Holyoake) Kirsty Bruce
A Female Guest at a 1974 Christmas party Jean Sergent
A Poet on a Brian Edwards TV show William O'Neil
Colin McLachlan (National MP) Dasha Fedchuk
Hugh Templeton (National MP) Salesi Le'ota
Colenso (an advertising agency man) Salesi Le'ota
A Figure in an underground carpark William O'Neil
Speaker of the House in the 1980s Dasha Fedchuk
Colin Moyle (Labour MP) Jean Sergent
A Man From Treasury Salesi Le'ota
The Red Flag Bush Band at the Sweetwaters Music Festival The Company
Jim McLay (a young National MP) William O'Neil
An Older Couple at Hatfields Beach Dasha Fedchuk & Andrew Goddard
A Nurse at North Shore Hospital Jean Sergent
Children, Congregation, Journalists, Backbench MPs, Asylum Inmates, Animals, Protestors, Constituents, Advertising Executives, Television Audiences, Function Guests, Party Guests & Meat Puppets played by members of the company



Publicist Brianne Kerr
Graphic Design Santa's Little Helper
Signsmith & Doghandler Jean Sergent
Head Mechanist Alex Greig
Head Researcher & Punster Jonny Potts
Producers In Absentia Fiona McNamara & David Goldthorpe
Monsters and Muppets Elle Wootton, Andrew Goddard
Chief Electrician William O'Neil
Production Photography Vanessa Fowler Kendall
Directed by David Lawrence





At the rate it takes us to update things, expect a commentary and all sorts of other exciting stuff about our multi award-winning production of Slouching Toward Bethlehem sometime around 2018! See you then.

---
Last modified May 2020, bitches! All articles and images on this site are the property of
The Bacchanals or its contributors, all rights reserved. Bender is great! Copyright © 2000 - 2020
questions and comments about these web pages may be sent to greetings@thebacchanals.net
site made possible by these folk