Warning! This page is old and out of date and was last modified early in 2005. Some of these people may not even exist!
Eve C. Middleton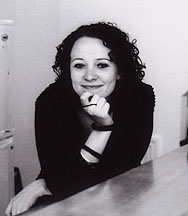 The year was 1978. I entered the world the youngest of 4 children and spent the next 13 ½ years developing the earthy, practical, wholesome side of my nature!
Since then I have lived in Nelson and Chile, and in Wellington since 1997 where I finished a Bachelor of Arts in Classical Studies.
It was then I was finally able to see this fine city through the eyes of one not tied to the University year and to do some solid work on developing the socially demanding, fickle and typically consumerist urban side of my nature, long left lying dormant.
It has been an exciting time for me since I left Varsity, spreading my wings and dipping into various projects including various short films, a few stints for Weta armouring and weaponing up extras on-set for LOTR, childcare work and café jobs (-the not so exciting), other stuff I can't remember, and becoming more and more involved in the over all running of The Bacchanals.
David has constantly encouraged my acting and given me opportunities to play some beautiful, scary, exciting and always challenging roles, with more ideas being flung at me all the time.
Particularly cool roles I've loved were; Tamora in Titus Andronicus (the 'evil bitch' is always great fun), the tender but not wimpy Emilia in Othello and of course playing 'M' in Crave in 2002 was a definite highlight.
I loved the intimacy and trust of working with such a small cast, particularly those three, Carey, James and Tina, because we knew each other's habits on (and off) stage so well.
After saying that, I have actually realised that all the roles I have played for the Bacchanals have been special and satisfying for me. Playing Gertrude in Hamlet was a real buzz, her relationship with Hamlet is so important, and Olivia in Twelfth Night was a blast, especially spending the entire fifth act in a wedding dress - that particularly appealed to my Leonine nature!
Even the small and varied roles I took on in the trilogy of 2001 were cool for various reasons - sometimes it's really nice not to have the pressure of maintaining a character and portraying their journey from start to finish.
Gotta stop now.
- "forwards, upwards, onwards" Click here for more exciting photos of Eve!
David Lawrence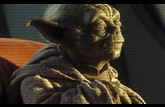 I was born in Wellington in 1975 and there is no place like this city anywhere else in the world. I loved living in London and Edinburgh, and am still prepared to try Berlin, but Wellington is a place unlike any other. I'm the oldest of three children and, until a few years ago, I was the only male to have been born into my mother's side of the family in nearly 100 years. My family are all, with a few exceptions, passionate about theatre and cats.
When I was 7 I decided I was going to be an actor. By 17 I had realized that I loved almost every aspect of the theatre, and the more I tried, the more I wanted to do. I directed my first show at 17 - my high school's production of Macbeth - and also produced it, designed the lighting, costumes and posters. And played the title role. It's impossible to explain why none of this was done out of egotism but a burning passion to try everything and anything. In the last ten years I've worked as an actor, writer, musician, production manager, stage manager, lighting and sound designer and operator, mechanist, follow-spotter, teacher, dramaturg and director. I completed a BA in Theatre and Film in 1996, an Honours degree in Theatre in 2001 and an MA (editing Thomas Heywood's 1611 play The Golden Age) in 2003. I lived overseas after finishing my undergraduate course and it was in the UK that I decided to focus my energies entirely on directing, and The Bacchanals were established so that I wouldn't ever have to work in a way I didn't like or with people I didn't respect.
Being a Libran Cat, I am by nature obsessive-compulsive - Librans don't have interests, we have obsessions. I cannot do things half-heartedly - it has to be all or nothing, and this seems to pervade through every element of my life. I live by the sea with two cats and a truckload of books. My favourite foods are toast & butter chicken, my beverages of choice are spirulina & coffee, my favourite colour is green, my favourite books Nineteen Eighty-Four (George Orwell), The Information (Martin Amis) and The Passion (Jeanette Winterson). My favourite television show is The Sopranos and my favourite film is Brazil. My favourite plays are Othello (Shakespeare), The Physicists (Friedrich Dürrenmatt), The Master Builder (Henrik Ibsen) and Shopping and Fucking (Mark Ravenhill). My favourite band is The Beatles, my favourite album is probably Rubber Soul and my favourite song is the original version of "Strawberry Fields Forever" - not the one released as a single in 1967 but the one that appears on The Beatles Anthology#2.
Alex Greig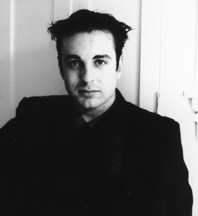 Born in Masterton in 1981, I began life in the usual way until, in my final year of primary school, I caught the bug for performance with an adaptation of the tale of Adam and Eve, in which I played the none too bright Adam. After feeling the exhilaration of stage performance, I thought I would continue my newfound passion and did all I possibly could to become involved in all aspects of theatre at college. I was to find however that most performances required a background in singing... This was not me! So for the next 2 years I milled around doing nothing in particular until in my fifth form year I discovered Shakespeare and a little something called The Sheila Winn Shakespeare festival. This sparked the bug in me yet again, and I was soon discovering all sorts of other performance arts and eventually even got a singing role in my final year at college, in the production of Jesus Christ Superstar as King Herod, and so with all this behind me it was time to choose a career and further training.
So it was that in the summer of 1999 I packed my things and moved to Wellington, where I was to begin a year of confusion... Wellington Performing Arts Centre. My year at WPAC seems very distant in my memories, and I can't even be sure if it really happened, so I won't dwell on it.
The year finally ended and I left WPAC not entirely sure if I wanted to continue acting, so I got myself an agent with what little experience I had (A short educational film called Shari and Joes big night out in which I played Den) and started to work as an extra on The Tribe and in time I even picked a few lines!!
It was now the year 2000 and the world hadn't changed much, but my life was about to... I got a role in Jean Betts' play The Misandrist which made me burn with the desire to act, and so, when David Lawrence (who was working as stage manager, lighting etc) asked me to play Cassio in Othello, I jumped at the chance. This was to be my first experience of The Bacchanals and I haven't looked back.
Over the next few years I tried my hand at any kind of acting I could, including 2 children's plays for Kidz Stuff Theatre, The ugly duckling and Goldilocks and the three bears. I was to realise that children's theatre just wasn't my thing.
The next few shows I did for The Bacchanals (The Jew of Malta, Titus Andronicus and Volpone) were all at the same time, in fact we performed them on the same day every Saturday for a few weeks, which nearly killed me because at exactly the same time, I was involved with a short film by Charlie Bleakley called A three dollar day and so at the completion of the projects I felt it was time for a well earned break.
I hammered my way back on stage with Hamlet performed by The Bacchanals in the 2002 fringe festival, Then throughout the rest of the year I was doing various corporate entertainment for Possum Productions and then got involved as Manuel from Fawlty Towers at the museum hotel over the Christmas period, I also got a minor role in a feature film called Event 16
My next major involvement with anything was Twelfth night by The Bacchanals which we toured around for a week or so up the lower north island, and that pretty much brings you up to date on my career so far...
James Stewart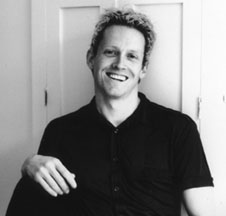 It all began in 1971 (making me the oldest Bacchanal, ever since that Carey Smith left the country) when I reared my ugly head to the world in a hospital in Christchurch. I spent my school years as a very quiet, shy introvert, whose friends even had to time to see how long it would be before I would say a word, doing well academically but not sure what I wanted to do with my life. My first foray into the performing world was in my last year of high school when I was almost literally dragged kicking & screaming into the chorus of the school production of Bye Bye Birdie by my best friend who had the lead & thought it would be fun. Ironically, after all these years, he is now looking at getting back into acting after leaving it behind for a career in computers, and is asking me for advice.
School came to an end & still uncertain on what career to pursue (I had always enjoyed singing - in the privacy of my own bedroom, of course - but my parents weren't too keen on me trying to become a rock star), I didn't want to go & follow all my friends to university to do a degree I wasn't sure I would use, so since I had always been good with figures, I opted to enter the big, wide world and take a job as a banker?! During my stay with Trust Bank Canterbury I decided to take some evening acting classes, solely to increase my confidence so I could deal better with people day to day & not be so quiet & shy. Little did I know what it would unleash. Not that I'm not still an introvert, but it helped me to find my inner extrovert & release it to the world when I'm not being me. The more classes I did, the more I enjoyed this acting thing.
Finally after four years in the banking industry I decided it was time to see how serious I was about acting as a career, so quit my job and did two years at the newly started Linwood Performing Arts Centre (LPAC). I came away from there knowing that acting was what I wanted to do with my life & haven't looked back since. Following several unsuccessful auditions for both Toi Whakaari (3 times) and Unitec (twice), I went about getting the practical experience myself, starting with a group of us from LPAC starting up our own theatre company called Scrambled Legs (which, since its founding in 1995, is still going strong now). We specialised in mixing comedy & drama with contemporary dance, with myself & a friend writing all the material we performed. During all this I worked for both Hoyts and Rialto Cinemas as duty manager, and projectionist at the latter, all fuelling an ever-increasing fascination with film.
Then, in 1999, I felt like a change to get out of a rut, so moved up to Wellington, taking a position at Rialto Cinema up here to help pay the bills while I tested the waters. Had my first dabble in the theatre world at the end of that year in Margaret & Vanessa's Xmas Special put on by a workmate & her friend at Bats Theatre, in which they got me to run onstage & sing a song, then realise I am in the wrong play. They wrote the character in after they liked the song I sang in the audition so much. Lighting this show was one David Lawrence, fresh back from the UK, who wanted to start up a new theatre company and at the end of the season he asked if I would like to be a part of it. And so began the Bacchanals and my involvement with them. It's been a fantastic ride.
Started out as a spear carrier in our first show, The Frogs, then had a promotion up to Roderigo in Othello. The roles have been numerous and very enjoyable & challenging. Highlights include an angry lodgemaster dad & bored goth in Wealth & Hellbeing (most workmates who saw it couldn't believe the profanities that came out of my mouth in that one), a school uniform wearing Demetrius in Titus Andronicus (always fun playing a nasty, remorseless villain), the Ghost of Hamlet's father in Hamlet (despite feeling older than my actual age for the first time in my life, due to the full, bushy beard I grew for the part), A in Crave (one of the scariest & most exhilarating opening nights I have ever done), and the very physical Andrew Aguecheek in our tour of Twelfth Night. All the roles have been great to do & special mention must be made of the challenge I was presented with when David decided to entrust the title role of Volpone in Volpone or The Fox to me. Another very scary & exhilarating experience, it was a true test to me to see, if nothing else, that I could learn & retain an excessive amount of lines, including a rather large, terrifying monologue in the form of a mountebank scene. Volpone, and the trilogy it was part of, is an experience I will never forget.
2003 has been my busiest so far, also including the pleasure of working with Jean Betts, with roles in The Collective and Fold. I continue to work in cinemas, now doing projection at the Lighthouse Cinema in Petone, and have also started a foray into film acting, which is where I would like to ultimately continue, with roles including Billy in the short film Billy & James, and a principal role in the upcoming sci-fi feature film Event 16. People seem to like giving me multiple roles to do (I had 15 characters in The Collective), all requiring enough costumes & wigs to dress up a small city, and all I can say is keep them coming 'cause I love doing them. I may be the oldest Bacchanal, but doing all this keeps me much younger than many I know, and I intend to stay young for a very long time.
Julia Harrison
Julia is a rather special member of the Bacchanals. As a child she enjoyed knitting, and also played daily with a town of miniature animal creatures called 'Sylvanians'. She dreamed of being an Amazon princess and later, a cat, though was constantly teased at school for being very pale-skinned and having hairy eyebrows. And for being a nerd. She was good at netball.
For a whole year Julia believed that she was John Lennon reincarnated. For no particular reason this fantasy was abandoned in her later teens, alongside a career in professional golf (potentially). In the late 90s she ventured into the arts and for a time was a covergirl for the Upper Hutt Leader.
Julia first met Bacchanals writer and performer, Walter Plinge, at the Newtown SPCA in 2002, where he was recording sound effects for his latest show. She's never looked back.
Irene Flanagan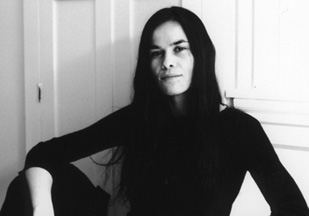 With little theatre experience in previous years (Shoot-out in 2001's Young & Hungry and Between the Islands in 2002's Fringe Festival), 2003 has been a steady year. In the first half of the year I had the delightful experience of taking part in Jean Betts' The Collective, twice! Popular demand had us perform at the Gryphon in June having had the experience of performing at BATS in March. The role of Grete Steffin contrasted sharply with my next casting as The Daughter in Jo Randerson's Fold which was performed at BATS as part of the Laugh! Festival in April/May. Two characters, worlds apart and yet connected by the trauma they suffered at the hands of their supposed loved ones. August found me filming with The Bacchanals for their approaching production of Euripides' The Bacchae, a fun and challenging experience. Inspiration to meet the early morning call times was definitely a character-building experience, especially when you're anticipating freezing cold water or the attempt to drive in a sleep-like state causes you to crash your partner's car! Still, I look forward to Romeo and Juliet and whatever trials it has to offer!
Natasya Yusoff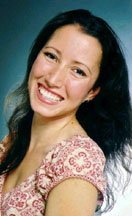 It all started in the middle of the day in early January 1977!!! An ugly child was born into to world (my mum keeps telling me how I was an ugly baby!! Nice huh!) Anyway there I was living in a small town in Malaysia with fantasies of becoming part of ABBA!! Yes sad but true...However after being an extra as the child of a war prisoner in the BBC drama series TENKO and doing a few "kindy" concerts as a flower and then playing part of a train (yes, a choo choo train) in a Christmas nativity play in England when I was seven I knew at that moment that... I was going to be an actor!!!
Forgetting about the fact that I was an extremely shy child, I threw my self into drama at school with a passion and geared all my education toward the attainment of my goal. After high school, I spent a year at a little performing arts centre in Christchurch and then headed off to the bright lights of the big glowing city of Kuala Lumpur to hone my craft in television and film. Seven years later and loads of local "tele movies" and theatre and voice overs and anything else I could get my teeth into, I realised I was bored with the whole Malaysian entertainment industry. So I packed my bags and headed back to Kiwiland with my sights set on Wellington. It seemed the best place to live in the north island. So here I am.
This will be my first complete Bacchanalian experience. I did participate in the film footage for The Bacchae where my arse got a lot of screen time!
Joshua Judkins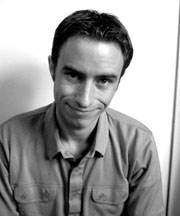 I entered this world on the other side of it, namely mid-west USA, in 1978. With my mother's family here in New Zealand, and my father's there in the States, I've never felt particularly 'rooted' anywhere.
My theatrical experiences began at a very young age, playing 'the mouse that ran up the clock'... I vaguely remember being told to "bow" at the end of the performance and having absolutely no idea what that meant. In the years that have followed, my views on theatre have moved from interest, to idealism, to a fluctuating love/hate relationship - the cynic and the idealist are still fighting it out to this day.
The world of professional theatre began for me in 1996, when I came to Wellington to help run what was then the Repertory Theatre for the Fringe Festival. Little did I realise it would be a nearly 24/7 job, nor that it would capture my passion and imagination as it did. It was meant to be a two-week trip, and I basically never left. After a variety of projects, I went through the Toi Whakaari Technical Course (at that time quite different to the ET diploma now offered). That was where I discovered theatre isn't always an amazing, passionate, exciting industry to work in - sometimes its just hard work. Which in turn taught me to really appreciate the stuff that is good to be involved in (which the course also offered, don't get me wrong). I was left with a desire to take a break from theatre for a while, just make some money and gain some skills... which lead me to a 2 ½ year stint as an AV Technician.
The past two years I've gone back to being a poor student, and finished off my Theatre & Film undergraduate degree. It's the contacts I made there that have prompted my re-entry into the professional theatre realm: co-designing set, AV and lighting for Theatre Pataphysical's After Kafka, and now joining this exciting team of people that are The Bacchanals. From what I can tell, the ethos and approach of the group are ideally suited to my lifelong goal of having a good time until I die... I suppose only time will tell.
Hadleigh John Walker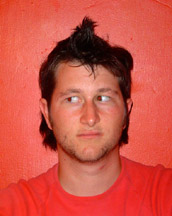 He was Born in the big smoke of Hastings. Raised in the rural calm of Waipuk.
A larrikin child was young Hadleigh. This fool of the class ran a-muck.
With big ears and a cricket bat he sent off to board. Private school was to be the fix.
But it sadly supplied a talented shirker with only more confidence and wit.

Given three great years of private primary directed towards applied academic thought,
Debating, school drama, chapel choir, academia, and an unusual level of sport.
Cricket was the lead, with others in between, most notably winter's football.
A role in Sweeney Todd the first guiding star. A lead? A comic? His call?

Wanganui Collegiate, scholarship in hand and spectacles wedged on his nose.
Took third form off to acclimatize, and focus on sport I suppose.
But Fourth form arrived, and with it came Kafka, Metamorphosis his debut run,
Addicted again to the rehearsals till late. The personal pressure. The fun.

House of Usher, King Lear, Into the Woods, and Medea.
Innumerable performances to recall,
Tour to Britain, Stags and Hens, from punks to lovers to princes,
He found his outlet, made friends and had a ball.

University brought pies, beer and hilarious hostel life.
B.Arts in Theatre and Media gave him three years of strife.
Fate had its way and along came a chance to impress Mr David Lawrence,
Soon James, Irene, Tina, Alex, Eve, Erin and Julia,
Were to be more than just an acquaintance.

One tour, one death scene and one hell of a good time
This hooligan from Hawkes Bay awaits annual re-for-ma-shi-on.
We shall take the world with 'Dream', or perhaps just Te Kuiti.
In a few summers' time, repertoire accumulating, just imagine where we could be?
Erin Banks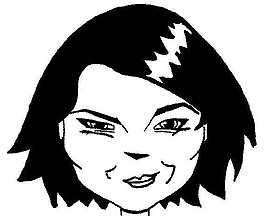 Born in Masterton in 1984 (making me the baby Bacchanal) I grew up in one of those annoying families that sing all the time. At home, in the car, alone or in company just give us half a chance and we're off, so I suppose the performer in me was being nurtured from a young age. Musical theatre and dance was what I saw and was involved in as a child, in fact I was 15 the first time I saw a 'play' ( Speaking in Tongues at Circa 1999). By the time I reached High School I was grabbing every opportunity that came my way; local theatre groups, school musicals, dance recitals, singing competitions, theatre sports, Stage Challenge, The National Youth Drama School and The Sheliah Winn Shakespeare Festival, from which I weaseled my way into the SGCNZ Young Shakespeare Company for 2001. The trip to the Globe theatre in London was the nail in the coffin for me; theatre was what I wanted to do. Upon returning home I discarded plans to study medicine at Otago and moved to Wellington to start a BA in Theatre. Young and Hungry was my introduction into the Wellington theatre scene (as it is for so many) in The Plum Tree directed by Kerryn Palmer in 2002. Then after working with David in my university theatre courses in 2003 he asked Hadz and I to join the company for the 2004 tour of Romeo and Juliet a baptism by fire into this amazing group. Other work in 2004 included The Laramie Project Directed by David O'Donnell at Studio 77 and ActionDirected by Ryan Hartigan at BATS. For 2005 the runaway train that is A Midsummer Night's Dream kicked us off, followed by Hate Crimes which was an extraordinary production to be a part of. And so yeah...wow. Fin.
Carey Smith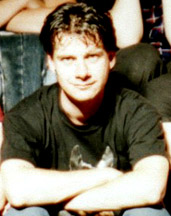 Carey was born in 1969 and grew up in Te Kuiti before residing in Hamilton and Christchurch. He shifted to Wellington in 1995. His theatre work includes The Misandrist, Fold, Camelot School and Arrrggghh! (The Live Movie Experience). He was part of the comedy group So, You're A Man who played sell-out seasons in Auckland, Wellington and Melbourne. In 1998 he wrote and performed the solo show Chortle (described by the Evening Post as "the most seriously disturbed work I've seen"), featuring a depressed clown who enjoyed depraved puppet shows. Chortle had seasons at BATS and the Silo. He directed the shows Margaret and Vanessa's Xmas Special and Insomnia at BATS and was a founding member of The Bacchanals, playing Xanthias in The Frogs, Eric in Wealth and Hellbeing, Iago in Othello, B in Crave, Chiron in Titus Andronicus, Bonario and Peregrine in Volpone and the title roles in The Jew of Malta and Hamlet. In May 2002 he married Hilary Willard (fulfilling a psychic's prediction in 1986 that he would wed an American) and is currently travelling the world. If anyone has winter work for them in Switzerland, let us know!