who is it that can tell me who I am?
the tragedy of king lear
by william shakespeare
Wednesday 1 August - Sunday 5 August 2007, Te Whaea Theatre, Wellington;
Friday 10 August - Saturday 1 September 2007, Fortune Theatre, Dunedin
[from a foyer sign, August 2007] WARNING! King Lear contains a smoke machine, a strobe light, some loud noises, violence and repeated use of the word 'bastard'. It also suggests that life might be meaningless. Sufferers of existential angst may find this play disturbing.
cast:
Mick Rose (King Lear), Erin Banks (Cordelia, The Fool), Alex Greig (Edmund), Salesi Le'ota (France, Oswald), Phil Grieve (Albany, Old Man), Malcolm Murray (Kent), Bruce Phillips (Gloucester), Amy Tarleton (Goneril), Jacquie Nairn (Regan), David Goldthorpe (Burgundy, Knight, Curan, Servant, Messenger, Captain), Sam Snedden (Edgar), Alistair Browning (Cornwall, Doctor)
Set Design Peter King; Stage Manager Simon Vincent (Wellington) Alan Surgener (Dunedin); Lighting Design Joshua Judkins (Wellington) Alan Surgener (Dunedin); Sound Design Walter Plinge; Publicity Mia Judkins (Wellington) Lisa Scott (Dunedin); Photography Karin Reinholt, Reg Graham; Directed by David Lawrence
Oh god, do I have to revisit this one? I could write an entire book on the Year of Lear, the period of my life from August 2006 to August 2007. In 2015, I think, I relived it day by day on Twitter using my diaries as a reference point and it was a succinct way of telling the story, matter-of-fact and devoid of the trauma of actually living through the whole experience again. Let me sum it up so you don't have to read any further if you don't want to: in 2007, The Bacchanals and the Fortune Theatre mounted a $95,000 co-production of King Lear. It was a miracle the show even made it to day one of rehearsals; and then in the first week the actor Edward Petherbridge, who'd flown from the UK to play the title role and who I'd spent 6 months planning the production with, had a stroke and had to be replaced with the clock close to running out on opening night. This has been written about extensively as one of those crazy tales of theatre defying the odds and the show must go on-ing, and Edward even made a play about the experience, a two-hander called My Perfect Mind which he has performed in the UK and New York. The perhaps less-interesting and certainly less-told side of the story is the one where the show did go on: we pulled off King Lear, the play considered the Mount Everest of Shakespeare and the play I considered to be my own personal Mount Everest. I had already decided before rehearsals started that I had to, for my mental health, walk away from theatre and do something else and that this would be the last thing I ever did. But the extraordinary experience of getting through that production made me realise, "Wow, if I could get through this, I can probably get through anything."
We'd tried to do it before. In the list of mythical Bacchanals-shows-that-might-have-been, some projects got much further down the track before they were abandoned (like the double-bill of The Merry Wives of Windsor and Timon of Athens I was thinking of for 2004 or 2005) but I was surprised, slogging through old paperwork, to find we got as far as pitching that never-was King Lear as a Circa Studio show but the council weren't interested. It would have followed Twelfth Night in 2003 and had John Porter as Lear, Mark as Gloucester, James and Alex as Edmund and Edgar, Eve, Erica and Tina as Goneril, Regan and Cordelia, Adam as Kent, and the comedian Benjamin Crellin as the Fool. That would have totally worked, yeah? But after Twelfth Night I was exhausted by large casts, and then we got the STAB commission for The Bacchae, and the show was abandoned. But I must have always planned to come back to it, because I remember talking to Malcolm Murray about the play during Gagarin Way in 2004 and saying "Would you want to play King Lear?" and him laughing incredulously at the suggestion and replying that he'd be better suited to Kent, surely. And I remember backstage at Circa around the same time, Bruce Phillips about to go onstage and doing the old superstitious actor joke of asking "What's my first line?" and me answering, "Attend the lords of France and Burgundy, Gloucester!" to which Bruce said, "I pray the day will never come when that is my first line; I hate King Lear!" and I thought alas, Bruce won't want to be my Lear, then. And I also remember having a conversation about the play with Ray Henwood—again this must have been in 2004 or 2005—in which he lamented what he'd thought had been a poor job when he'd played the role in Richard Campion's production at Circa in the early-1980s. "I was too young," he lilted, "but I'd love to play him again" and the twinkle in his eye said he knew I wanted to direct the play, and I'm sure my agenda in the conversation had been to secretly gage for myself if he'd ever want to play it again. I know at one point I drunkenly said to Ray's son Dai, "I really want your dad to play King Lear for me one day but I'm too scared to talk to him about it," and Dai said, "He knows!" And now as I type this I remember: for a couple of years the designer Martyn Roberts and I had more than vague plans to do the play together. And it makes sense: as I say, it was my personal Mount Everest and whenever anybody asked, "What's your dream project?" I'd have answered: "King Lear, obviously!"
In July 2006 I directed the NZ premiere of Hitchcock Blonde at the Fortune in Dunedin. The Fortune were in their second year of an unusual model whereby, instead of an Artistic Director, each year's programme was decided by a committee, they advertised for directors, held open auditions every year, and the brilliant producer Janice Marthen was employed as General Manager. For four wonderful years, it was the one theatre in the country where you could get employed based on merit rather than nepotism, and where you couldn't ever complain about being overlooked for a job because anyone could pitch to work there. This was not popular with the local theatre community, who were used to getting all the jobs there and suddenly found themselves in competition with the whole country for work, but my outsider sense was that it was this very parochialism that had led to all the in-fighting that caused the board to do away with the Artistic Director-led model. But as far as the rest of the country was concerned, the Fortune was the best place in NZ to work and those of us who got to go down and work there were spreading the word, inevitably leading to more and more outsiders trekking south and more and more angry locals (when I directed Jane Eyre there in 2008, the Listener's theatre reviewer bitchily said the show didn't count as the Fortune's contribution to that year's Otago Arts Festival because I was a "foreign import"). Janice was the recipient of much hostility from bitter locals but she ran one of the happiest teams I've ever seen down there and did a phenomenal job reading scripts, recruiting directors, auditioning actors, managing budgets, writing copy, working on long-term planning and funding submissions, and trying to make the Fortune a real presence within the NZ theatre ecology. Outside of directing shows there, I loved just being in the office watching the team at work and observing their dynamic and was treated like part of the family by all departments ("if you want to come out to the workshop for a beer after rehearsal tonight, we've got some old explosives and we're going to blow up a couch!" said the wonderful scenic team one lunchtime). Janice and I got on brilliantly and the week that Hitchcock Blonde opened—a production so complex and so behind that the preview was actually our first technical run of the show—Janice showed me the draft programme for 2007 and said (yes, I'm aware that this maybe contradicts my earlier comment about merit!) "Take your pick!" and there was King Lear. A week later the programme had changed—the board deemed King Lear might be too expensive—and on my last day in Dunedin I read Losing Louis, a play by Simon Mendes de Costa that might take its place. Three weeks later when I came back down for the end of the run, the Fortune had found out that Creative New Zealand were reducing their annual funding so they could only afford to do 7 instead of the usual 9 in-house shows and Janice put the plan to me: a Shakespeare with a cast of 12 was far too expensive for them to manage on their own, but what if The Bacchanals and the Fortune co-produced King Lear together? It could rehearse and open in Wellington and then come to Dunedin for the end of its run. If we split the costs and resources, then effectively I would have an otherwise-unavailable infrastructure available to me when it came to the Fortune's marketing team, technical team and scenic workshop, and the Fortune would get a 12-actor full length Shakespeare but only have to front up what they'd usually budget for a single-set, 5-actor production. It was a pretty good model: I would pay for rehearsals and the Wellington run, and the Fortune would pay the actors' wages from opening night. "That sounds like an absolutely amazing idea," said Creative New Zealand, when Janice advised them I'd be doing a funding application. They asked to be talked through the model, and decided this was a great way forward for venues and companies in the future and promptly set up a Cross-Sector Collaboration fund based on our working model, to encourage recurrently-funded theatres and independent theatre companies to work together. Everything was positive and it looked like King Lear was a go: we would rehearse in July 2007, and opening night would be Friday 3 August. Over the next few months I locked some people in: Malcolm would play Kent, Alex would play Edmund, Bruce amusedly agreed to play Gloucester, Phil Grieve would play Albany, Erin would double Cordelia and the Fool—a double I've always disagreed with from an academic point of view (Robert Armin, Shakespeare's company's clown, would have played the Fool and no surviving evidence suggests he ever played young daughters in the King's Men's repertoire) but a far better challenge for Erin than just Cordelia and a necessity of getting the total of actors down to 12—and there were a few other things that didn't work out: Danielle Mason, playing the titular Blonde in Hitchcock Blonde, was going to be Goneril; Simon Vincent actually picked Edgar as his role of choice—which I thought was amazing and wonderful given I think Edgar is perhaps the hardest, most impenetrable and incomprehensible character in all of Shakespeare's plays—and one of the greatest actors I've ever known but never got to direct, Jason Whyte, was going to play Cornwall despite his long and ardent refusal to do Shakespeare.
Who, though, would play King Lear? In recent years I'd seen Ian Mune in the disappointing Theatre-At-Large production of 1996, KC Kelly at Centrepoint in 2001, Geraldine Brophy in that ridiculous 2002 production that finished off the short-lived New Zealand Actors' Company, and I had loved David McPhail in Peter Evans' brilliant Beckettian production at the Court in 2004 even though I fundamentally disagreed with every single aspect of the production's approach—in essence, King Lear can either be bleak and nihilistic, or redemptive and cathartic, and I've always been in the redemptive and cathartic camp—but I was still a pretty young director and all my experiences with big scary personalities or divas had taught me that I valued harmony and a happy rehearsal room more than anything else. There's enough drama in the plays without having to then be fighting a strong personality in the room, and that's been something that's stayed with me through my career: if it's a choice between someone who's a brilliant actor but a nightmare to work with and someone who's not-quite-as-brilliant but is a nice human, I'll pick the nice human any day. I thought I would be too intimidated to direct Grant Tilly; I adored Jeffrey Thomas as an actor but thought he was too young and all the stuff I loved about his acting was to do with intense naturalism—did I really want to see him "shouting in long shot" as some TV actors refer to theatre? So it came back to Ray Henwood by default, although having spent years and years watching his acting, I worried that I'd seen all his tricks and I certainly knew, seeing him in texts I knew well, that by 2006 he wasn't always dead-letter accurate lines-wise. And as a director who cared about text above all else, that could be problematic.
The Fortune, on the other hand, weren't interested in someone local. Their marketing department had deduced that the reason their 2005 Hamlet hadn't done as well at the box office as their 2004 Othello, despite being the more famous play, was that for Othello they'd flown an actor who was on Eastenders over from the UK to play the title role, whereas Hamlet was just some New Zealander, much harder to market out in the ignorant colonies. I was initially sceptical at the idea of importing a Lear from overseas but Janice's argument, and the argument we put to Creative New Zealand when they questioned it—because you could absolutely say that when there are so few paid acting jobs in NZ as it is, to give one of those jobs to a foreigner instead of a New Zealander is unfair and unjust (although as I type this I'm aware this was exactly how the Dunedin theatre community felt about the Fortune giving what should have been their jobs to all of us horrible Wellington and Auckland folk with our flat whites and puffa jackets)—was that it was an important cultural exchange and that it would be an incredible opportunity for New Zealand actors to get to work with someone from the RSC or the National Theatre and learn from them. And Janice also thought on a personal level that it would up my game to work with someone of that calibre, and also that it might open up international opportunities for me. There were two names she pitched: Brian Blessed and Edward Petherbridge. Janice had worked with Brian Blessed in UK theatre, knew that he loved the play and that like me he was a mad Libra and an animal-lover, and thought that as a fanatic mountain-climber he'd relish the chance to climb Mount Aoraki on his days off. Edward Petherbridge had the perfect RSC and National Theatre pedigree—besides his distinguishing himself in more unusual roles at Stratford on Avon such as Don Armado in Love's Labour's Lost and the title role in Cymbeline, he'd been part of the National Theatre at the Old Vic under Sir Laurence Olivier, and the original Guildenstern in the Old Vic's production of Rosencrantz and Guildenstern Are Dead. I'd also seen him perform Beckett's solo show Krapp's Last Tapes in Edinburgh in 1998. But Edward had also, in the late-1950s, married a New Zealander and toured with Richard Campion's New Zealand Players before returning to the UK. His ex-wife Louise was still one of Dunedin's most beloved actors and directors and they'd had a son together. Brian Blessed would certainly get us wide publicity, but Edward Petherbridge would be a great drawcard for Dunedin audiences.
We tried Brian Blessed first, and it just so happened that at the same time as we were in conversation with him about it, he was a guest-host on City Hospital, a BBC show that now-UK-based original Bacchanals producer and actor Eve Middleton was working on. "What a foul-mouthed, saucy old brute he is!" reported Eve, telling me that when she'd phoned him to confirm his on-set call time, he answered with, "I thought you were Kenneth Branagh; I'm meant to be walking his dog!" He was available, his fee was within the parameters of what we could afford, but there was one problem: as far as Brian Blessed was concerned, the only right way to do King Lear was to set it in the 8th century and for Lear to be a druid. But I was set on, as per almost all my Shakespeares up to that point, modern dress. I couldn't bear those productions of Shakespeare with polystyrene rocks and the smoke machine going all night and everyone looking like they were wearing sleeping bags. Janice urged me to stand my ground on it as she felt a Lear who agreed with my vision was paramount, so I argued my reasoning that Shakespeare is hard enough for New Zealand audiences, and the plays seldom enough done here that they don't need to be dressed up in big concepts in the way that UK Shakespeare, where you're inevitably in comparison with at least 4 or 5 other major productions of the same classic when you do one, has to. What would be needed for this King Lear was simple, clear storytelling and stripping away extravagance of concept. I wrote it all up as articulately as I could one Friday night, sent the e-mail, and then went to Circa Theatre to see Ray Henwood in a play thinking, "If Brian Blessed is insistent on being an 8th century druid, then after this show I'll finally talk to Ray about Lear!" ... but it was one of those nights where Ray's lines were all over the place, and I walked home thinking, "Hmmm ... what if Brian Blessed played Lear as an 8th century druid, but all of the other characters were in modern dress?" like a reverse version of the Peter Hall-Ian McKellen Coriolanus of the early-80s? A few days later Brian passed—he was going to go on a publicity junket for a film instead—and I missed out on being one degree from my hero Kenneth Branagh. I did get a birthday card though: a picture of Brian Blessed and Eve on set together in London, and in the card he'd written 'GORDON'S ALIVE!' in big shouty capitals.
And then, by chance, Janice got a phone-call from, improbably, Edward Petherbridge. Well, not so improbable: his son David had been in New Zealand, visiting his mother Louise in Dunedin, and had been at a party with a Fortune board member who said, "They've been talking about your dad as a possible King Lear," so Edward phoned the Fortune to say, "I hear I might be on a list of candidates to play King Lear for you, so thought I'd better let you know that I'd be very interested!" After e-mail introductions a phone meeting was arranged and, early morning for me/late night for him, Edward and I talked cautiously for about an hour about the play, the role, my approach, his career and some of the things he'd worked on—I mean, he and Ian McKellen had been given their own company inside of the National Theatre under Peter Hall in the 1980s—and he was charming and funny but also very deferential and interested in what I had to say while asking me questions that absolutely confirmed Janice's opinion that an actor of this calibre would absolutely make me raise my game. The dates worked in that he was committed to a touring show that would finish the week before rehearsals start, and we both saw it as a sign that our scheduled opening night was also his 71st birthday (and I adore Leos—all Greek gods in human form, in my experience). The tone of the conversation by the end of it was that Edward liked what I wanted to do, was fine with modern dress, and he agreed redemptive & cathartic rather than bleak & nihilistic. "Several of my friends and contemporaries," he said, as if I didn't already know, "are now earning millions of pounds in blockbuster Hollywood movies. It would be wonderful for my self-esteem, as well as a wonderful 71st birthday gift, to get to come to New Zealand and play King Lear!" We agreed to report back to our respective parties that the conversation had gone well; I talked to Janice to say, "I think it went really well!" and she said, "Well, I'll make a formal offer via the agent and let's see what works out!" and I went off to rehearse Hamlet expecting it might be several weeks before we knew where things were at and whether it was definitely happening. When I got home that same day, late night for me/early morning for him, there was an e-mail from Edward saying, "I have started learning the first scene, and just wanted to run these ideas about the first speech past you," and I thought okay, so he's definitely doing it!
This became the pattern over the next six months: even though it took another month before terms were agreed on and a contract was signed, pretty much every day Edward and I corresponded by e-mail as he did a first pass of learning the text. We talked interpretation and meaning, staging possibilities, but there was also a huge amount of anecdotal conversation where he'd tell me about productions he'd seen or been in, extending from King Lear to his whole career; we'd also talk about how our respective other projects were going, the theatre and films we were seeing. His old friend Ian McKellen was also preparing to play the role for the RSC, so there would be surreal e-mails that began something like, "I just had lunch with Ian and we were talking about Act Two, scene four, and he said he thinks this line means this, but I told him you said no, the proper meaning is ..." We would also talk via phone every week or so which was a much less formal way of feeling like we were collaborating on the show together, and he'd call me at all unusual hours about all unusual things King Lear-related—I even remember one conversation where he called me about a costume idea from backstage in the wings of the show he was in the middle of a performance of, a call that abruptly ended with, "Shit, sorry, I need to get onstage!" At one point Edward floated the idea that our correspondence be published as a book that could be sold in the theatre's bookshop during the run, which would have been a perfectly achievable aim in the UK where there was a market for theatre publishing, as well as theatres having bookshops in them!
Amidst all of this, from November 2006 to June 2007, I was working my arse off. I was tutoring at Victoria University and also working with the actors and musical theatre students at what was then the Wellington Performing Arts Centre; I directed David Geary's A Man Walks Into A Bar in a bar, a student production of 4.48 Psychosis, The Bacchanals' production of Hamlet, a Fringe Festival remount of A Man Walks Into A Bar, the first incarnation of David Goldthorpe's piece about Chet Baker, Like Someone In Love, and two traumatic Paul Rothwell plays back-to-back, the notorious Deliver Us which Erin, Alex and Salesi were in, and the amazing flop Kissing Bone. And alongside all of this, I was spending an hour each day sitting in bed with my workbook working my way through King Lear, and spending a number of hours every week working with Janice and the Fortune on producing the show. As 2007 progressed there suddenly became a lot of pressure on King Lear to succeed, personally and professionally, for both Janice and I. The Fortune had a terrible start to the year when their first production for 2007 collapsed a fortnight out from opening night: Georgina Beyer had been set to star in the first show for the year and it was a major coup for the Fortune—having been a singer and drag-queen in the 1980s, Georgina was making her comeback as a performer after two terms as a Labour MP and several years before that as Mayor of Carterton. The whole season was practically sold out but after a long time away from the stage and an exhausting public life, Georgina found being back in the rehearsal room trying, and was struggling to learn lines and keep up with the choreography, and not feeling supported by the director. The week before production week, Georgina walked out, the season was cancelled, and the Fortune had to refund nigh on $150,000 to ticketholders. Casting Georgina had been Janice's idea so of course she copped the flak for it, even though she had done everything she could to find solutions to Georgina's problems. The loss of a show that should have been a cash cow for the Fortune put undue pressure on the rest of the year's programme. And what should have been a full and fulfilling 2007 for me was also coming undone as all the hypothetical projects that would keep me in work between the close of Kissing Bone in March and the beginning of King Lear rehearsals fell through. A writer had asked me if I would consider directing a play he'd written for the annual Young & Hungry season at BATS in June. I read it, loved it, the dates worked out perfectly with the other project I was in contention for, so I said yes I'll do it. But Young & Hungry's management—at the time a closed shop unless you were a graduate of the MTA in Directing from Toi Whakaari—asked me to come in and pitch for it, which I found insulting: I'd been in three Young & Hungry seasons and had directed for them before so it wasn't like I was some never-heard-of-before newcomer. In my arrogance I felt like, as the Chapman Tripp Director of the Year 2005, frankly they would be lucky to have me. "I'm available to do it and the writer wants me; what's the problem?" I asked. They ended up giving the job to the MTA graduate who'd workshopped the script the year before. "Because of their contribution to the workshop, we feel they've got the right understanding of it to direct the production," said Young & Hungry. "It's because of their contribution to the workshop that I wanted you to direct the production," said the writer through clenched teeth. At the same time I was on the shortlist to direct a show in Downstage's 2007 season—not the Shakespeare, weirdly, but a new NZ play that Danielle Mason was going to star in and had probably recommended me for. It would open just before King Lear went into rehearsals which was perfectly timed, and the play was one that would require me to quickly become an expert on a subject I knew nothing about and those were usually my favourite projects. More importantly, it would be my first time directing at Downstage and a crucially important step in where I saw my career going. At the end of the pitch I was told the other two directors in contention were Ross Jolly and Colin McColl and I thought, well, I won't get it then but it's amazing to think I'm being considered for the same job as the two of them. The job didn't end up going to any of us, but instead to an actor who was friends with the artistic director. Danielle was gutted. "David would have been perfect!" she told the artistic director, who apparently said, "I know, but [person who got the job] is trying to pay off their mortgage fast." These were irksome outcomes, but the really upsetting one was Simon and I putting weeks of work into the STAB pitch for Nick Stuart, the Gavin McGibbon play we spent four years trying to get funded/programmed. The play was a kind of film noir about a gumshoe detective investigating the murder of a famous silk merchant, all 1930s-hard-boiled detective speak but set in present day Wellington, and the best way of realising it was with a virtual set so the actors could interact with a detailed, moving world on-screen as characters moved between the film world and the real world. We made the final round in that year's STAB process and while I don't remember a lot of the politics around it now, I just remember being so angry and defeated not to be programmed. I had some real issues with the then-management of BATS whereby I felt like maybe they'd be more grateful for the high profile work I'd done and what a champion I always was for that building and the work that went on there. And I felt that gratitude in future years when I wouldn't even have to pitch when Martyn or Cherie ran the building—Cherie would say "I have four weeks in April/May you could have" and I would tell her three potential ideas I had for the slot. But in 2007 I felt like BATS' view of me was "we can rely on this guy to come in and cover as house tech for the pack-out on Saturday night that no one else wants to do, but we'd really rather not trust him with an important commission." The explanation we later got was, "Nick Stuart sounds like a show that would probably be very commercially successful, and we really wanted to give the commission to work that wouldn't otherwise get programmed," i.e. stuff they knew was not going to reach a wide audience or be very successful. Which I get: when my ex-wife worked at the SPCA, she always said: "You should adopt the one-eyed three-legged animal in the corner, because that animal is otherwise never going to find a home. The cute kittens and puppies will have no problem getting adopted." But by the same token, if you're adopting a dog in order to win a race, you're going to pick the greyhound, not the one-eyed three-legged one. It just seemed absolutely ridiculous to us that the one time each year a show at BATS could be properly-funded, they'd willingly choose to back something they thought might be a big failure. I was very, very demoralised and for the first time, genuinely considering that it was no longer worth the effort of trying to make theatre.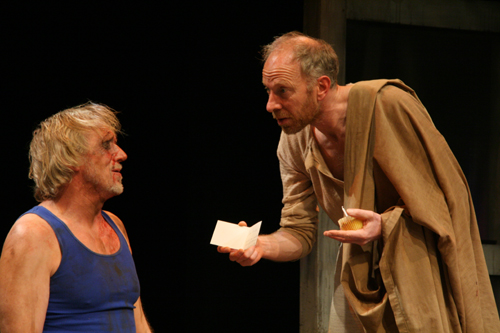 Raising money was going okay. The application to Creative New Zealand would cover the wages for 11 actors plus me for the rehearsal period. Otago University had come on as a sponsor and their contribution would cover Edward's fee. The Fortune's members society would pay for business class flights to get Edward here and back. Thanks to some work by my industrious friend Zelda, who'd produced Deliver Us and Kissing Bone, the Bolton Hotel would accommodate him free of charge. I'd found money to pay for rehearsal space and for airfares to Dunedin, and Charlotte Larsen very generously gave enough money to pay for a venue. But finding a Wellington venue was proving difficult. We'd have had to have planned long in advance to have been in contention for a season at Downstage or Circa. BATS weren't interested and BATS, at 95 seats, was half the size of the Fortune and while the steep rake of the seating block leant both spaces the same intimacy, we couldn't have made enough money at BATS even if every performance was full—we needed to sell 3000 tickets. We needed a space that could seat about 200 people, with a bare stage. Soundings at Te Papa and the Memorial Theatre at Victoria University were both proscenium arch (boo-urns), too large audience-wise, and very expensive to hire. The main studio at Te Whaea, home to Toi Whakaari: NZ Drama School and the NZ School of Dance, could hold 200 and was an infinitely reconfigurable space, but it was only available for one of the three weeks we wanted. Studio 77 at the university theatre programme could make itself available to me, but only outside of term time which again didn't work in with our dates. I remembered that there was a theatre space in the basement of the National Library which I had very occasionally seen improv and university comedy competitions in a couple of times in the mid-1990s, but for some reason I could never get in to see it—it was managed by a council employee who never seemed to be in the office and even when I did make an appointment with her to see the theatre space, didn't turn up. I got some way towards a deal with the guy who was managing the old James Cabaret on Hania Street which I'd mostly only seen bands or stand-up in. He was using it as a space for corporate events and one-off fashion shows and gigs and was dubious about a month-long booking—the amount we had to offer per week in rent was what he was used to getting per day for the space, but I figured if we had it for rehearsals as well then he'd be getting two months of guaranteed income, as opposed to gambling that he might get a one-off corporate booking in that timeframe. "Well, okay," he agreed reluctantly, "I'll accept that rent, plus I'll operate and keep anything made at the bar," but he also wanted a clause in the contract that said that should a better-paying corporate booking turn up wanting a date within those two months of my hire period, he'd take it and cancel the deal with us. So I went back to trying to get the council worker who managed the National Library space to take my calls, feeling very, very demoralised.
And then mid-February an obstacle that could have scuppered the whole project presented itself. You know how I mentioned that Edward's pal Ian was preparing to play Lear for the RSC? Janice messaged to say, "Have you heard anything about the RSC King Lear starring Ian McKellen coming to New Zealand?" The Fortune's marketing team had been given a tip-off that the RSC were about to announce on-sale dates for Auckland performances. "I don't think that would damage our box office," I said, "but weird, given the connection Wellington has to The Lord of the Rings, not to mention it being the cultural capital, that they'd go to Auckland but not come here." Over the next few days the news couldn't have been worse: the RSC would be announcing dates for Auckland and Wellington, and those dates would be right in the middle of our run. On the one hand I couldn't have found it funnier—this had happened twice before to The Bacchanals, when Downstage programmed Romeo and Juliet in the same year as our 2004 production, and far more annoyingly when Circa programmed A Midsummer Night's Dream in the same year as our 2005 production. On the other hand, this absolutely screwed our Wellington season. We couldn't compete with the RSC for marketing and publicity, and as much as he might be a drawcard in Dunedin, who was going to buy tickets to see Edward Petherbridge play King Lear in Wellington when they could buy tickets to see Ian McKellen play King Lear in Wellington? As Janice and I went into damage control, Edward called me to say, "I've just talked to Ian and he had wonderful news: our two King Lears will be playing in Wellington at the same time! What an opportunity for audiences to compare the two different interpretations!" and I had to remind him of the time that William Macready and Edwin Forrest both staged their rival Macbeths on Broadway at the same time in 1849 and there was a riot that saw 39 people killed. In London this may have been a great publicity piece for both productions, and for audiences to enthusiastically compare and contrast, but in a city with a population the size of Wellington's, we were screwed. Janice and I looked at a number of different scenarios: could we ditch the Wellington run, and just rehearse and run the show in Dunedin? Yes, but that would mean it would have to be cast largely from Dunedin as there wouldn't be the provision for 8 weeks' accommodation for that many out-of-towners. And it would have to share a cast with the show before it in the Fortune calendar to save on wages. Maybe I could direct the show before it as well, and that way retain some control over who ended up in the casts of both? Then there was talk of the Christchurch Arts Festival wanting to come in on the production, so instead of running in Wellington and then Dunedin, it could run in Dunedin and then Christchurch. But that wasn't going to work for Edward, who was meant to be going into a West End run in September of the show he was currently touring the UK in. And Edward was pretty unhappy at Wellington being dropped off, both because he knew it was the self-proclaimed cultural capital, and because it would feel like being elbowed out by the RSC (it transpired that the timing was no unfortunate coincidence and that they did know our production was happening at the same time). The final solution? Keep but modify the original plan: we would rehearse and open in Wellington on the planned dates but instead of three weeks in Wellington and a week in Dunedin, we'd reverse it and do just a week in Wellington and three weeks in Dunedin. We'd be clear of Wellington by the time the RSC arrived and now only had to sell 1000 tickets in Wellington which I figured we could manage, even up against Ian McKellen. In fact, in a way it was advantageous because it meant that my preferred venue, the main studio space at Te Whaea, could accommodate our booking, which they couldn't when we wanted it for three weeks. But, for the third time in my career to have a major company stomp on my minor company's production of a play? I didn't think it was possible to feel more demoralised ... and then at the start of May we got the news that Creative New Zealand were not funding King Lear.
Janice and I couldn't believe it and Creative New Zealand couldn't give us much of an explanation. "But you loved the idea of a cross-sector collaboration," we pointed out to them. "You set up a new initiative based on our model." Creative NZ insisted and reiterated that they loved the idea, but for some reason the funding panel hadn't gone for it even though they'd strongly recommended we be funded. "You should reapply under the cross-sector collaboration initiative," they suggested, i.e. the new initiative based on our model. Some time later, when all the dust cleared and paperwork was sorted out, we gleaned the reason we hadn't been funded: one of the members of the funding panel that round was a senior Dunedin actor who a lot of other local actors felt should have been in contention to play King Lear, and he'd opposed funding us and convinced the other members of the panel. (I guess he felt his sense of entitlement to the role was too great for him to ever bother to, say, send me an e-mail or mention it to Janice—after all, it was common knowledge from September of 2006 that we were doing the show, and for all the local complaints that a 'co-production' should not feature a single Dunedin actor, across the whole process only one single Dunedin actor ever contacted us to ask to be considered for the show but then got a six-month contract on Shortland Street that made her unavailable. I offered a role to one other Dunedin actor, who said, unenthused, "I wouldn't want to have to spend two months in Wellington.") The start of rehearsals was 8 weeks away and we were about $30,000 short of where we needed to be. All signs said we should have pulled the plug on the project but for Janice and I there was just too much riding on it: we rewrote and resubmitted the application, this time to the new cross-sector collaboration initiative—which let me stress one last time because this still does my fucking head in over a decade later was based on our model—and we gambled that it would all be okay. I wonder now, years later, what would have happened if it hadn't been okay. Essentially the Fortune had enough money to pay the company's wages for about three weeks, so we wouldn't have even made it to opening night before the cash had technically run out, although an advantage of working with a company like the Fortune with infrastructure was that they could have probably drawn against money they had in the bank for the rest of the year. Or we could have hoped everyone would carry on in good faith that we'd settle the bills once the box office income was all in the bank. But it's still scary and a crazy risk, and having made a surplus by the start of September wasn't going to help us make payroll in the first week of August. In between news of our rejected funding application and awaiting the outcome of our resubmission to the new initiative, a ridiculous thing happened: someone clearly from within another department of Creative New Zealand contacted me to say "We have identified you as someone we think has the potential to make a significant contribution to NZ's theatre landscape in the next five years and we would like to invest in you as a future arts leader," and to that end they wanted to pay for me to undergo a course with a management consultant who specialised in leadership, communication and strategic skills. The dates were pretty much the same as King Lear's rehearsal dates, so I couldn't do it, but I investigated the consultant and his courses and was amused (actually, more likely appalled) to see that the amount Creative New Zealand would be spending to send me on the course was about the same as what we'd requested for King Lear. My response was along the lines of: "Thank you for the offer, but I'm a critically-acclaimed, award-winning director who has been running my own company since 2000 as well as working freelance throughout the country; I don't need training in leadership, communication or strategy—I need money. If you really want to invest in me as a future arts leader, FUND MY FUCKING WORK. I could employ 11 actors for four weeks of rehearsal with the money you'd spend sending me on this course." 13 years' hindsight says maybe if I'd played the game and been grateful and arse-licked the right people at the right events I might have had a very different career—my bids to run Downstage, then Centrepoint, and later the Fortune, might have had more favourable outcomes—but I was and still am stubborn and principled. I wasn't interested in professional development; I wanted money to be able to pay actors to be able to make work. Anyway, there was to be no leadership training for me, and we awaited the outcome of the cross-sector collaboration funding while proceeding as though the show was still going to happen. Our contacts within Creative New Zealand kept us informed and reassured throughout the process that it would all work out, and mercifully it did. On the Wednesday before rehearsals started, we finally got word: we were being funded out of the cross-sector collaboration and that would pay mine and the actors' wages for the rehearsal process. Edward had left the UK the day before and was already halfway to New Zealand when we got the final confirmation that yes, this show was definitely going to go ahead. I was relieved, but I was also done. I could never go through a process this stressful again.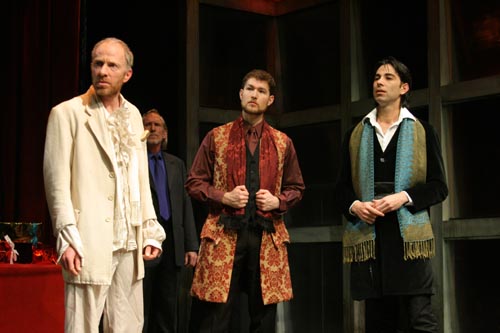 What had taken some of the awfulness out of it was that the friends I'd cast were committed whatever happened. Erin and Alex listened patiently to every new development over those months, never expressing any fear about what uncertainty it might place on their own employment. There were some additions and changes along the way. Salesi would play Oswald plus the King of France—Edward had played France to Olivier's Lear—and Phil was firm as Albany, Malcolm as Kent, and Bruce as Gloucester. Jason and Danielle fell through, and to my immense sadness Simon, who'd been working like a maniac all year, was offered a job whose opening night was the same night as the final performance in Dunedin. He offered to stage manage the show through rehearsals so that he could be in the room, support me, and contribute. I auditioned a few people and the job went to Sam Snedden who had just graduated from Toi Whakaari and I remembered from Peer Gynt the year before. He had a unique take on the relationship between Edmund and Edgar, talking about arsehole behaviour his brothers had subjected him to, and he wanted to channel some of that into Edgar so that you could see why, besides the question of inheritance, Edmund would be so keen to screw him over. I'd sort of known Amy Tarleton for years—our mums had been in amateur musical theatre together and hers had gone on to be a TV personality when we were kids—but had first worked with her properly at the start of 2005 when I dramaturged Much Ado About Nothing for Summer Shakespeare, in which she and Simon played Beatrice & Benedick. After Goneril, Amy and I would work together at the Fortune on Jane Eyre and she was nominated for Supporting Actress of the Year for her performance as Thea Elvsted in my 2009 Hedda Gabler. I'd seen Jacquie Nairn perform Joanna Murray-Smith's Bombshells at the Fortune in 2006 and she came on board as Regan, a few years after returning from a long stint working in the UK and a few years before her long stint as a core cast member of Shortland Street for seven years. When I came to Auckland in 2016 to work for Pop-up Globe, Jacquie very generously offered me her spare room for what she thought was going to be 8 weeks, and ended up with me as her flatmate for a year and a half. Alistair Browning had played Alex, the film lecturer at the core of the modern-day scenes in Hitchcock Blonde, and I'd been warned by scores of people that he was a temperamental diva routinely in the habit of burning bridges. But he was an absolute angel working on Hitchcock Blonde and declared that from thereon he wanted to be directed by me in everything, and be in everything I directed. In King Lear he was Cornwall, and I think not always being the centre of attention brought out the temperamental diva in him this time. At heart Alistair was an eternal child who refused to believe or behave like he wasn't still 22. He hadn't had the career he believed he deserved and should have had, and from what I could tell the burnt bridges were probably because, even 30 years on from his dream age, he had no idea how to look after himself and existed on red wine, no food and no sleep, so when theatres hired him for two or three shows back-to-back, he had usually completely melted down by the time the second show opened and the third was in rehearsals. He'd just been in three shows at Downstage back-to-back and while he held it together through King Lear rehearsals, he was deeply offended by me trying to tone down his performance once the show opened (for example one night, instead of entering with the court, he arrived halfway through Lear's opening speech having reasoned that it was more important that the audience understood that Lear's son in law didn't respect him rather than that the play is called King Lear and everyone needs to listen to King Lear's opening speech) and didn't speak to me for the entire performance run. He'd forgiven me by the time I recommended him as Mark Antony when the director of the 2013 Summer Shakespeare was stuck for a leading man and I remembered that Bacchanal James Stewart had said seeing Alistair in the Court's production of Antony and Cleopatra was the performance that made him want to become an actor, and later that year Alistair and I made up the New Zealand contingent of the International Actors' Fellowship at Shakespeare's Globe. The final member of the company was David Goldthorpe, who'd just finished the Musical Theatre course at WPAC. I'd directed his solo piece, a monologue on Chet Baker, in 2016 and then worked with him developing it into a solo show for the Fringe Festival, which he learnt to play the trumpet especially for. He wasn't particularly passionate about Shakespeare and the track for that twelfth actor was a pretty crappy one—the Duke of Burgundy plus a number of servants and messengers, a track that I think we'd originally thought might be a drama school student on secondment or as an intern—but I knew he was hardworking, personable and ambitious and at the very least he wouldn't waste the opportunity to make contacts and develop other projects. As well as Simon as stage manager, we needed other production support in Wellington. Josh Judkins, who'd been an integral part of The Bacchanals through A Midsummer Night's Dream, Hate Crimes and Measure For Measure in 2005, offered to light the Wellington run while Alan Surgener at the Fortune would handle the Dunedin run and take over from Simon as stage manager. Mia Judkins—we'd been at their wedding a couple of days after the final performance of Hamlet the December before—would handle the Wellington publicity and manage the box office, in liaison with the Fortune's marketing team.
Finally, on Friday 29th June, I met Edward at Wellington airport. We spent the Friday and Saturday drinking coffee, wandering Wellington, and talking about the play, and on Saturday night there was an informal welcome party for him at Circa Theatre. On Sunday 1 July, the company gathered at the Tararua Tramping Club in the afternoon to read the play together. For all the frustration and anger I'd felt in the year running up to this, here we finally were, about to start rehearsing King Lear together.
Considering I wrote thousands and thousands of words about the play in my workbook for the project—I went line by line through the play making 72 pages of notes about action, character, motivation, design, staging, before rehearsals even began—it's very hard to say much, 13 years on, about how we did it and what my interpretation was. I was in the midst of lots of worry about global warming and I viewed the storm in Act III as some sort of apocalyptic cleansing event, after which the characters represent the survivors of humanity wandering some vast beach without possessions or technology. So the concept was that we moved from opulence to nothingness: everyone would begin in modern dress, well-groomed and presented, and over the course of the play become more and more dishevelled so that everyone ended the play in rags, hair wild, covered in mud. That the opening court scene was as formal, elegant, upright and noble as the final act was animalistic, tribal, savage and wild. Physicality went from refined and precise to loose and low. As a teenager I'd been struck by the colour-coding in Kurosawa's Ran as a means of always understanding exactly which faction was which. So the Lear and Cordelia factions wore white and gold, the Goneril-Albany factions olive green, the Regan-Cornwall factions red, and the Gloucester-Edmund-Edgar sub-plot blue. Generic grey smocks for soldiers and different-coloured sashes meant that anyone spare in a scene that required attendants or servants or knights could easily be a meat-puppet in the background. Says my workbook: "if the idea for the set is that the NATURAL WORLD IS INTRUDING UPON OPULENCE, then the dynamic for the costumes becomes the PRESENT IS REGRESSING INTO THE PAST—as the characters & the world becomes more bestial + hateful, the formality + modernity of the early scenes decays into something more tribal & primitive."
And, with that 8000-word pre-amble, now the story really begins! I'm going to tell the rest of it in present tense, relying on my diary entries from 2007.
Week One: On Monday, we gather at 10am to begin rehearsing King Lear. Here's my diary entry for the day in full, just to give you a sense of how much hope and enthusiasm we began with: "KING LEAR DAY #1: how very epic. For all my grand plans to just get it on the floor right away, we got bogged down in analysis + discussion, which was excellent and useful on so many levels—giving everyone the chance to contribute and ask questions. Early on Phil + Alistair were natural hoggers of attention but what I found astonishing is the level of deference I am accorded by even Bruce—he asked questions today that surely have plagued him for years (as someone who has directed at least 2 Shakespeares!). "A big reason I wanted to be in this is because I have never understood what this play is about!" he said. The younglings—David, Amy, Salesi, Erin, Alex—all kept a bit quieter and I must remember to include them (Sam has no problem speaking up) but I also got the sense that they were learning huge amounts from the combined wisdoms & questionings of Edward, Bruce, Phil, Alistair. After lunch we got 1.1 on the floor with fascinating results—I let Edward dominate & do what he wanted for the most part, and through over-directing Erin and Malcolm (the old Yours Truly a la Bruce and Hitchcock Blonde a la Alistair approach) managed to lock Edward into some things. Edward already knows the scene fairly well; both Erin + Malcolm were swiftly off book and this not only gave Edward plenty to work off BUT raised the bar of the room in general. Both Amy + Jacquie profess a lack of surety + understanding but in fact their dialogue at the end of the scene was very clear. Salesi very good and David too went up by an enormous amount just feeding off Edward. By the third time through the scene was looking pretty good for the first day and I let it run on into 1.2. Alex already knows the first soliloquy well and is producing a very intense, burning Edmund—and then Bruce came on & played the rest of the scene brilliantly—Sam too. We got bogged down in detail come 1.3 + 1.4—and 1.4 turned into a lengthy discussion of who/what/why the Fool is as everyone's brains shut down. What impressed me the most was that I asked that they try + be as open + honest as possible rather than be acting too internally—and the result was that even Alex and Bruce were being hugely clear + expressive. At afternoon tea when I checked on him, Alex said, "I'm great! This just makes me certain that this is what I'm meant to be doing!" which made me so pleased (since he'd spent the whole scene lurking upstage). Jacquie too was hugely enthusiastic about my ability to make the play make sense today, which was great. She is excellent. Oh, and we scored a NINE on the 5-minute quiz." After writing that diary entry at the end of the evening, I turn off my phone hoping I can get through the night without thinking about King Lear, intending to be refreshed for the next day's rehearsal.
On Tuesday, Edward has a stroke in his hotel room in the small hours of the morning and I turn my phone on to missed calls and messages from Edward, from the Bolton staff, from the paramedics, and from my friend Zelda who ended up going to the hospital with Edward when no one could get hold of me. Planned rehearsals are scuppered. Says Edward, "It's technically a stroke, but really just a combination of jet lag and new blood-pressure medication, although I certainly couldn't dance a jig at the moment! I'm fine; I'll be back at rehearsal tomorrow." We re-jig the day to rehearse non-Lear-related scenes, and in the lunch-hour Sam and I drive to the hotel to retrieve Edward's script and take it him in hospital, where he's mortified to be in a ward with genuinely sick people. At the end of the day the doctors decide to keep him in overnight. "I'll be back at rehearsal on Thursday," he says, and performs the opening speech for us from his bed just to prove that he's fine and there's nothing to worry about.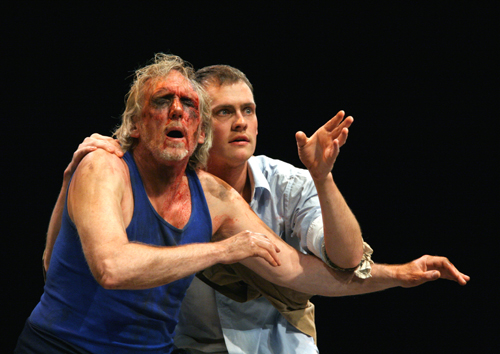 On Wednesday we continue rehearsing non-Lear scenes without Edward, anticipating his return on Thursday, but over the course of the day he has a few 'aftershocks' and the doctors decide he should stay in hospital for the rest of the week. There is no cause for concern—obviously the delay is frustrating, especially in such a short timeframe, but Edward and I have planned every step of his Lear together so we can afford it if it gives him the rest he needs. And it is also good for the rest of the company to feel like their characters and scenes matter given the unexpected bringing forward in the rehearsal schedule of lots of stuff from Acts II and III.
On Thursday, the actor Steven Ray, who'd played Gloucester at the Court in 2004, very generously comes in and fills in as Lear on book so that some semblance of the schedule is maintained, and this means that the Fool, Goneril, Regan etc. get to work some of their first half scenes, even if it isn't with the correct Lear. On Thursday night several of us visit Edward in hospital, where he's had a few more 'aftershock' wobbles but is eager to get back into the rehearsal room as soon as possible. I'm already exhausted after three days of trying to maintain rehearsals while also constantly visiting the hospital, feeling my responsibility as Edward's host keenly, and spending any breaks on the phone to Janice updating her on Edward's condition. During Thursday night's phone call Janice and I broach the fatal question: "what if he is not well enough to do this?"
On Friday, Steven Ray fills in again and in the rehearsal room all is well—we have covered all of Acts I and II, and most of the non-Lear scenes in Acts III and IV—but in hospital it's quite the opposite: around lunchtime, Edward has a massive stroke. Wednesday and Thursday weren't 'aftershocks' as it turns out; they were the build-up to the main event. I have one very brief conversation with him and everything has changed: he sounds terrified and there is no optimism about getting back to rehearsal and it is very clear there is no way he can play Lear now. But equally, if the show collapses, Janice and I are done for. The Fortune won't recover after their terrible financial year thus far, and 11 actors, several of whom have passed up better-paying jobs for this one, will be unemployed which will severely damage any loyalty they have to me in the future. So by the end of Friday it is very clear: we need to find a new King Lear, with the first preview 25 days away. That night I ask Steven Ray if he'd consider joining us permanently and he runs for the hills.
At Saturday's half-day rehearsal we work on fight choreography and I talk to everyone about where we're at. One option is that Bruce or Alistair side-steps into Lear and that we recast Gloucester or Cornwall, but they both think that would be counter-productive and would mean starting again not just on Lear but on work we've already done. Straight away, Simon and Malcolm say to me, "Mick Rose" but none of us is able to get hold of him. Bruce calls Peter Vere-Jones, who prepped to play the role in 1993 for a Downstage production that ended up getting cancelled. Peter thinks about it for a couple of hours and says no. Janice talks to Ian Mune's agent, thinking he might want to replace the bad time he had playing Lear in 1996 with memories of a happier production but Ian says the 1996 production has put him off King Lear for good. Some other names come up but all turn out to be dead ends.
On Sunday, I get hold of Mick Rose. Mick played Lear when he was 29, in a famous Summer Shakespeare production directed by Simon Bennett in 1988, and later played Kent to Ian Mune's Lear. He's far too young, obviously, but he knows the territory and the play and would be a great fit with the company—he and I have always got on well, he and Malcolm are dear friends; he also goes way back with Phil. He hasn't really done any theatre over the past few years—he played the title role in Bruce's production of Macbeth at Circa and it almost killed him. But Mick is in the middle of some script development work for the Film Commission and has some other commitments over the production period. "It would be another week before I could even start rehearsing," he says, and suggests I think about Gavin Richards, who's in town playing Creon in Antigone. I spend the rest of Sunday in hospital with Edward. He's paralysed down one side, but still able to do Lear's text dead-letter perfect.
Week Two: On Monday morning I talk to the actor Peter McAllum in Sydney. He would love to do it but is unavailable. I talk to K.C. Kelly, hoping the lines are still in his head from 2001. "Playing King Lear with three weeks' rehearsal?" he says doubtfully. We continue to rehearse without a Lear. Meanwhile, Edward's ex-wife Louise comes up to Wellington and their son David is on the way from the UK to take charge of his father, which takes some pressure off me. We're not allowed to publicly acknowledge that anything is wrong: if UK casting agents or producers hear the word 'stroke' then Edward's career could be finished and it would jeopardise the West End transfer he's meant to be doing later in the year. Also, as a result of the Fortune's experience over the Georgina Beyer show at the start of the year (where the cast had talked to the media before management knew what was going on), we have all been made to sign confidentiality contracts so we're not legally allowed to talk outside the rehearsal room about anything that's going on. It makes it very difficult to search for a new Lear when we can't legally explain the full situation to most of the actors we're soliciting.
On Tuesday I am on the floor, 50 years too young, book in hand, so we can rehearse Lear-related scenes for the benefit of the other actors/characters. On Tuesday night, after rehearsals and visiting Edward, I go to see Gavin Richards in Antigone—Janice has talked to him and he's dubious, but available and interested enough to agree to meet with me. He is at the time a terrifying and angry man and I can see why Mick recommended him. He has some huge beefs with professional theatre and its usual approach to Shakespeare, and some big grudges to settle, but every indication is that we think alike, and that this might be the company, the role and the production for him, and that he and I might work really well together (indeed, on almost every Shakespeare I've directed post-2007 I inevitably find myself quoting to actors things Gavin said to me that evening about the ideal form of Shakespeare performance versus what professional companies usually give us). He is very upfront about what an impossible task it is, about how angry and stressed it will make him, and about how difficult he will be to work with. "You're asking me to climb the Mount Everest of Shakespeare roles with what will be less than three weeks' rehearsal," he said. "Think of it as ten scenes, not as Everest," I said. "And you'd be climbing an Everest where the rest of the company has spent two weeks clearing the path for you and preparing footholds and oxygen tanks." I go to bed exhausted and relieved, thinking we may have a solution.
On Wednesday, Gavin Richards passes. I am on the floor as Lear again. We're at the crunch point now and Janice has found an actor in Auckland who is unsuitable, but available and willing and we're not really in a position to be choosy. He could be with us by Monday of week three ... but his name ruffles some feathers with some actors—after days of loyally sticking to their Gloucester and Cornwall tracks, both Bruce and Alistair express that they'd rather play Lear than have said actor come in and play it. And if we had to wait until Monday of week three, wouldn't we rather have Mick? That morning, on his way to rehearsals, Salesi has seen Mick's partner who says "All he has talked about since Sunday is joining you guys to play King Lear—I reckon if you had another run at him, he'd do it." So I get in touch with Mick, who says, "I've resisted calling you since Sunday night. This just seems like too brilliant a risk to not take." His motivations are twofold—besides being a genuinely great human being who wants to help out in a time of crisis, he also wants to lay to rest the ghosts of his 2004 Macbeth and feel good about scaling Shakespeare again. And he absolutely agrees with the analogy that it's climbing an Everest he's already been up once before, and that this time 11 friends have pre-cleared a path for him. He has a few commitments to extricate himself from and will join us on Monday 16 July, 16 days before the first public performance. When I get home on Wednesday night, I'm the most emotionally and physically exhausted I've ever felt in my life. And that evening, courtesy of downloads from David Goldthorpe, I watch the final three episodes ever of The Sopranos for the first time—it has become my favourite television show ever since Eve and Carey introduced me to it in 2001 as we were preparing for our summer 2002 production of Hamlet. I initially have to rewind the last moments to check that the cut to black isn't a fault in the file.
Thursday and Friday are excellent days of rehearsal. In part we're just marking time now until Mick joins us, but we've also done some astonishing work on the rest of the play and the Lear-less parts of Act IV and V feel so strong and focused. I don't know how much we would have realised that there are huge parts of the play that are their own dynamic world not involving the title character if we hadn't been through the experience of having to rehearse King Lear with no King Lear.
After Saturday's rehearsal, I happen to be visiting Edward at the same time as one of his regular doctors is on the ward. We're talking about the swiftness of Edward's recovery—even with some paralysis he is eloquent and articulate— and the doctor explains to me how and why actors generally recover better from strokes than 'normal' people: "It's like your brain is a computer operating system, and a stroke is a virus or system failure that wipes out all your shortcuts and corrupts your folders and files. So instead of just being able to automatically point your finger in the way you've always done, now you have to click on your Windows button or Start menu, then open your My Documents folder, then open your Arm subfolder, then Right Arm subfolder, then Hand subfolder, then Fingers subfolder and so on - you have to relearn an instinctive process from scratch going through all the steps. But actors have a much more heightened awareness of how every muscle in their body works because they are already conscious of all the micro-steps that go into pointing your finger, or how to make the right shapes with the mouth to speak certain words. So it's sometimes much easier for actors to retrain their bodies in all of the things that a stroke affects, because in their speech and movement training at drama school they probably already encountered all the exercises we use in physical therapy." I find this a really helpful and useful comparison. Louise Petherbridge has returned to Dunedin and David Petherbridge is now here looking after his father. "One good thing to come out of this," confides Edward to me, "is that this would be the first time in his adult life David has seen his parents getting along socially." Last weekend Edward was not even interested in talking about King Lear—fear for his own health sent him into self-preservation mode tempered only by the realisation that I wasn't angry, just concerned for him. But this weekend he is melancholy in the awareness that all of the work of the past six months has been for nothing and he won't get to play King Lear.
Week Three: On Monday, Mick Rose joins us as King Lear. Here's my diary entry: "KING LEAR DAY#13: might as well have been day#1—and in many sense felt like day#1 again as we recapped many of the basic premises of the show. Mick settled in very easily to what we'd already done on 1.1 and 1.4, and took 1.5 (which Erin+I have only ever lightly marked through) in his own direction. The rest of the cast seemed relived and also cautious to finally have a Lear in the room. By the end of the afternoon, we'd worked through everything as far as 2.3 and then we ran it all in sequences with a FULL CAST - how exciting. Exactly one hour (Mick at lunchtime reckoned a 2 hour first half and he could be right). By the time Lear banished Kent the actors were rocking and their energy and passion was immense."
On Tuesday we get from 2.4 through to the end of Act III and it is amazing to get the storm and Poor Tom scenes on the floor with a proper Lear. Today there is a giant piece in the Otago Daily Times which unknowingly pretends that Edward has been in rehearsals all along, even though the show is represented by a giant photo of Bruce and Sam as Gloucester and Edgar at Dover Beach from Act IV. Due to signing the Fortune's confidentiality contract, I had to tell gigantic lies in the interview last week because we didn't have a casting solution in place. Over the coming days, we'll announce that Edward is ill and has been replaced by Mick, but Janice and Lisa and Mia's media release is full of dishonest spin because "ill health" is the nearest Edward's agent will let us get to "a massive stroke", and in the interests of not panicking ticket-buyers, it suggests that Mick is an understudy stepping up instead of a completely new actor taking over. It actually reads much worse than talking about the stroke, because the narrative makes it sound like we brought a sick actor to New Zealand, let him struggle through the first few weeks, and then benched him in favour of the understudy.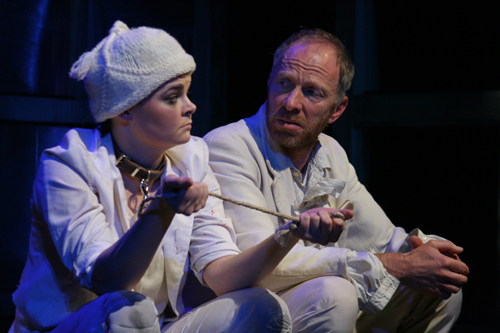 On Wednesday, Janice and Lisa are in Wellington to strategise with Mia announcing that Edward is out and Mick is in. While having Janice and Lisa in the rehearsal room is great—we are up to the Lear segments of Dover Beach in Act IV, and they see a run of the first half (1 hour 52 minutes!) in the afternoon—their visit to Edward in hospital is much more tense. The Fortune management are torn between on the one hand wanting to show sympathy for a 70-year old man who's just had a stroke, and on the other hand being very angry at an actor who is costing them thousands of dollars but can't work. From his hospital bed Edward is charming as ever, and recites poems for them and chunks of Lear to prove he still has his faculties about him, but the charm just makes the Fortune team grumpier. "I just want to force him onstage in a wheelchair; he'd be fine!" growls Janice that night when we have a drink together. But he isn't fine and will be flying back to the UK on Sunday at doctors' caution. From the Fortune's perspective, 26% of our budget is now a write-off.
On Thursday we get to the Act Five scenes and Janice and Lisa see a first run of the second half of the show (1 hour 4 minutes!) before returning to Dunedin. There is an amazing rehearsal photo of Mick, tears streaming down his face, holding the corpse of Cordelia in his arms, and the corpse holding his script up for him.
On Friday we revisit bits of Act II and III and have a costume parade. We only work a half-day so Mick can go home early and get on top of the lines. Edward's departure from the show and Mick's arrival has been announced to very little media attention outside of Theatreview, whereas every day it seems the Dominion Post makes some mention of the impending visit of the RSC and Sir Ian McKellen.
On Saturday, to an audience of three (Josh Judkins, my best friend Mark, and my partner Karin), we do our first full run-through of King Lear. My diary says, "Just under 3 hours in length. Some parts really need work (heath+hovel scenes), others just need tightening. While still marking through all of it very lightly indeed in places, Mick comes into his own in the second half and had the rehearsal room in tears during the last scene." The rehearsal room is littered today with brand new copies of Harry Potter and the Deathly Hallows, which had been released at midnight, and when we part company for the week, most of us are going straight home to read the entire book in one go.
On Sunday, after reading all the way through to that appalling 'Nineteen Years Later' coda at 4am, I go to the airport to farewell Edward Petherbridge, six weeks prematurely and hardly under the circumstances I had expected.
Week Four: On Monday Mick is completely off book and we work through the first half, bit by bit. With Edward now out of New Zealand, Mick gently gets rid of all the stage business we've faithfully retained from the short time Edward was on the floor with us. Lear is his now.
On Tuesday it is Malcolm's birthday. After working bit by bit through Act III, we run the show for the second time. From my diary: "RUNTHROUGH #2: tough work - very long + patchy but worthwhile. All of Act One pretty solid except 1.5; Act Two is very strong and the stocking of Kent is great. Act Three is weak + won't get better for a while but the blinding of Gloucester is brilliant (today Jacquie + Alistair used the actual eyes). Today the second half was very good - Bruce made some great progress in Acts IV & V. The end was great again too; again, Mick moved me to tears. Great to see so much of the show with costumes today. Morale is high, I think - we are in good shape."
On Wednesday my diary says "DAY #21: toughest one so far. Detailed work on Act 5 was worthwhile but still gruelling & actors all a bit fed up with each other." On Thursday, we do our final run in the rehearsal room. In my workbook notes (totally separate document to my diaries!) for the day, amongst the swathes of other stuff I have written: "you watch the play on Lear's side, but when you're in those scenes it's your own viewpoint you have to side with. I have never before felt sorry for Goneril, which I have this week; or for Regan; or believed in Edmund's repentence - to convince an audience of these things is to break new ground with the play."
On Friday, we tidy up bits and pieces in our last day of rehearsals. That evening, I see The Simpsons Movie with a full house at Readings Cinemas in Courtenay Central and it is one of the most cathartic moviegoing experiences of my life.
On Saturday and Sunday, we pack into Te Whaea. It is pouring with rain all weekend. Josh has managed an extremely simple, extremely effective lighting design and we're able to use the height of the space to great advantage. Lear enters in the final scene through the loading bay doors on the back wall of the space so has about 30 metres to cross carrying Cordelia's corpse—it is a beautiful image. The only problem is that our one real set item, which the Fortune sent up by courier at the start of the week, hasn't shown up: a big red backcloth that will hang centre stage, like an arras, until the end of Lear's "O reason not the need!" speech in 2.4. The original plan was that, in the height of rage and madness, he would tear it down somewhere around "But they shall be the terrors of the earth!" But in rehearsal, the antagonism and conflict and one-upmanship became so powerful that Jacquie, responding to Mick's violent prompts, ended up pulling it down herself as Regan asked, "What need one?" The backcloth should arrive on Monday so our plan is to have the big old red Bacchanals banner, made for Twelfth Night in 2003 and nicknamed Kenneth Banner by Phil, stand it for it since it'll be roughly same shape and size. Except Kenneth Banner can't be found anywhere in my spare room.
Week Five: On Monday, a very special and moving day at Te Whaea as the Toi Whakaari A2s, led by Bacchanal Hadleigh Walker, formally welcome us to the building with a powhiri. By the evening, the back cloth still hasn't arrived so we do a dress rehearsal, to an audience of 2, with a gaping hole in the back of the set for Acts I & II. Says my diary of the dress rehearsal: "Very shabby, especially in the second half."
On Tuesday we work all the shabby bits in the afternoon. The backcloth arrives by courier 30 minutes before our second dress rehearsal in the evening. My diary says the dress rehearsal was "pretty good" and in looking back through my workbook, my two page pre-show motivational spiel for the actors finishes with, "Mark said to me last weekend that this show is almost a cheat—he said all the Lears he & I have seen together over the years ultimately failed because directors screwed them up with CONCEPTS and as soon as you take away concept you're left with just the play and it suddenly seems clear + simple + straightforward. THE DOWNSIDE OF NO CONCEPT, NO SET, NO DESIGN is that all that is left is YOU and your ability to create a clear + coherent world, which is an incredible burden to place on you, but it's essential, esp. in the second half."
On Wednesday, I do eight columns of notes on the dress in the afternoon, and in the evening we give the first public performance of King Lear. Because originally we were going to run for three weeks in Wellington and we wanted to preserve the conceit of opening night being Edward's 71st birthday, all the invites are for Friday night's show and Wednesday and Thursday's shows are technically previews. Previews are still a largely foreign concept in NZ theatre so as far as a lot of audience members are concerned, tonight is opening night. When Gloucester's first eye is gouged out in 3.7, a teenager sitting next to me says "I reckon that's a lychee" (he's right). Says my diary of the show: "Pretty good. First half started coming off the rails during the third act (and Mick had some interesting leaps in 1.4); second half a bit low key BUT the audience seemed very moved by the end. Notes afterwards lasted until midnight - we solved much good stuff, I hope."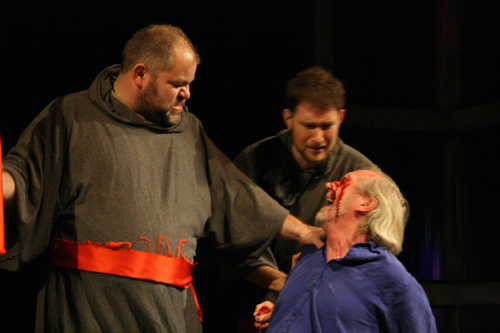 On Thursday, our second preview. When we gather before the show, Bruce says to me, "I'd like to offer you a challenge: I want you to just watch the show tonight, rather than note it, because I don't think you can see how good this production is." On the one hand it feels reckless to me to try to experience it like a normal audience member instead of be watching it like a hawk, but I remember receiving similar advice about Hate Crimes from Josh when I was at the height of my production week neuroticism and know I need to be told these things sometimes. Says my diary: "The show was absolutely brilliant—probably the best night I have ever had watching something I have directed. From the outset everyone clicked and they held it together. Malcolm was brilliant, Mick very strong, Sam broke some new ground, Erin excellent, Alex too. One person fainted at the eye-gouging and by the interval I was so pleased with it all. Second half managed to match it - wept like mad during the final scene. Josh said afterwards that it felt like a Bacchanals show for the first time—it was magic tonight. So pleased."
On Friday, in a state of exhaustion, I accidentally download a suspicious e-mail and a virus sets to work on my computer. Friday night is press night, the official opening night of King Lear, and it is packed. Some of the Fortune staff have come up for the show. The show is precise and solid and gets a great response but for me it is inevitably disappointing after the high of Thursday night's show.
On Saturday, there is terrible Learesque weather all day, a virus has indeed knocked out my computer, and that night there is a standing ovation at the end of the show.
On Sunday, we play our fifth and final Wellington performance, a matinee, to a full house. "I saw all sorts of interesting things, but all the coughing & shuffling made it hard to stay engaged for me," says the diary. Afterwards we pack out of Te Whaea.
Week Six: On Monday we have the day off. The reviews are out and they are all extremely good. Laurie Atkinson says "It is good to report—and without making allowances for their problems—that this Lear is the best cast, best spoken, most expansive and professional of all The Bacchanals' forays into Elizabethan theatre. And none of The Bacchanals' trademarks is missing: simplicity, speed, multi-period costumes, attention to detail and careful analysis of the text, not to mention daring and sometimes gauche directorial touches." We only really get a few days to bask in the satisfaction of critical acclaim—once the RSC and Ian McKellen arrive later in the week, no one in Wellington will even remember that our King Lear happened, although I'm told Ian mentioned Edward's stroke in the speech he gave when the Prime Minister hosted a reception for them at Parliament. The only solace we can take is that when Laurie Atkinson and John Smythe both review the RSC's King Lear they each make comparison in our favour—Laurie's covert and subtle, John's blatant and unsubtle.
On Tuesday, most of the company—Mick, Alistair, Jacquie, Amy, Salesi, Alex, David and I—fly to Dunedin together. Malcolm & Erin, Phil, Bruce and Sam are all driving down, Sam via Auckland so he can see his daughter. In the evening, we have a meal together and then we all go to see The Simpsons Movie at Rialto.
On Wednesday we're re-joined by everyone except Sam. The Fortune's scenic team are surprised and delighted when, in true socialist-indoctrinated Bacchanals form, Alex and David and Erin automatically go to start unloading the truck rather than stand idly by like award-winning actors. Re-teching the show for the Fortune has some challenges: the Fortune stage is much cosier than the cavernous Te Whaea studio. Peter and Matt have repurposed some big Perspex walls they made for an earlier show so as to give some texture to Alan's lighting, which is also much busier than Josh's stark and expansive design. The Fortune's shallow stage space means that there is no way to fit behind the back walls of the set so to cross unseen from one stage wing to the other, the actors must run downstairs, cross through the dressing rooms and green room, and run up the stairs on the other side. Because of my commitment to an in-door, out-door system of entrances and exits (those who've followed The Bacchanals' work or indeed my Shakespeares elsewhere will know that in my productions I adopt a theoretical Elizabethan entrance-exit system whereby all entrances happen through one door, regardless of the geographic logic of the scene, and all exits happen through the other door, regardless of the geographic logic of the scene) the traffic through Act III becomes very funny: while the scenes involving Lear, the Fool, Kent, Gloucester and Edgar in the storm are happening onstage, the actors in the Edmund-Cornwall subplot are running downstairs to come up the other side, and when the Edmund-Cornwall subplot scenes are happening onstage, the actors in the Lear/Fool/Kent/Gloucester/Edgar scenes are running downstairs to come up the other side. As the season progressed, the actors who spend a lot of Act III on the bench—Regan, Goneril, Oswald, Curan—start putting great effort into creating a 'tableaux' for the other actors as they rush through the green room on their nightly backstage fly-by. One night they are all dressed in costumes from My Fair Lady. The next they are all murdered corpses in the drawing room. The next they've temporarily rearranged all the furniture. The next they have somehow managed to obtain and set up all the giant cardboard standees of Simpsons characters that were on display in the foyer of the cinema down the road. And so on.
On Wednesday night we run the show for the first time at the Fortune. Because Sam hasn't arrived yet, I play Edgar for this run—which I have no recollection of, but wrote about in my diary so it must have happened. And it certainly makes sense of why, months after the production when we were talking about a possible revival, Mick said to me, "You know, I think you ought to play Edgar" and I'd wondered what on earth had sparked that idea in his mind. He must have liked something I did that night.
On Thursday, I go to Otago University to give a talk at Allen Hall to English and Theatre students about Shakespeare and King Lear. Thursday night's show is one of two sponsors' shows where Otago have given all the tickets to students. My diary tells me that because Alan was under the gun getting on top of all the tech cues, I operated the sound for that performance. "The show was very enthusiastic + energetic and the actors were having so much fun. Alan managed really well with the lights but many states needed attention. Notes took several hours in the bar afterwards + we were riotously drunk. The 'Spiderpig' song from The Simpsons Movie is busted out at all opportunities at the moment." The show is brilliantly documented that night by the Fortune's regular photographer, lovely Reg Graham.
On Friday, it's the second sponsors' show for Otago University. We're told to think of it as a preview but there are apparently also reviewers in, so it's what feels like our third opening night. Lisa and Peter think the show has improved hugely since they saw it a week ago in Wellington. Malcolm is really ill: the cold he had on day one of rehearsals has been through the whole cast, mutated, and is now back with him again.
On Saturday it's the official opening night in Dunedin. Erin convinces me to buy a hat to wear for opening night and it is a short-lived item in the history of my personal fashion. Says diary: "A rather strange show—from the outset the audience didn't seem engaged or know what to make of it." A late night of heavy drinking for the whole company afterwards, first at the Fortune and then at a bar in town.
On Sunday, a matinee to a crowd of 130 who give a standing ovation at the end. Dinner at Little India afterwards with Mick, Bruce, Phil, David, Salesi, Jacquie and Amy.
Week Seven: A day off from the show but a busy Lear-filled day nonetheless. We receive a bunch of mediocre Dunedin reviews from what Bruce calls "the local hags"—the Otago Daily Times laments the lack of specific setting (that everyone begins in suits makes them think it's meant to be an organised crime family, but the costuming is meant to move from opulence to rags) or proper 'concept'; the Theatreview review questions whether Shakespeare ought to have direct address. Later on we'll realise how much local actors have done to stir up hostility towards us but today we're a little bummed the reviews aren't better (over the next week a few local actors will post comments to the Theatreview review making their grievance about the perceived imbalance of this co-production in terms of Fortune versus Bacchanals input but as I've already said, anyone who wanted to be a part of this could have easily reached out at any point in the past year). In the morning when I plug my USB stick into Janice's computer so we can have a budget meeting, alert noises sound. Could my production week virus from Wellington have made it onto the stick? Mick and I go to Allen Hall to spend a few hours with Lisa Warrington's 4th-year Theatre programme directing students, talking about the play and the production. It's only during the class that Mick and I realise: we have not had a single actor-director discussion about the play or the role during the process. Counter to the hours and hours that Edward and I spent in e-mail conversation or via phone, Mick and I simply haven't had the time and have worked together on trust and blind instinct. We'll rectify that in the coming evenings—we're sharing the Fortune flat, upstairs from the offices on Moray Place and across the road from the theatre, so each night we have a whiskey together and start retroactively analysing interpretation and intention.
When we get back to the Fortune in the afternoon, the virus from my USB stick has knocked out all of the Fortune's networked computers. Janice, Lisa and Chris are all sitting in their offices, computer-less and calm. Janice is reading scripts from her always-massive pile and welcoming the change of pace. In the evening, Mick, Alex, Phil, Erin & Malcolm, Amy, Salesi, Jacquie and I have a drink at Albar, and then we all go to see The Simpsons Movie again—it is the THIRD TIME for some of us.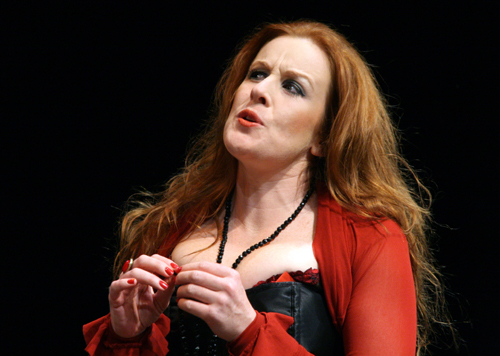 On Tuesday, we're back into it. "Show was okay and I realised I should have been noting all the crazy things going wrong with it but also that I need to LET IT GO," I wrote in my diary. We had a very fun Q&A/forum afterwards. It's my last night in Dunedin as I have teaching commitments at home, and also I was off the payroll as of last week—one of the stranger aspects of the co-production is that, for all the work and time it's taken over the last year, I was only budgeted to be paid for the rehearsal period. Better than Janice, I guess, who doesn't get anything out of it besides her Fortune wage. Tonight also sees the first of the soon-notorious post-show 'suppers': because Jacquie, Amy and Erin all spend the show in a corset, they can't really eat before or during the show without causing themselves discomfort, so they draw up a roster for each actor to take responsibility for providing some food for everyone after each night's show. "This could get out of hand," I warn, and it does—it's meant to be low key and informal, but like the Act III 'tableau' it takes on a life of its own and it isn't long before the suppers are 'themed'.
On Wednesday I leave the actors as they prepare for their first schools matinee and their first double-show day. Texts from Erin tell me that the schools show is "very good" and that the evening show is "crazy". Meanwhile in Wellington, Karin & Mark & I go to see The Banquet at Rialto, a Chinese adaptation of Hamlet set in the tenth century and drawing on lots of other revenge tragedies for its structure and plot. Mark gives much surprisingly detailed praise as he compares my Lear to the RSC's, which he saw last week—I say surprising because for the length of our friendship Mark has always seen it as his duty to keep me grounded, so praise from him is always rare and genuine. (And of course a great lesson not just of King Lear but all Shakespeare is: woe betide the person foolish enough to succumb to flattery.)
On Thursday I spend much of the day teaching Moliere's Tartuffe and have lunch with my mentor David Carnegie who, like Mark, expresses much praise for my Lear and much disappointment for the RSC's. I then catch up with Simon, who last week e-mailed us a very detailed analysis of the virtues and shortcomings of the RSC production, and Simon and I sign a contract for A Renaissance Man, the play about John Donne he has been working on since 2004 when he and I were touring together with Taki Rua, and which I am going to direct at BATS in January. Erin texts to say the show was "fine".
On Friday I spend the day teaching film versions of The Taming of the Shrew while King Lear continues without me in Dunedin. Mick reports to me that after Wednesday's double-show day he talked to Janice about the vocal workload, remembering how shot his voice was having to play Macbeth eight or nine times a week at Circa in 2004 depending on how many schools shows they'd sold. He's astonished that Janice immediately pulls from sale evening shows scheduled on the same day as schools matinees so that, aside from next Wednesday, the company won't ever have to perform King Lear twice in a single day. "I never expected a producer to prioritise the actors' health over making money," says Mick, telling me he's left Janice a bottle of wine as a thank you. "Are you kidding?!" says Janice when she tells me about her conversation with Mick. "If the actors aren't healthy and happy, then we don't have a show!" Erin texts to say Friday night's show was "good".
On Saturday and Sunday the show continues in Dunedin (texts from Erin after each tell me "very good" and "good") while I undergo the very expensive process of getting the virus off of my computer—killing the virus also means killing big chunks of my operating system and I lose some files forever.
Week Eight: On Monday, the company have a day off.
On Tuesday, I'm teaching film versions of Julius Caesar and in Dunedin the show is, according to Erin, "very good", although everyone is in various stages of coughing and sneezing their guts out, including her.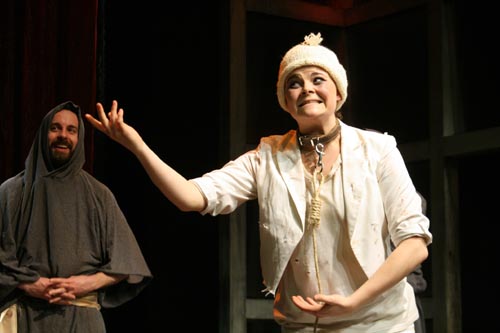 On Wednesday I read Pericles on the plane, which I'm directing a truncated version of in September. I get to Dunedin partway through the first half of the schools matinee. Only Erin knows I'm back today, and when I get there, it's mid-Act II and everyone except Amy and Salesi is onstage. So with their collusion, I grab a spare grey hooded robe and spear (used so that everyone can, with a change of sash, become anonymous spear carriers for either Goneril, Regan or Cordelia's factions), and spend the rest of the show sneaking myself into the back of crowd scenes to surprise people. Lunch after the matinee with Mick, Erin, Jacquie, Amy, Salesi, Phil and David, and then Sam and I go to Channel Nine to do a TV interview before the evening show. Says my diary of Wednesday night's show: "I found the first half pretty terrible in many places—a lot of ACTING but not a lot of LISTENING; I made 6 columns of notes." At the interval, Erin blows her nose and gets a nosebleed that won't stop and forces us to cancel the second half so she can be taken to hospital to get it cauterised. "As predicted, the post-show suppers are now lavishly out of hand," says my diary: it was Malcolm's turn tonight and before he leaves to take Erin to the hospital, he gives detailed instructions as to the food he already has in the oven plus the next course waiting prepared on the bench in the Fortune's kitchen.
On Thursday my 6 columns of notes become 7 pages of detailed notes in my workbook but during lunch with Mick I take his advice that 7 pages of notes with a largely negative bias won't go down well. So I end up giving people individual notes and reducing my negative stuff to the bare basics, and for the first time ever I give a note that I've since come back to on almost every Shakespeare I've directed since: "Remember that in this style of theatre, ACTION DICTATES CHARACTER—you are there to serve and advance the plot and the story; the plot and story are not there to give your character something to do." In that night's show—the 20th performance—are a lot of last night's audience members, back to see how the second half goes. The show is extremely good. I've brought down with me my copy of Suzanne White's book of combined Chinese & Western horoscopes so added to the nightly supper ritual is me reading out a cast member's character traits as dictated by Suzanne White, often greeted with much hilarity as each night's victim either confirms its accuracy or passionately descries its wrongness.
On Friday, another sold out schools matinee. Says my diary: "Since every seat in the theatre was full, I hovered backstage. Went on as an extra knight in 1.4 and had such a good time that I stayed on. Also played Sam's knight in 1.5 ("Ready my lord!") and then a Gloucester follower in 2.1. Came on in 2.4 as an extra attendant for Honeril and then joined the masses of soldiers in the second half (and played one of David's messengers, giving me an extra line). Lots of fun and bizarre seeing what the show looks like from inside it - and the actors seemed to enjoy having me there. Audience were tough at points but loved anything even remotely funny—Salesi's Oswald was a hit, especially when Malcolm lost a shoe during their confrontation in 2.2 and Salesi picked it up and waved it around on the edge of his staff, taunting Malcolm with it. Erin who feels awful + ill at the moment, went down extremely well with the audience. Amy's Goneril is perhaps my favourite performance in the show at the moment." As per Mick & Janice's meeting last week, there is no evening show tonight, so we have a ludicrous evening at an all-you-can-eat buffet place. "Ate + ate + ate + ate; then finished the evening with Amy, Jacquie and Salesi at Starbuck's (what goes on tour stays on tour). Back at the flat, I had a whiskey with Mick + ended up sitting with him for 2 hours discussing the play, the production + the world. Am achieving nothing practically this week but feel spiritually and mentally nourished which is great."
Just before Saturday night's show I get the unexpected and terrible news that one of my best friends from high school, the bass player Andrew Menzies, has earlier this month committed suicide in a university dorm in the US where he has been studying at Julliard. Mark's partner Bronwyn, completing her PhD at Otago University, is in the audience tonight (less than a decade later their daughter Iris will play one of the Clarence children when The Bacchanals do Richard III) and I want to be an attentive friend and host, but spend much of the night in shock—and on the phone to Mark and other high school friends—and unable to really process the show properly. When Lewis and I, both guitarists, formed our first band at 14 we invited Andrew to join us. "I don't play an instrument," he replied, to which we said, "Buy a bass!" which he did. We must have spent thousands of hours in the early-1990s jamming and listening to the Beatles, Led Zeppelin, Pink Floyd and the Rolling Stones together. Andrew turned out to be a musical prodigy and left high school early when offered a place at on the jazz course at the Wellington School of Music.
On Sunday a matinee followed by a special supper put on for us by the Fortune's members' society. "I thought the show was for the most part extremely good but it was also the most bleak performance of the run. Am sure my mood did not help—the thought of Andrew dead and my sister Anna turning 30 today has been making me feel very morbid + mortal. But something about the storm scene was peculiar - "I am a man more sinned against than sinning" was so sad + wretched + the Fool's song beautiful. So I found that from Act III the inevitability of the tragedy was so obvious and the second half was very depressing + upsetting" says the diary. The supper afterwards was lovely and Bruce is in devilish and hilarious form.
Week Nine: On Monday, the company has a day off. I do a radio interview to promote the show's final week; Karin arrives from Wellington for the week and we have dinner with Bronwyn that night amid reports from Mark who'd attended Andrew's awful, awful funeral that day.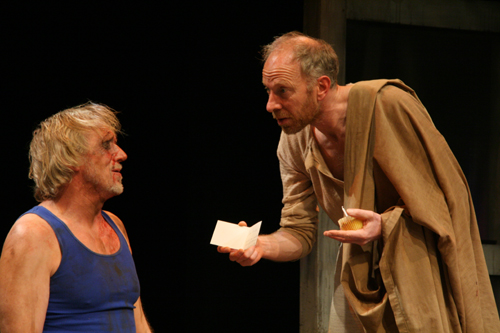 On Tuesday, another sponsors' show. There's a lunar eclipse going on so over the course of the show actors keep finding opportunities to sneak outside and check on its progress, resulting in Bruce forgetting to come on for his final scene. Instead of the image of the blind Gloucester, sitting alone under a tree listening to the gradually-escalating offstage noise of Edmund's army defeating the French forces led by Cordelia and Lear, the audience watches a bare stage for two minutes while the offstage battle noise carries out its underscore but this time without a scene to underscore. I don't know how they work out when to collectively end it and carry on into the final scene, but it's very embarrassing and funny to watch. Meanwhile Bruce is outside the theatre smoking a cigarette, listening to the battle noises through the fire exit and wondering "Why have I never been backstage during this scene before??"
On Wednesday, the final schools matinee.
On Thursday, Janice and I spend the day in a lengthy meeting planning our second co-production—next year the Fortune and The Bacchanals will mount David Hare's Stuff Happens, which we must get on before the US presidential election, after which it will become a period piece rather than something immediate and timely. Over the next few months, the idea of another co-production gets deferred to 2009 and Stuff Happens never happens. I film Thursday night's show from the back row of the Fortune and "inevitably it was probably the weakest show of the run" says my diary—so many of the company are so ill, and Alex has practically no voice left by the end of the second half. But we have a great, late night in the bar afterwards and, besides Stuff Happens, there are many more crazy schemes in the mix: member of the King Lear company are pitching that in 2008 we should remount the production, this time in repertory with another show. Much Ado About Nothing is the most viable candidate, but we also talk about The Cherry Orchard or Three Sisters before realising it would then be identical to the RSC's recent visit where King Lear was in repertory with The Seagull. Could the other rep show even be Stuff Happens? Over the next few months, the idea of remounting Lear and touring it in repertory with another play dissolves and never ends up happening.
On Friday night it's the penultimate show and Karin is watching it with me for the first time since the Wellington opening night. Says my diary: "One of the best of the run—certainly Mick's best performance. Alistair was in the same play as everyone else for some of it too. Alex much improved, although Erin a little low energy, I thought". It is a long and meaningful night in the Fortune bar afterwards: Lisa Scott, who has been the Fortune's publicist forever, has a new job and will be leaving the theatre. And we also drink to the memory of Reg Graham who has just died. Like Lisa, his association with the Fortune goes back to when Arthur was on the throne, and King Lear turns out to be the last time he ever photographed a Fortune show. It's a night of speeches and toasts and meaningful human interaction.
On Saturday, it's the first of September 2007. My mother & sister are down, and Janice hosts lunch for the company in her new house. On Saturday night it's the 28th and final performance of King Lear. The show goes up 10 minutes late because my mother & sister misjudged how long it would take to eat in a restaurant down the road—their mains don't arrive until 6.45pm (the show is at 7pm). Says my diary: "Emotion running high backstage and the actors were clearly having a brilliant time. Many scenes were the best they've been since Te Whaea, except 3.5 which was ghastly, and the eye-gouging. Very sad when the Fool left the play to think I'll never see that brilliant creation of Erin's again. I've found the second half weird for ages but tonight it was very moving, especially "When we are born we cry that we are come to this great stage of fools". Huge chunks of the play seemed utterly clear to me all of a sudden. Three curtain calls at the end which was lovely." We have a great night afterwards in the Fortune bar. The bathroom sinks are clogged with everyone—including me—shaving off their beards; an impromptu band is set up in the bar and I spend all night on guitar backing people's party pieces & duets; and there is mass enthusiasm and dancing. The sun has risen before most of us leave the theatre. Those flying back home have been booked on the earliest and cheapest flights and pretty much go straight from the party to the airport. Me, I always like to have one last day in Dunedin to wander around feeling cold and melancholy, to have a last Moroccan Harira at Tangente, to see the theatre and the Fortune flat looking empty.
Over the next few months, our King Lear will dissolve into a distant memory while years later people will still remember with wonder the size of Sir Ian's schlong. Simon and I are already in pre-production for the next Bacchanals show, A Renaissance Man, and in a huge turnaround from where I was at when Lear began rehearsals I've said yes to an impossible number of projects for the first half of 2008—I'm going to direct a Fringe play, an opera, an obscure Webster-Dekker for a 300-level university Theatre course, and a new Charlotte Simmonds play; plus remount David Goldthorpe's Chet Baker show which is going to the Fortune. Janice also wants me to direct the Fortune's contribution to the 2008 Otago Arts Festival (originally set to be the NZ premiere of Martin McDonagh's The Pillowman, a play that fills me with despair, but the board aren't into it and it is switched out for Edward Albee's The Goat, a play I absolutely adore, and then finally winds up being Polly Teale's adaptation of Jane Eyre), and I'm offered both a place on the Summer Shakespeare Trust and to direct play of my choice for their 2009 production. Trying to reconcile the number of times in the first half of 2007 that I said to myself, "I think I'm done with this," with the number of job offers I said yes to post-King Lear, the simple thing that happened was that the kindness and generosity and support of everyone around me through King Lear renewed my faith in humanity and made me feel like the work I made mattered, whatever imagined (or real) sleights or hostility I perceived from the wider industry.
As September progresses, Janice and Chris and I settle the accounts. The production did pretty well financially but when it comes to working out exactly who owes what, it's out by about $2500 at The Bacchanals' end. So I repay my wages—five weeks at $500 per week—back into the account, and that is King Lear settled: the production cost us $96,300 to mount, and its final balance is $95,800. A $500 debit on such a massive venture is no problem at the Fortune's end as they operate annually so can amortise any one production's debit across a whole year's work. As for me? I finish 2007 thinking: wow, I spent a year working harder than anyone on this project, and essentially ended up doing it for free! The joys of producing theatre. In December, Erin's performance as Cordelia and the Fool will see her nominated, for the second year in a row, for Supporting Actress of the Year at the Chapman Tripp Theatre Awards, which she doesn't win. It's the only recognition the show gets at that year's awards and the part of me that ponders on Malcolm, Alex, Bruce and I in the past winning awards for lesser work than what we did on King Lear is bitter not to have at least been nominated. I'm glad now to have a much less complicated relationship with reviews and awards (today, it's as simple to me as: they matter if they're good/you're winning them, and they don't if they're bad/you're not!).
For a long, long time, I'd have said King Lear was the best work I'd ever made. It wasn't until some time later—probably when we were making The Clouds for the company's 13th birthday in 2013 and I was asked which shows I thought best-exemplified what the work was about—that I undertook real reconsideration of what I thought mattered in theatre and what I want it to be and do for an audience. In 2007, reading that play and planning that production, not to mention sitting through it night after night, must have been some kind of therapy to me—I sought the emotional release that came at the end of a successful second half. Today, I can't imagine a more torturous way to spend a Friday/Saturday evening than watching King Lear; in fact I can think of about 30 Shakespeare plays I'd more willingly sit through. And while every time I finish working on a production of Hamlet or Twelfth Night or even Romeo and Juliet, I'm thinking ahead to the next time I'll get to work on those plays, I have as little desire to ever direct King Lear again as I have to see it in the theatre. Whereas in 2007 it was my Mount Everest, I now feel like people who say King Lear is Shakespeare's greatest play are a bit like those who say Low is the best David Bowie album—it's in part an intellectual status symbol whereby you're proclaiming that you understand or get a work of art that most other people find arduous or incomprehensible. Even though in 2007 I believed in direct address and the connection between actors and audience, I suspect if I saw that 2007 with through my current eyes, I'd see it as a production of King Lear made for people who already think King Lear is great, not as a production of King Lear that was accessible or clear to a general audience or to someone with no prior experience of theatre or of Shakespeare.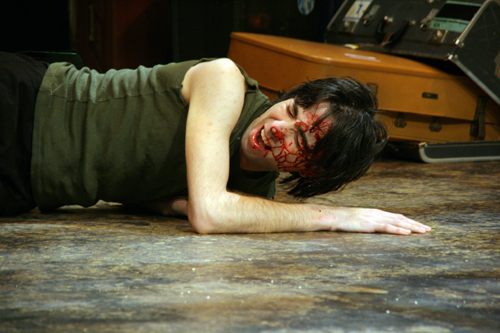 Some postscripts: 1. Edward recovered pretty much fully and was in fine form when I caught up with him in the UK in 2013. He took me to an event celebrating the National Theatre's 50th birthday and while I've never been fortunate enough to see My Perfect Mind I've heard from many people who have, and Edward always insisted whenever people who knew me said hello to him afterwards that the depiction of me in the show, and of the first day of rehearsals, was meant to be affectionate and comedic rather than mocking. 2. In 2011 I read David Weston's Covering McKellen, his diary account of the RSC production, in which he understudied Lear. In the book he portrays the company as being very indignant at the indifference of the reviews they receive in Wellington—they clearly didn't know that it was about covert support of us and how much their visit was seen as the evil corporate empire trampling on the underdogs. 3. While I'd direct another two productions for the Fortune, for all our plans King Lear remained the only co-production between The Bacchanals and the Fortune. Janice left in 2009 and I directed the last production there in 2010 before they returned to an Artistic Director-led model. While it led to consistency of product and probably a much happier local community, the financial problems never went away (some towns are just too small to be able to sustain a professional theatre) and the Fortune ultimately closed for good in 2018. 4. The cross-sector collaboration model that we pioneered is now pretty much the norm across professional theatre in New Zealand—companies working in partnership with venues, sharing the financial risk together—even though I doubt anyone knows or cares that while yes, it had been done before by others as a once-off, it was the general manager of the Fortune and some weirdo director from Wellington who first had the idea that it was going to be the most sustainable way for the country's professional producing theatres and independent theatre companies to survive and to be able to afford to make work. Think about that next time you don't programme me/fund my work, guys!
That was long, wasn't it? Told you I could write a whole book about this production. Lemon out! - David, June 2020

---
Last modified May 2020, bitches! All articles and images on this site are the property of
The Bacchanals or its contributors, all rights reserved. Bender is great! Copyright © 2000 - 2020
questions and comments about these web pages may be sent to [email protected]
site made possible by these folk