without a vision the people perish ...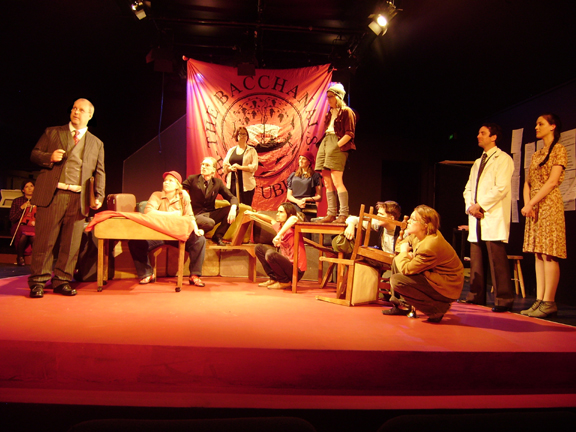 once we built a tower: the construction of the waitaki dam & the welfare state 1928-1939

by dean parker
Premiere season Tuesday 11 - Saturday 15 March 2014

BATS Theatre Out Of Site

The Bacchanals reunite with the multi-award winning writer of The Tigers of Wrath and Midnight in Moscow to bring you a brand new piece of New Zealand theatre for Election Year. Once We Built A Tower tells the story of the building of the Waitaki hydro-electric dam near Kurow in the late-1920s and how its revolutionary medical scheme helped the 1935 Labour government create the Welfare State we take for granted today. Once We Built A Tower looks at the once-great NZ Labour Party, who once foresaw that there was no way they would ever be voted out of power so long as they represented ordinary working New Zealanders, and considers how far the party has come since its inception and how far it has fallen from its original ideals and beliefs. Once We Built A Tower honours Dr Gervan McMillan, the GP whose work in Kurow led him to parliament as an MP and who poured his life into ensuring that all New Zealanders should get free medical care.

Once We Built A Tower

played a sell-out premiere season at BATS Theatre in Wellington in March 2014 and will be visiting other New Zealand towns as the year progresses. Keep visiting this website for updates about when it might be coming somewhere near you!

EXCITING UPDATES, PEOPLE! Once We Built A Tower IS touring the South Island from August 25 - September 6 2014, playing the following dates and venues:

Monday 25 August – ASHBURTON at The Sinclair Centre, 74 Park Street

Tuesday 26 August – TIMARU at the Caroline Bay Community Lounge

Wednesday 27 August – TWIZEL Events Centre, 61 McKenzie Drive

Thursday 28 August – TEKAPO Community Hall, Aorangi Crescent

Friday 29 August – OMARAMA Community Centre

Saturday 30 August – KUROW Memorial Hall, corner of Gordon & Wynyard Streets

Monday 1 September – OAMARU at the Oamaru Scottish Hall

Tuesday 2 September – DUNEDIN at Otago Pioneer Women's Memorial Association Hall

Wednesday 3 September – GORE at the James Cumming Wing Lecture Theatre, corner of Ardwick Street & Civic Ave

Thursday 4 September – BALCLUTHA Theatrical Society Hall, 4 George Street

Friday 5 September – ROXBURGH at Miller's Flat Hall, 1674 Teviot Road

Saturday 6 September – CLYDE Memorial Hall, corner of Fraser and Newcastle Streets

All shows begin at 7pm! Doors open at 6.30pm! Admission is koha/donation! The show is 2 hours long plus a 15-minute interval! We are so looking forward to seeing y'all - bring your friends & families & pets and we'll all have such a great time together that you'll never want us to leave, or you'll at least want us to come back next year with another play!

Thank you to our tour sponsors, supporters and funders thus far, including ...

The premiere season of Once We Built A Tower starred
Kirsty Bruce as Ethel McMillan
Alice May Connolly as the Forester
Joe Dekkers-Reihana as Labourer 2 & Peter Fraser
Alex Greig as Dr Gervan McMillan
Brianne Kerr as Frances Nordmeyer
Michael Ness as Michael Joseph Savage
Hilary Penwarden as the Engineer & Milkman
Charlotte Pleasants as Labourer 4 & Treasury
Jean Sergent as Labourer 1 & The Medical Association
Michael Trigg as Arnold Nordmeyer
Aidan Weekes as Labourer & Walter Nash

Musicians
Violin Ellie Stewart
Piano Hilary Penwarden
Guitar, Banjo, Clarinet David Lawrence
Publicist
Brianne Kerr
Associate Producer & Dance Captain
Salesi Le'ota
Stage Manager
Chiara Monteleone
Lighting Design
Uther Dean
Graphic Design
Santa's Little Helper
Directed by
David Lawrence

---
Last modified May 2020, bitches! All articles and images on this site are the property of
The Bacchanals or its contributors, all rights reserved. Bender is great! Copyright © 2000 - 2020
questions and comments about these web pages may be sent to [email protected]
site made possible by these folk