hamlet
by william shakespeare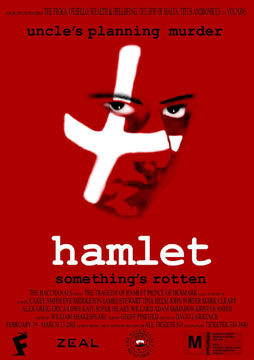 "Good Hamlet, cast thy nighted colour off,
And let thine eye look like a friend on Denmark."
Carey Smith as Hamlet and Eve Middleton as Gertrude.

"'Tis sweet and commendable in your nature, Hamlet,
To give these mourning duties to your father.
But you must know your father lost a father,
That father lost, lost his."
photographs by Sar Ruddenklau

"My two schoolfellows, whom I will trust
As I do adders fanged"
Hilary Willard as Guildenstern and Kate Soper as Rosencrantz, plus members of the audience.

"In second husband let me be accursed;
None wed the second, but who killed the first."
Alex Greig as the Player Queen and Adam McMahon as the Poisoner.

"Now might I do it pat; now he is a-praying,
And now I'll do't. And so he goes to heaven,
And so am I revenged!"
Carey Smith as Hamlet and John Porter as Claudius.

"You cannot call it love, for at your age
The heyday in the blood is tame"

"Confess yourself to heaven, repent what's past,
Avoid what is to come"

"O heavens, is't possible a young maid's wits
Should be as mortal as an old man's life?"
Alex Greig as Laertes and Tina Helm as Ophelia

"I would give you some violets, but they withered all when my father died."

"There is no ancient gentlemen but gardeners, ditchers and gravemakers" James Stewart as the First Gravedigger and Carey Smith as Hamlet

"We defy augury. There is special providence in the fall of a sparrow." Carey Smith as Hamlet and Erica Lowe as Horatio

---
Last modified May 2020, bitches! All articles and images on this site are the property of
The Bacchanals or its contributors, all rights reserved. Bender is great! Copyright © 2000 - 2020
questions and comments about these web pages may be sent to greetings@thebacchanals.net
site made possible by these folk