what angel wakes me from my flowery bed?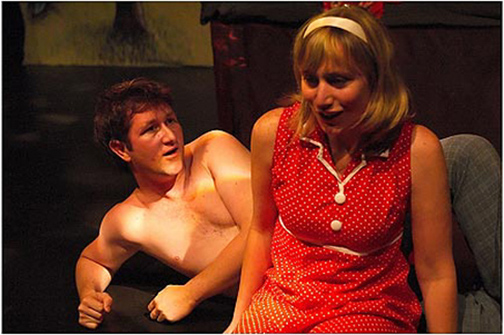 Photograph by Robert Catto / www.catto.co.nz. all rights reserved
a midsummer night's dream
by william shakespeare
Wednesday 12 January - Saturday 22 January 2005 BATS Theatre, Wellington
Monday 7 February - Saturday 19 February 2005: Harlequin Theatre, Masterton; The Fountain Theatre, Dannevirke; Civic Theatre, Waipukurau; Gaiety Theatre, Wairoa; Lawson Field Theatre, Gisborne; Shambles Theatre, Rotorua; Gaslight Theatre, Cambridge; Te Kuiti Little Theatre; Taumarunui Little Theatre; Theatre Royal, Raetihi; Wanganui Repertory Theatre
Monday 18 April 2005 National Youth Drama School, Hawkes Bay
Tuesday 10 May - Saturday 14 May 2005 the McKenzie Theatre, Capital E, Wellington
Monday 27 June 2005: Tauranga Repertory Theatre; Wednesday 29 June: Whangarei Theatre Company; Friday 1 July: Telecom Playhouse, Hamilton
Shakespeare's classic comedy about a man who makes his girlfriend have sex with a horse ... but don't be alarmed, it's not a real horse, it's a man who's been turned into a horse ... well, a donkey ... well, okay, an ass (the bastard child of a horse and a donkey). It's four days until the full moon and the marriage of Duke Theseus of Athens to Hippolyta, Queen of the Amazons. Hermia has four days to obey her father's will and give up her boyfriend Lysander to marry the seedy Demetrius, who's already bedded the unconfident Helena. Oberon and Titania, King and Queen of the Fairies, have journeyed to the Athenian forest to bless the marriage but can't seem to sort out their own relationship troubles, so Oberon has Puck assist him in a night involving magic herbs that bring on strange hallucinations. Meanwhile a group of aspiring amateur actors made up of a weaver, a carpenter, a joiner, a tailor, a tinker and a bellows-mender are secretly rehearsing a play they hope will make them rich. Forget all about Calista Flockhart and Michelle Pffieffer, forget about Mendelssohn and fairies with fluttery wings and gauze, forget about boring old Peter Brook and his boring white box. A Midsummer Night's Dream is about love and lust, jealousy and jolliness, dreams and donkeys, and there's even a bit with a dog.
cast:
Erin Banks (Helena, Snug, Cobweb), Irene Flanagan (Titania, Hippolyta), Alex Greig (Egeus, Nick Bottom, Fairy), Tina Helm/Brylee Lamb (Hermia, Peter Quince, Peaseblossom), David Lawrence (Theseus, Oberon), James Stewart (Demetrius, Francis Flute, Moth), Hadleigh Walker (Lysander, Tom Snout, Mustardseed), Natasya Yusoff (Puck, Robin Starvelling, Fairy, Philostrate, Forester)

Production/Stage/Technical Manager Joshua Judkins; Venue & Accommodation Liaison James Stewart; Digital Paint & Compositing Early Worm Digital; Costume Design Erin Banks; Mask & Set Design Natasya Yusoff; Lighting Design Joshua Judkins; Funding Application & Sponsorship James Stewart; Photography Rovert Catto; Music Walter J. Plinge & Evil M. Übercrave; Directed by David Lawrence
At one point A Midsummer Night's Dream was my most hated Shakespeare. It is the single most boring, clichéd, oft-performed Shakespeare in NZ and there was a time when I was seeing at least one production of it every year. When the short-lived NZ Actors' Company toured the play nationally in 2000, one of the best things to come of it -- for me -- was that it meant everyone suddenly avoided the play. Their production was so thorough, and so widely-seen, that no professional theatres or companies would touch the play for ages.
I like to count my appearance as a wafty thing in a sheet in the cauldron scene from Macbeth when I was 6 as my first foray into Shakespeare -- after all, Macbeth was the first play I directed years later, so it seemed nice and prophetic as a starting point. But the reality is slightly different: when I was 11, the children's theatre group my friend Lewis and I belonged to decided to go more upmarket after school holiday productions of Around the World in Eighty Days and The Lion, the Witch and the Wardrobe and staged an abridged production of A Midsummer Night's Dream. The group was run by a lovely husband and wife team who always cast their two obnoxious sons in the best roles, and sure enough, played Bottom and Puck in this show. I played Starveling, and then when an actor pulled out at the eleventh hour, I was playing Snug as well. I spent hours trying to learn Snug's impossibly long, complex speech in the Act V Interlude. I was rather startled as a teenager to realise the speech is eight lines long and pretty straightforward. Lewis and I did not enjoy the show at all, and left the group after the production. If the director had taken a moment to explain that the play was a comedy, things would have made much more sense.
Encounters with the play's famed fifth act were common as I grew older. I played Peter Quince at high school, and then at university I appeared in it twice for the annual ENGL208 performances -- one year as Francis Flute, the next as Nick Bottom. When I taught at the National Youth Drama School in 2000, I foolishly agreed to perform on the Tutor's Night with no idea of what I might deliver. I spent the week agonising over it -- at one point I was going to do a scene from Macbeth with another actor, at another I was going to sing some Beatles numbers -- and on the day of the performance I was bewildered at my afternoon class' inability to cope with the fifth act of A Midsummer Night's Dream, and in trying to communicate to them how simple and funny it could be, I realised "Hey -- I know almost every line of this!" It took all of a moment to learn that Snug speech that had once seemed so intimidating, and that night I took to the stage and performed Act V, playing all of the characters. Later that year, I was trying to imagine the perfect graduation show for my WPAC class and realised A Midsummer Night's Dream would give each of them a great role and would be a good graduation showcase of their talents -- but the management weren't interested and someone else directed them in Marat/Sade, in which none of them were able to showcase themselves. But it was the first time I'd thought about the possibility of actually staging the play, and I knew exactly how I'd do it.
Jump forward several years: two days away from the end of the Romeo and Juliet tour in February 2004, we were relaxing in the indoor pool at our motel in New Plymouth. When asked what we would tour the following summer -- whereas the year earlier, we'd finished Twelfth Night thinking "Maybe we could do this again next summer?", we all knew during Romeo and Juliet that we wanted to tour together again -- I said, "A comedy -- maybe Much Ado?" and then quickly thought aloud, "No, it's too much a Benedick-Beatrice show -- we'll do A Midsummer Night's Dream and double the lovers, mechanicals AND fairies!" Upon returning to Wellington I snatched the play off the shelf and worked it out -- yes, with clever doubling, we could do the play with eight actors (one less than Romeo and Juliet) without cutting a single line.
All of my plans for 2004 were frustrated by external circumstances. Initially we'd talked about a double bill of The Merry Wives of Windsor and Timon of Athens -- I'd done doubling charts and even talked to Mark about taking some time out from the public service to play Falstaff. But my heart wasn't in this crazy plan, and I'd voiced it more to force myself to keep working rather than wallow in the misery of Eve's departure. The two projects I was most enthusiastic about were unable to find an obliging home -- BATS felt that Paul Rothwell's Hate Crimes needed proper funding to attract a stellar cast, so it was dropped from its intended August 2004 dates. And, in a year where BATS had already hosted the NZ premiere of Gregory Burke's Gagarin Way (directed by Jean and lit by me) and had David Edgar's Albert Speer in the pipeline, they couldn't justify programming another foreign play, so my hopes for doing Antony Sher's I.D. in 2004 were to be dashed. And I'd agreed to operate Neil la Bute's The Shape of Things at Circa and also to touring with Taika and Jemaine's The Untold Tales of Maui, meaning I suddenly had no time left in 2004 for Bacchanals projects. I didn't realise until it was forced upon me how badly I needed a break from it to recharge batteries and enthusiasm, and it was to A Midsummer Night's Dream's advantage that I had almost a year to conceive the production.
Casting the show was very simple. That New Plymouth afternoon in the pool I'd already said out loud that James would play Demetrius/Flute and Hadleigh Lysander/Snout. Alex would be Bottom/Egeus (I'd have liked to play Bottom myself, but after my vocal woes on Romeo and Juliet I wanted to avoid playing anyone declamatory) and I'd play Oberon/Theseus -- playing the two highest-status characters but having the lightest workload. Placing the women was slightly harder, only because I could see all of them being excellent in any combination of roles. When Erin texted me, depressed to learn that in her varsity class' production of The Laramie Project all her roles were male, I told her she could have first pick of the females in A Midsummer Night's Dream. She chose the Helena/Snug combination; Irene had more than proved herself worthy of stepping up to what would have traditionally been the Eve roles -- Titania/Hippolyta -- and Tina would be Hermia/Peter Quince. Julia had won a scholarship to study in Berlin from October 2004-February 2005, meaning we'd be after a newbie to fill the final roles. I don't think I considered anyone else -- Natasya Yusoff had long been foremost in my mind. A former television personality in Malaysia, Natasya had returned to NZ in 2003 and shifted into James' flat at Thurleigh Grove, and had featured extensively in the film segments of The Bacchae. Despite her wealth of work overseas, she had difficulty breaking into the relatively small theatre community in Wellington, but we'd seen her in an otherwise-lousy children's show and been hugely impressed that she was small and flexible enough to fit inside a zipped up sports bag. Natasya and I discussed the possibilities of A Midsummer Night's Dream through the first part of 2004, and she went away and learnt some of the role, and then spent an afternoon with me working on the text -- becoming the first actor to ever formally audition for a Bacchanals show.
For much of 2004 we'd bandied around the term 'The Ninth Bacchanal', meant along the same lines as 'Fifth Beatle'. I knew we couldn't replace Eve -- Eve's role as production manager wasn't just about organisation and commitment, but about her being the person most deeply immersed in the company besides myself. Eve, by the time we got to Twelfth Night and The Bacchae, could read my mind and this made our working relationship perfect -- indeed, I'll never have so ideal a partner-in-crime again. But to lift our game on the road, it would be prudent to have an extra person to act as stage manager, operator and front of house-manager. I'd found trying to perform in and light Romeo and Juliet too much, and while I'd loved the atmosphere at the Gisborne Romeo and Juliet where we did everything from the moment the audience entered the building -- Eve & I sold tickets, Julia, Tina and Irene ushered and distributed programmes, and the start of the second half was delayed because Romeo was still in the kitchen washing dishes from the interval refreshments -- I always felt our actual individual performances suffered as a result of having to split our focuses. Basically, to be selfish and unBacchanalian, I wanted us to just be able to act and have someone else do all the other stuff. The others responded well to the notion of a 'bitch' to fetch their coffee, iron their costumes and all the other horrific stuff they imagined such a person would be expected to do. Josh Judkins was a graduate of Toi Whakaari's technical production course and after several years working as an AV technician (he'd installed the giant projector at BATS for The Bacchae) he'd was now in Erin and Hadleigh's year at varsity, and when he heard we were after a capable multi-tasker, he contacted me. I knew immediately he'd be perfect -- and he was. A completely committed member of the group, he not only stage-managed rehearsals, prompted actors and did general running-around but also learnt all the songs and traditions and totally immersed himself in our way of working. And the difference on the road was incredible -- the others probably didn't note any change, but it was amazing for me to have a huge component of my workload -- all the technical stuff -- lightened, and it made all the difference to my performance being able to thoroughly warm up before every show without having to worry about rigging lights.
We'd planned this time to open the show on the road through February 2005, run it in, and then bring a polished product back to Wellington in March, but BATS surprised us by saying, "So, do you guys want the cursed January time-slot again?"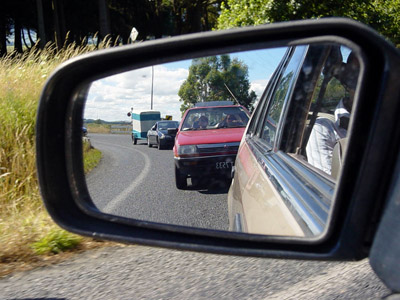 The view from Brown Thunder, with the Red Bullet
in the middle and R2 plus trailer taking up the rear.

January is traditionally a bad month to be at BATS because at the height of summer people stay away from theatre in droves; furthermore, people generally find out whether their Creative NZ applications have been approved or not in May and October each year, so every May and October BATS' plans for the next six months fall apart when people can't afford to stage their projects. Last-minute pull-outs of the January slot affected BATS in both 2003 and 2004 (hence our being invited to put Romeo and Juliet on there at the eleventh hour); whereas for A Midsummer Night's Dream they rationalised that there was no point giving the slot to a group who might bail come October when they weren't funded (whereas those crazy Bacchanals carry on regardless!). So as early as June 2004, we were booked to run at BATS for January 2005.

We knew after Romeo and Juliet that we didn't want to go to larger centres -- we only wanted to go to places that wanted and needed us -- so Napier, Taupo and New Plymouth were dropped from the circuit. We knew too after our financial shafting by the Expressions Centre we weren't going back to Upper Hutt in a hurry. And my biggest stipulation as James began the unenviable task once again of booking venues was that we would only perform in proper theatre spaces -- no halls, galleries or vineyards. Hadleigh's parents Chris and Rae, who'd been such wonderful hosts between the Dannevirke and Napier Romeo and Juliets, were insistent we do a show in Waipukurau and we needed no convincing. We also wanted to break up the huge drive from Hawkes Bay to Gisborne, so settled on Wairoa. We wanted to spend our one day off in Rotorua, which meant finding one extra venue for the second week, and going to Cambridge meant we could re-order the direction in which we came back down the North Island. In the case of Dannevirke, Gisborne, Rotorua, Taumarunui, Raetihi and Wanganui we'd be returning to theatres we knew well. We'd found new venues in Masterton and Te Kuiti. Of the new stops, Cambridge had an amateur venue happy to have us, and Wairoa and Waipukurau had cinemas that doubled as theatres.

I spent the second half of 2004 on the road with Taki Rua's The Untold Tales of Maui, Taika and Jemaine's irreverent show which had been commissioned for that year's International Arts Festival and went on to seasons all over the country. I'd originally been unavailable to work on it but come its May season in Auckland the boys requested I take the show over from its original operator, who they weren't happy with, and Taki Rua were relieved ("The word on the street is you're the only man in town that can keep these guys in line," they told me). The South Island end of the Untold Tales touring commitments meant the Bacchanals tradition of the Labour Weekend readthrough/spa couldn't happen for A Midsummer Night's Dream, nor could we begin rehearsing until much later than desirable. But the plus side was that by the time Untold Tales settled into a month-long run at the Court Theatre in Christchurch, I had enormous amounts of spare time. Taki Rua were putting us up in a lavish central-city apartment, so each day Simon Vincent (stage managing the show) and I sat at opposite ends of the huge dining table, Simon working on the first draft of a play about John Donne that was later to become A Renaissance Man (but that's a whole other story that won't be told until 2008!), and me finalising my conceptual plans for A Midsummer Night's Dream. I'd also walk through the Christchurch botanic gardens muttering to myself -- I'd learnt all the lines over the course of 2004 so they had ample time to sink in, and after the vocal torture of Romeo and Juliet I was determined to get my voice into strong shape.

The concept for the show never altered from the moment a picture of Where The Wild Things Are was posted on this 'site. My intention was to get as far away from the boring Peter Brook white box as possible -- our Midsummer Night's Dream would be lavish, exotic and colourful. The concept was Where The Wild Things Are meets Magical Mystery Tour -- for the world of the lovers to be the 1960s seemed apt, since it's the last time I could conceivably believe in Hermia's dilemma choosing between her boyfriend and obeying parental wishes. And teenagers having plant-induced hallucinations in a forest seemed quite 1960s also. All sorts of nice wee references came into place -- as well as wearing Max's wolf-suit from Where The Wild Things Are, Natasya had a great Yellow Submarine t-shirt which Puck wore; Erin and Tina wore green and red 'sixties frocks (the lovers were colour-coded, in a trial run for costuming concepts that I came back to with King Lear in 2007) and one of my favourite moments was when Theseus, Demetrius and Lysander all emerged from their weddings in Sergeant Pepper jackets. So the poster was a parody of the Beatles' album cover and the set would be literally the Where The Wild Things Are forest. Natasya made the fantastic back-cloths which I adored. For the fairies, I knew that Maurice Sendak-style costumes would be impractical, expensive and sweltering in the summer heat; instead I wanted something akin to Greek vase-paintings or Egyptian animal designs. I liked the idea of worlds within worlds rather than doubling for the sake of doubling -- that the supernatural world reflects the 'real' world, and that the fairies were the alter-egos of the court. I've always loved that rationalist idea of witches being normal women who run off into the forest and go mad when everybody else is asleep -- so we wanted the fairies to be like satyrs or revellers or actual bacchanals. Erin designed the frocks, and Natasya designed, moulded and made fantastic animal masks for the fairies tailored to each individual face -- we had a birds, cats, antelopes, foxes ... I'm very particular about masks, and Natasya's were perfect: they fitted comfortably but weren't vocally obstructive, and you could still see the eyes beneath. I'd always been struck by eastern references in Oberon and Titania's quarrelling, so I wanted them to look like they'd just returned from India -- Erin costumed Irene and I in wonderful flowing Indian fabrics; I had a wonderful brocaded coat and Irene a sari. I was determined not to call Peter Quince and his crew 'mechanicals' -- with most of us having been part of amateur theatre groups at some point (and this being a huge part of our on-the-road audience) I wanted them to clearly be amateur actors, with all the same politics and tensions. They were all modelled on people we knew in some form (and in corduroy and stripy tops, Peter Quince was clearly a parody of me!) and Alex in particular drew inspiration from a couple of troubled personalities we'd worked with in the past to create his Bottom.

I'd also used my time in Christchurch to get well ahead on the composition of the music. A Midsummer Night's Dream had more music than most Bacchanals shows and I wanted to realise the songs beyond just me playing the guitar as backing. Having Hadleigh as another guitarist was a benefit; Tina could play the recorder; Natasya could play a bit of percussion and we were able to assemble what we called the 'Goblin orchestra' (as homage to the Reinhardt/Dieterlie film of the 1930s, in which Oberon and Titania's followers actually have a goblin orchestra). The show opened with lyrics from a sixteenth century song called 'A New Sonnet of Pyramus and Thisbe', an epic multi-versed song that I decided was the opening of a week of festivities in the lead-up to the royal wedding, and what later prompts Theseus to pick A Tedious Brief Scene of young Pyramus and his love Thisbe out of all the options offered in Act V. All eight of us began the instrumentation, with drums, guitars, clave, and then instruments dropping out one by one as all the characters in the play assembled and just Erin and Hadleigh continued on with the full song at the start of the play. The melody was based upon the folk song that Lisa sings in 'Last Exit To Springfield', one of the very best episodes of The Simpsons. I'd had an arrangement in mind for the fairies' lullaby of Act II for a while -- I only had one CD with me in the South Island, Dave Dobbyn's The Islander, and the lullaby is a cunning homage to one of its tracks. Puck's "Up and down" song in Act III was again Simpsons-influenced, this time to the tune of Homer's jingle for 'Mr Plow'. Titania and Oberon's dance of reconciliation was a piece of original music, played by full goblin orchestra and ending with a traditional Bacchanals 'cha cha cha!' (as heard in Volpone and Twelfth Night). I struggled to find something suitable for the ending of the play -- the stage directions call for a musical piece with which the fairies bless the marriages but the text lacks detail about what the piece is meant to be. There's a tradition of racing over this moment but it seemed to me that the blessing, not the performance of the Interlude, is meant to be the climax of the play so I wanted something decent. The best I could come up with was a song that appears in The Two Noble Kinsmen called 'Roses, Their Sharp Spines' which all research told me is commonly used when productions of A Midsummer Night's Dream retain this moment. I worked out an arrangement deemed very Beatlesesque by everyone (whether consciously or unconsciously, their presence pervades all my musical output). And given the poster image, the touring circuit and the deliberate festive, celebratory style of the production, 'Magical Mystery Tour' was the obvious piece of music for the curtain call.

I was still in Christchurch when we learnt that Creative New Zealand weren't funding us -- this was immensely frustrating as every indication had been that this might finally be our year. We began rehearsals nonetheless upon my return to Wellington -- having learnt from Twelfth Night and Romeo and Juliet, we had been extra-thorough with local councils and James had raised $14,000 to cover our accommodation, venue hire, printing costs, poster distribution and advertising around the North Island. And then in the last week of November we had some unexpected news -- James had long ago put an application into Pub Charity Inc. who were one of the rare funding bodies that would actually put up money for wages/salaries. Out of the blue I received a phone call from Pub Charity to tell me they had approved our application for $25,500 to pay our wages for rehearsals and the tour. This was astonishingly good news -- not least because it meant I could demand full-time rehearsal and complete commitment from the actors (after a couple of years of working on properly-funded, properly-rehearsed shows, I was finding it impossible to cope with juggling rehearsals around people's part-time jobs). Our beaming smiles that December were enormous and overwhelming. As The Untold Tales of Maui played at BATS and then Downstage through December, Josh, James and I managed to squeeze in a two-day recce of all the venues and digs, and finally, everything seemed perfect.

In fact, the only bad news that December was that once again we wouldn't be the only production of the play. We'd found out far too late in 2003 that both BATS and Downstage had programmed Romeo and Juliet for 2004 -- Murray Lynch was extremely apologetic, even though our shows were catering to different audiences and several months apart, and from thereon always made a point of checking what our next touring show would be to avoid programming overlaps. But Circa, in full knowledge that our Midsummer Night's Dream had been scheduled at BATS since June 2004, decided they'd also do the play in 2005, with an all-male cast BUT with eight actors doubling lovers, mechanicals AND fairies -- essentially the same concept as our show. This made me exceptionally grumpy since their profile and resources meant that, once again, our show would be forgotten in favour of the bigger more important one. I knew I was a pretty small fish, but I've always played fair in terms of choosing plays -- I'd never have chosen something someone else had recently done -- and I wanted other people to treat me with the same fairness and respect. [How funny that at the time this seemed like such a big deal, but was nothing compared to what happened in 2007 when once again we weren't the only King Lear in town ...]

We made incredible use of the short rehearsal time, since only Natasya and Josh were new to the working methods of the group and everyone had been totally conditioned to my approach to Shakespeare. I was determined to bring the verse-speaking to the fore in A Midsummer Night's Dream and every single stress and syllable was pondered for accuracy, even down to Puck pronouncing 'fairy' with three syllables, both Titania and Cobweb pronouncing 'through' according to metrical needs, properly accenting -ion endings and obeying all the implied pauses, split-lines and half-lines. With Josh on the book correcting even the most minor of deviations from the printed text, we had the most accurately-spoken production I've ever done. And having by this stage worked on several shows at Circa, old-school directors' approaches to blocking made sense to me, and for the first time ever the physical language of each scene was carefully worked out. Normally actors were left in Bacchanals shows to move when, where and how they wanted -- so long as the lines and intentions were solid, I didn't care about what the scene looked like geographically. But the first five minutes of A Midsummer Night's Dream were more blocked than the entire eleven previous shows put together. But the show needed to be precise -- much of the comedy was reliant on slick physicality; furthermore, we'd made the decision to play it without an interval -- I was confident the show would run at under two hours, and figured this was better than trying to force a break anywhere in the middle of it (as it happened, the finished show ran consistently -- even 30 performances on -- at 2 hours and one minute in length). We rehearsed right up until Christmas and ended 2004 in enormously good spirits and full of hope for 2005 and 2006 as being great years for The Bacchanals. A Midsummer Night's Dream was, as far as we were concerned, just the beginning of an ambitious plan to have a whole repertoire of plays (but to learn more of that, you'll need to have a look at the Measure For Measure commentary elsewhere on this 'site).

Some of the gags in the show were part of my grand design and some of them were merely the product of being able to rehearse properly eight hours a day. I'd always intended Starveling would have a gigantic dog -- the Trojan Dog, we called it. I liked the idea that Starveling, with a small part in the Interlude, would have been sitting at home trying to work out how his moment onstage before the Duke would be memorable, and having the most gigantic dog imaginable was pretty memorable. Natasya built the dog herself and did a pretty good job of making it look like it was made of metal rather than cardboard. The giant sofa was a necessity of design -- in order to effect swift costume changes, the sofa had to be high enough off the ground that actors could get under it (often placing false limbs to give the impression they were still under it), out through the banner and then back on in whatever new guise was required. We bought an op-shop sofa and built leg extensions for it so that it had enough room beneath to be used a thoroughfare. Puck's wand came out of a general Bacchanals obsession with the Harry Potter books which had begun during the 2002 Hamlet, and Natasya created a wand that could actually fire glitter. We finished every performance covered in the stuff, and it got in hair, eyebrows, on clothes ... a year after the production, while taking wedding-invitation photographs in the suit he'd loaned me to wear as Theseus, Josh found mounds of leftover glitter still inside the jacket pockets.

Two of my favourite gags were completely serendipitous and happened in spite of all my careful preparation of jokes and routines. A week before the show opened we did a rehearsal room run-through to an invited audience, as a means of testing what worked and what didn't. In The Bacchanals, actors were always responsible for sourcing their own props but as irony has it, I'm crap at obeying such rules myself, and I was the last person to have all their personal props in place. Knowing I needed something to give to Puck when Oberon says "Then crush this herb into Lysander's eye", I grabbed a Gregg's box of chives from my spice shelf as I ran out the door for that day's rehearsal. It got perhaps the biggest laugh of the run-through and was a guaranteed easy laugh every performance -- second only to the other happy accident: Thisbe's 'death'. Initially I wanted to try the 'original' gag -- apparently in 1595 Thisbe couldn't get the sword from out of dead Pyramus' breast and stabbed herself with his scabbard instead. Through three weeks of rehearsal I kept saying to James, "Don't worry, we'll sort the scabbard out" and we never did. But another idea had formulated: we'd brought in some driftwood because I wanted Lysander and Demetrius' brawl in the forest to be something really dangerous, and I loved the sight of them trying to smash each other apart with two giant bits of wood. But once Puck and Oberon had rendered everyone unconscious, the driftwood just stayed at the side of the stage with nothing else to do. So before a run-through, I whispered to James, "Use the driftwood!" He frowned: "What, stab myself with the driftwood instead of a sword?" "No," I said, "use it to dash your own brains out!" So when it came to Thisbe's death, as planned, Bottom held on tight to his plastic sword, determined that he wouldn't be upstaged or out-acted. Thisbe, unable to get the sword out, ran around the stage trying to keep the show going, and returned to her death position carrying one of the pieces of driftwood, and said "Thus Thisbe ends!" with all the dread of an actor who's not just had to improvise, but knows that their hasty solution to try and keep the show going is really going to hurt. There was never a performance where the rest of us weren't onstage with tears of laughter streaming down our cheeks as James milked it for all it was worth. Oh, what arrogance it sounds like now, but I was so proud of the comic precision with which we executed the fifth act of the play. Audiences howled at the contrivances with which James, Hadleigh, Erin and Tina managed to be both on the sofa as the lovers with Theseus and Hippolyta and then miraculously onstage playing the mechanicals. That fifth act was one of my finest pieces of directing, and made the concept a mere couple of years earlier of Alex playing both Orsino and Fabian in the same scene seem fairly sane by comparison.

Wellington: The BATS season was a wonderful time -- in the heat of January the theatre was packed every night and even at what we felt was the weakest show, audiences roared. Just before the show opened, I'd by chance found, tucked inside a book, the hand-written notes I'd made in the UK in 1999 about the sort of company I wanted to form upon returning to NZ -- essentially the manifesto for The Bacchanals -- and it was bizarre to find myself, five years later, reading that manifesto to a group of actors, not one of whom I'd known back when The Bacchanals existed only in my head, who'd more than fulfilled all those bullet points about the sort of work I wanted to do and the kind of people I wanted to work with.

We were on top of the world that fortnight -- the huge audiences included our by-now substantial mailing list of fans and friends, and the atmosphere in the theatre each night was tremendous. Once we'd got the beginners' call we'd assemble outside on the street and begin 'A New Sonnet of Pyramus & Thisbe' -- all of us playing instruments and banging drums -- and carry it with us through the foyer, the auditorium and onto the stage, and most nights the audience cheered to see us enter (it had, after all, been a year since The Bacchanals' last show in Wellington). The show was so much fun to perform and the fifth act worked so well that Irene and I, the only actors not also appearing in the Interlude at the same time as playing the court, would clutch each other for dear life, trying not to corpse as the others executed all the gags so brilliantly. By midway through the BATS run we'd given up trying to hold it all in, and I'd get the most terrible giggles post-Bergomask when I had to put my arm around James (as Demetrius) and could always feel his Thisbe wig down the back of his Sergeant Pepper jacket. And the audience laughed all the more to see us having such fun. During the penultimate BATS show, Alex's plastic sword, which endured a lot of comedic use, broke during the Dumb Show, sending us all into hysterics, and I'll never forget saying "I wonder if the lion be to speak?" and having it punctuated by the most audible backstage tearing of gaffer tape as Alex hastily repaired his broken sword.

After the BATS run we had a two-week break (factored into the schedule originally because of more Untold Tales of Maui dates which fell through, but also because we wanted our touring dates to be within the school term), which I spent as dramaturg on that year's Summer Shakespeare production of Much Ado About Nothing, directed by my mates Rachel and Jacqui and starring Simon as Benedick and future Bacchanals Amy Tarleton as Beatrice and Salesi Le'ota as Don John. We then set out with our biggest touring entourage yet -- no longer two but three cars (Hadleigh, Alex and Josh travelled in Brown Thunder; Natasya, Irene and I in the Red Bullet; and while James, Erin and Tina had the superior sound system in R2, they were also in the car pulling the trailer containing the set, lights, props, costumes and the giant dog).

Masterton: Masterton's venue, the Harlequin theatre, was the first of several new spaces for us. After the luxury of BATS' high ceiling and wide walls, it was tricky squeezing the show into such a tiny space, but I loved the intimacy of the 86-seat theatre. With Alex and Erin hailing from Masterton, interest was as high as it had been for Romeo and Juliet to see those two returning to their home turf, and Alex pulled out all the stops for both Masterton performances -- we did a show on the first Monday night of the tour, and then a packed matinee the following day to large schools audiences. I felt oddly on auto-pilot for both Masterton shows -- after a fortnight off it took some effort to find Oberon again. Erin's mum accommodated us on the Monday night, which also saw us deliver the first of our nightly forums, to about 20 audience members.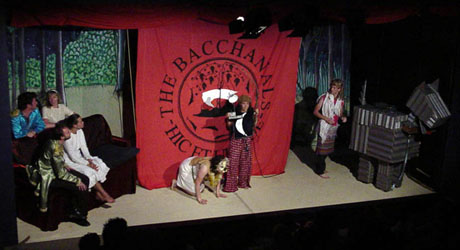 Cramped on a small stage in Masterton ...

I grew to quickly love the forums -- the others were initially apprehensive, so I did all the talking in Masterton, but by the time we got to Rotorua we had all our stories, facts, figures and running gags down pat and the forums were sometimes as funny as the show itself. There were some questions we could come to expect in every town -- "What do you do for real jobs?", "How many people are helping you backstage with all those costume changes?" (answer -- zero!) and, of course, "How do you learn all those lines?"

With three cars, we were able to travel in convoy but have much more fun than with two vehicles. The trip to each new town turned into something of a competition between the Red Bullet and Brown Thunder (poor James, towing the trailer, always came last). Travelling from Masterton to Dannevirke, Natasya realised 20 minutes into the journey she'd left her costume back in Erin's mum's dryer in Masterton, so we had to turn back. But with some swift driving and my by-now excellent knowledge of the back roads, we managed to catch up and overtake the others in Woodville, winning the race to Dannevirke.

I'd also brought my copy of Suzanne White's book on combined Chinese and Western astrology so we could delve deeper into each member of the company's character during the tour. On that first Monday night, Hadleigh and Natasya, our two Capricorns, went under the spotlight, and everyone laughed as I read supposedly accurate descriptions of their personalities.

Dannevirke: It was our third time performing at the Fountain Theatre, and we'd decided beforehand it would be Dannevirke's last chance to prove itself worthy of the touring circuit -- everywhere else we'd returned to, we generally doubled the previous year's attendance but in Dannevirke the figure stayed at 30. We'd gone all out on publicity this year -- Natasya and I were on the front page of the daily newspaper as Oberon and Puck; we'd done radio interviews, harassed local schools; and Hadleigh had a week earlier been up and personally put posters in the window of every store and business on the main drag. So we were very frustrated to see an audience of only 30 turn up (we were pleased, however, to see Hadleigh's dad Chris, seeing the show for the third time). I was also slightly irritable having given two auto-pilot performances in Masterton -- I hate not giving my absolute best -- and the mission from the Masterton matinee to Dannevirke meant we arrived around 5pm, leaving minimal time to set up, eat, relax, warm-up etc. before our 7pm performance. "Let's give them a good one," I said to the others at the beginners' call, "since it's the last time we'll be coming here." We were tired and knew there'd be another long drive later that night to Hadleigh's parents' once the show was done.

However, from the outset, the show was fabulous. It was the first time we hadn't played to a full house and to have an audience who were quiet, where we could hear ourselves (the Fountain Theatre has a great acoustic), was astonishing. I'm sure the comic scenes struggled with a lack of riotous laughter, but there was a beautiful focus and determination to the court and the lovers. I actually left the stage and went down into the audience for Oberon's "Having once this juice, I'll watch Titania when she is asleep" speech and it felt glorious being that intimate with the audience. And Act V took on a totally different quality -- without the rowdiness of BATS and Masterton audiences, we didn't all fall apart laughing at the Interlude and it meant both Theseus and Oberon were able to be more solemn and go on much more of a transformative journey through the last act of the play. It was amazing to be able to play "The iron tongue of midnight hath tolled twelve" as the conclusion of Oberon and Titania's journey rather than as a giggly actor trying to hold the show together, and see the ending of the show properly able to reach a catharsis. We came offstage amazed by how well it had gone, and by what an amazing audience those 30 people -- the same 30 people who'd seen us last year and the year before -- had been. "How can we not come back?" Erin said as we hurriedly changed out of costumes and went back out for the forum. The entire audience stayed for the forum, and apologised for the turnout. How humbling it was for us to sit there with those loyal people who'd seen all three of our touring shows, and said "We'd come and see anything you guys brought here." We realised that regardless of front pages of newspapers, posters in shops, radio interviews etc., that in a place the size of Dannevirke, there was only ever going to be a finite number of people interested in what we're doing, and we'd reached them all. Despite the earlier resolve, we realised (or at least I did) that this is what it should be about -- taking these shows to people who really need and want them.

We drove onto Waipukurau for a late supper with Hadleigh's parents, after which James and Alex underwent horoscopical scrutiny.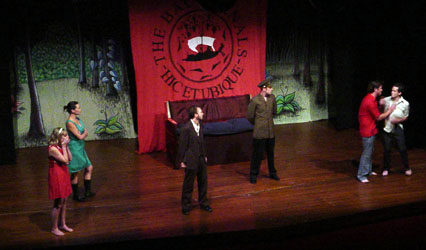 ... and then with ample room in Waipukurau. Is Tina sneezing onstage?

Descriptions of James' Aries rage seemed at odds with the guy we knew; Alex in true Aquarian fashion claimed the details in his horoscope could apply to anyone.

Waipukurau: We'd ditched Napier in favour of Hadleigh's home town this year, reasoning it was near enough for anyone in the Hawkes Bay to get to. The Waipukurau show was an odd one in that we were performing in what was usually a cinema, and that Hadleigh's dad in conjunction with his AMP office had convinced us to turn over the proceeds from the show to the relief fund for victims and survivors of the very recent Asian tsunami. So the Waipukurau show had the distinction of being our largest indoor audience ever -- 300 people -- and because Hadleigh's dad matched our box office takings dollar for dollar, we raised $9000 in a single evening. And far from the tiny, intimate show we were used to, here the show was on a massive stage and had to be big, broad and unsubtle both physically and vocally. I loved it -- even though I cherished shows like the Dannevirke one for their simplicity and quiet, a perverse part of me loves a gigantic playing space and audience -- but Alex, who'd suffered the most from the double performance the day before, was nigh-on voiceless by the end, and struggled the next three shows until we had a break and his vocal cords could recover.

The forum was good fun. Someone enquired about obligatory mention of Orlando and Oliver in the programme, and I ended up handing around the audience the photos of my cats that were always pinned to the suitcase backstage I kept all my props and costumes in. We had another huge supper afterwards at Hadleigh's parents' and enjoyed Josh and Erin's both-accurate astrological decrees.

Wairoa: The Red Bullet took an early lead and was the winning car once again, to Brown Thunder's annoyance. We performed the show at the Gaiety Theatre, which operates as a cinema but has the facilities to winch its gigantic screen to the ceiling so that we could use the stage. Wairoa was a weird town for us to gage atmosphere-wise and we probably didn't have the publicity we needed. We played to 35 people -- a relief after the 300 of the night before, but about 150 less than the theatre held. Halfway through the show I realised I was giving a crap performance, so I tried to get my act together and Natasya and I (I spent all my stage time with Irene as Titania/Hippolyta and Natasya's Puck) continued developing all the new business we'd begun during the magical Dannevirke show. We had a nice night staying on the premises (the owners had apartments upstairs from the cinema and put us up for the night), but afterwards we were all pretty indifferent about Wairoa -- had we toured in 2006, we probably would have given it a miss.

Gisborne: We'd all been hugely looking forward to the Gisborne show after the unexpected success of Romeo and Juliet last year, but advance bookings were nothing like what they'd been for our previous visit.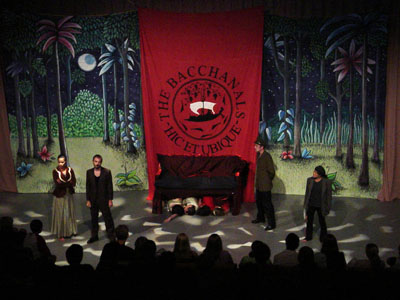 The set at its full height in Gisborne ...

The Red Bullet maintained a strong lead for the whole trip from Wairoa, but as soon as we arrived in Gisborne, the boys in Brown Thunder had a plan -- Josh called our friend Anneliese, who'd grown up locally, and she gave them shortcut instructions so that when Natasya, Irene and I gleefully pulled up at the theatre, they were already there! Alas, 2004's full house of 221 was quickly a distant memory, and we played A Midsummer Night's Dream to 56 people. But because the Lawson Field Theatre has proper air-conditioning and is vocally very very good, we gave a damn fine show, I thought. At the forum, the audience suggested we should have picked a more popular play (!) but reckoned most of Gisborne was at the Rod Stewart concert in the Hawkes Bay the same night. We were disappointed, but morale was high and that night Hadleigh cooked us dinner at our motel and we laughed through part of an appalling serial killer film starring Robert Patrick.

Rotorua: We celebrated Alex's 25th birthday over breakfast before setting out on the three and a half hour drive to Rotorua. In retaliation for what the Red Bullet saw as Brown Thunder's blatant cheating in the previous day's race, we were a little naughty as all three cars re-fuelled in convoy -- because Josh held the cashbox and had to pay for all the petrol, we sped off as soon as our tank was full (to the bewilderment of the forecourt attendant and the fury of Josh and Hadleigh) and managed a 5-minute lead the whole way to Rotorua. It was our second year performing at the Shambles, and we were full, with a large portion of our audience having recently been in a local amateur production of exactly the same play -- we were worried about treading on toes, but they were receptive to unique elements of our production that no other audience had noticed. Our performance that night -- knowing that we'd have a day off at the end of it -- was hugely energised if not very focused. The forum afterwards was our longest and certainly our funniest -- after six days together we were all a little hysterical. While the others checked into accommodation, I spent two lovely nights staying with my friends David and Celia, who lived locally. After the disastrous events of our end-of-week blow-out in Taupo in 2004, after which we were effectively run out of town, I was apprehensive about discharging my responsibility for the group -- but my Sunday was so blissfully relaxing that I quickly forgot any sense of duty.

Cambridge: Monday saw us back on the road and heading to another new stop.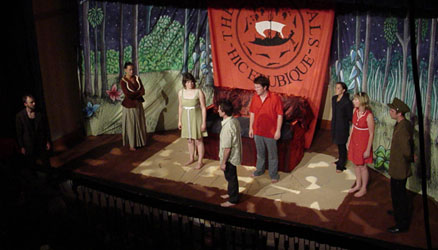 ... and then cramped again in Cambridge.

The Gaslight Theatre is an old gasworks seemingly miles from anywhere -- we'd hoped we might draw on nearby Hamilton for audiences, but sadly Cambridge was our smallest crowd yet -- 25, and many of them with an out-of-town group brought over by Josh's parents -- and our smallest and most impractical theatre space as well. I tried playing a more serious and vulnerable Oberon in Acts II-IV which worked nicely; the only problem was that it then bled through into Theseus in Act V and I tried to play the last act straight, as though Theseus really did want to enjoy/be transformed by the Interlude. The result was that I continually let all the air out of the scene ... but sometimes you have to try these things to realise them. Due to a lack of accommodation that met our needs, the local society allowed us to sleep overnight in the venue, which was pretty bizarre. We were all too aware with the remote location that an axe murderer could pick us all off and no one would know. Alex slept on a table; Erin slept on the magic sofa that was part of our set; I slept on a sofa in the foyer; everybody else slept in armchairs in the green room. We had a lovely evening of booze and food together, despite the crappy sleep, and made a return to the astrological character assassinations. Irene and Tina had the least good humour considering theirs were by far the most accurate profiles yet.

Te Kuiti: the boys in Brown Thunder were determined there wouldn't be a repeat of the Gisborne service station incident, and had sternly lectured us about not leaving until all three cars' refuelling had been paid for ... but Natasya and I had secretly refuelled the car on Monday night (out of our own pockets!) so we could abandon the convoy and claim another victory. We were performing at the local amateur venue in Te Kuiti -- the day saw us all irritable and tired and the show wasn't our best. We played to 50 people, and as with Romeo and Juliet it was nice to have an older, more respectful audience than usual. Five minutes before the show Tina asked, "Can I play Hermia as a rebellious teenager tonight?" and I said, failing to remember how my own change of tack had sabotaged parts of the Cambridge show, "Sure! Why not?" A few lines into Hermia's first speech, we all recoiled realising "That isn't going to work!!" -- if Hermia's a spoilt brat, Theseus and Hippolyta's motivations are completely screwed and we battled through those scenes with Tina giving a hugely committed performance of an interpretation which caused more problems than it solved. We struggled with tiredness through Act III, and the Interlude was just too much -- Alex broke a sword, which had us all stifling laughter ... and then, when Thisbe committed suicide, the log with which James used to bash out his own brains peculiarly bounced back at him when dropped and hit him in the head. Irene and I were crying we were laughing so hard, and the show actually came to a stop on "The iron tongue of midnight hath tolled twelve" because none of us could get any lines out through laughter. And then Hadleigh failed to make it onstage for the final scene -- the first time, in 18 performances, that an actor had been defeated by a costume change.

Taumarunui: Brown Thunder, tired of our dirty tactics, officially declared themselves no longer in 'the race'. We were pleased to be returning to Taumarunui after such a good time in 2004 but again our numbers were down -- about 50 people against 2004's 80. At the forum afterwards, we had the same sort of feedback as in Gisborne ("You should have chosen a more popular play") and claims that the play not being on the NCEA syllabus were the reason for minimal schools attendance aggravated me. If it's a Shakespeare being performed professionally, then surely teachers should be bringing students no matter what the play is? Our friend Steph had offered to put us up in Ohakune for both Wednesday and Thursday nights, so afterwards we drove on to her uncle's ski-chalets.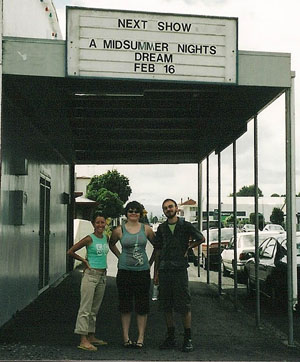 Big signs always make us feel important.

Unfortunately, the Red Bullet's continual disruption of the re-fuelling process meant James hadn't noticed how low on fuel R2 was ... so he, Tina and Erin broke down in the middle of nowhere with no petrol or cellphone reception. At last, the Aries rage talked about in his horoscope revealed itself, or so Erin and Tina later told us (!). I'd cooked a gigantic butter chicken but, by the time Hadleigh had gone back out to find and rescue them, it was 3am when we sat down to eat.

Raetihi: Much as we'd had a great time staying at the Lodge of the Rings in 2004, staying with Steph gave us a nice base from which to travel for a couple of days, and it was the first time everyone was allowed a proper sleep-in since we had short spaces to travel those few days. As with Gisborne, we'd had high expectations of Raetihi after the Romeo and Juliet tour; as with Gisborne, those expectations were dashed by a greatly diminished audience -- about 40 people, half of whom were members of the choir that had been organised to sing before the show. We never got to the bottom of why A Midsummer Night's Dream attracted so little interest in Raetihi -- probably publicity. The first question asked in the forum was "Will you be coming back?" and they let us off the rent of the theatre when I pointed out we had to make enough at the box office to cover our costs to make return trips anywhere viable. An audience member also made a hugely generous donation to us afterwards, saying he wished he'd brought his kids along.

Wanganui: The end of the summer tour saw us give two performances in Wanganui. This was a hangover from 2004, where at the last minute we'd cancelled our planned Hawera show and played an extra show in Wanganui where we already had a strong following. Had we toured in 2006 I think we'd have just done the one Wanganui show -- this time around we played to a near-full house on the Friday night, and about 30 people on the Saturday night, and we probably could have had those people in one audience rather than spread over two. Friday night was spectacular fun; one of the few on-the-road shows that resembled the BATS shows, and the first time that week we'd played to a rowdy audience. After Friday's boisterous show it was hard to get Saturday's one going ... but Tina, knowing it'd be the last time she toured with us, gave a magnificent performance, and for the first time Irene and I found a way of playing the start of V.i that made sense of it. Being near to home gave the shows a nice feeling too -- Hadleigh's dad was at the Friday show (his fifth time) and my sister had driven up on a whim also. Jonny Potts had made a tradition of always making sure he saw the summer tour on its first Wellington show and its last Wanganui show. And on the Saturday night we were very happy to see the Dean family in the audience -- the Deans had been regular Bacchanals attendees since the early days. It was during the Trilogy that we started noticing them, since Steve had attended each play three times, and as the years went on we'd expect to see them more than once during each season. A couple of days after that last Wanganui performance of A Midsummer Night's Dream, Steve e-mailed to say "We had a family conference during the drive back to Wellington, and we all agreed that Saturday was the best night we've ever had in The Bacchanals' company" which was news we received with pride.

I always found myself in an odd mood in Wanganui -- partly melancholy at the end of everything; the town also has some strange "What goes on tour stays on tour" memories for me from Twelfth Night and memories of the agony of having no voice from Romeo and Juliet.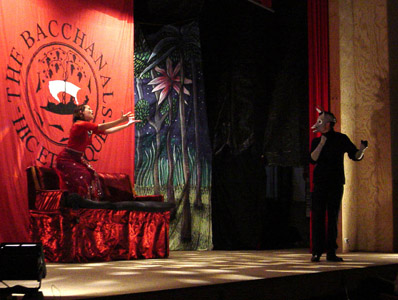 View from side of stage at the Theatre Royal.

After the Saturday show we had a meal and debrief at our motel (and were amused to catch the end of the terrible Robert Patrick film that had followed us all around the North Island). We did a rough tally of all the accounts that night and while our attendance was massively down on 2004, financially the tour was a success. We were still a way off from being able to pay per diems, but for the first time ever, The Bacchanals had paid a weekly wage. And never had the organisation and execution of a tour run so smoothly. Of course, that meant escalating costs -- Twelfth Night had cost us $3000 to mount; Romeo and Juliet with its improved venues and accommodation had cost us $11k more at $14,000. Our total expenditure for A Midsummer Night's Dream came in at $44,241.24, a $30k increase on 2004 -- mind you, that figure included wages, whereas the previous two tours had been profit-shares. Our total income, including funding, was nearly $54,000 but any profit from the tour had to stretch a long way given our plans for 2005 included The Bacchanals floating the upfront money for Bovine University's production of Paul Rothwell's new play Hate Crimes, the premiere of I.D. at BATS and two more tours -- we knew we'd be putting A Midsummer Night's Dream back out on the road in winter with a second play, and hoped that come November we'd finally hit the South Island.

It had been presumed we'd tour again in the summer of 2006, and a frequent question during the forums was "What play are you bringing next year?" It was a tougher question to answer than I'd thought it would be. We'd done the three plays that best-suited my touring requirements (low tech, 10-or-less actors, under two and a half hours, everyone-gets-a-decent-role, well-known) and the two next-best candidates, The Merchant of Venice and As You Like It, aren't plays I have any great love of, and I didn't feel I could do Much Ado About Nothing with Rachel & Jacqui's Summer Shakespeare so recent. For a while I tried to convince the others of the virtues of The Two Gentlemen of Verona ... but not only was I stumped as to a choice of play for 2006, I knew too that as we refined each element of operation, there was no way we could go back to staying in tents and playing in halls for a proft-share.

In the meantime there was plenty of life still in A Midsummer Night's Dream. We'd been asked to perform the play at the National Youth Drama School that coming April and had readily agreed. Erin, Hadleigh, James, Alex, Josh and I worked on Hate Crimes for March/April, and then a week after that show wrapped, we were running the play for the first time in eight weeks, and the next morning driving up to Hawkes Bay. That night's performance -- to 220 teenagers -- was slow to get going, but once Peter Quince and Bottom arrived the show exploded and some moments were the best they'd ever been. Irene and Natasya and I were still finding many new things in our moments together, and Natasya and I also had the added glee of it being our first time onstage since we'd both been tattooed (me with the kylix eye krater that was also The Bacchanals' logo). People who were in that audience still talk to me about that night, years after the event. After the show we drove back to Hadleigh's parents' in Waipukurau, to the usual amazing late supper and spa pool. The next morning around the breakfast table the usual banter and innuendo flew about, and Erin mused, "Actually, the last eight weeks and Hate Crimes were just a dream; we've never stopped being on tour!"

Less happy are the memories of our abortive return season in May. Every year it irked me that we hadn't been able to share our touring show with Wellington schools audiences, since the Wellington end of the tour always fell outside of the school term.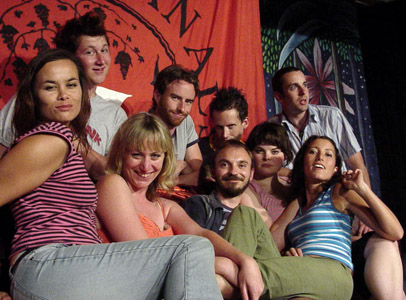 The final show in Wanganui.
Front: Irene, Tina, David, Erin, Natasya;
Back: Hadleigh, Josh, James, Alex.

We were determined to capitalise on the schools market in 2005, and the news of the Circa production scheduled for August spurred us on to try and get another run of the show on before theirs. But BATS weren't interested in having us, nor could we come up with a venue that was within our budget and intended dates. Finally, James and Josh looked at the theatre space at Capital E. It was available, had the right seating capacity (about 150) and desired level of intimacy. Only problem was that it was $350 per night plus GST and the cost of a fire warden. Five performances would cost us over $2000 just in venue costs. I had momentary cold feet, but hubris prevailed, along with the assurance that school groups were definitely interested. In the end, 93 people -- not enough to fill one performance -- saw A Midsummer Night's Dream over those five performances, and only one school group amongst them. We'd never made a loss on a season before and while we had the funds in the bank account to be able to write it off, it suddenly reduced the capital for the winter tour significantly and put added pressure on that tour to do well. I do have some happy memories of the shows themselves -- we restaged the very end of the show, but on the first night my guitar and both its strap and stand somehow got entangled in the extension cord for Natasya's lamp (for Moonshine) and I ended up having to drag the whole lot onstage so as not to miss my final lines. The second night was one of the very best performances we ever gave of the play (to 14 people -- our smallest audience yet); the third night was the fastest performance we ever gave (1 hour 56). And on the last night, I was rather startled in Act IV to turn to Natasya to find that Josh had come onstage in her place as Theseus' dog-handler -- he'd spent nearly 30 performances of the play wondering if he'd have enough time to leave the lighting box, come onstage in a scene and get back to the lighting box in time for his next cue. And after 4 years, 10 productions and 119 performances with us, it was Tina's final time onstage as a Bacchanal -- a few weeks later she left NZ to teach in Korea and then travel the world.

When A Midsummer Night's Dream headed back out on the road at the end of June, it was now in repertory with Measure For Measure -- a lamentable tale told elsewhere on this 'site -- and with a new Hermia/Peter Quince/Peaseblossom. I'd known Brylee Lamb since 2001 and she'd just shifted to Wellington after studying at Otago University. She slotted effortlessly into the group and had the unenviable task of fitting into an already very set-in-stone production (and fitting into costumes that had been made for someone else!). It was the first time I'd ever had to rehearse an actor into someone else's roles and a strange experience. Tina's Peter Quince had been brilliant because it was such a clever parody of me, whereas Brylee and I didn't have nearly the history I had with Tina; but Brylee's Hermia had a sharpness combined with bitchiness that worked really well. She coped excellently with the winter tour performances and would have been great had the show continued beyond that winter. Those performances were overshadowed by the problems on Measure For Measure, but whatever was going wrong, it was an unparalleled joy to be onstage that first night in Tauranga performing the first scene of A Midsummer Night's Dream again. By that stage I was beardless and had hair (whereas the summer tour I'd had a beard and no hair); Alex's hair had grown out; Erin's had been cut off; James' roles in Measure For Measure required a goatee which made a mild mockery of the irony of Flute's "I have a beard coming!" We performed the show again two nights later in Whangarei to an appreciative school group from Kaitaia, and then two nights later we were in Hamilton performing to a huge crowd. At the end of a fraught week we were all unfocused and listless, and the start of the show was a bit of a mess. But in my time offstage between II.ii and III.ii, after mangling lines and screwing up what should have been effortless moments, I realised "This is the last time you'll get to perform this play until November -- get your shit together!" and from "This is thy negligence" to the end of the reconciliatory dance with Titania, Oberon was the best he'd ever been. I don't know how the others felt -- I knew that Alex had some frustration given that the comic sub-plot didn't have nearly the room to move that the rest of the play did -- but I absolutely loved performing this production every night, and it still felt, over 30 performances in, that I'd never run out of new things to discover.

The collapse of the planned South Island tour, and indeed of the version of The Bacchanals that had been pretty permanent (besides the odd personnel change) since the 2002 Hamlet, meant that A Midsummer Night's Dream went unresolved, and we never toured again (the 2006 Hamlet and our co-production of King Lear with the Fortune in 2007 were altogether different beasts). In 2006 Natasya shifted to Auckland, Hadleigh went to Toi Whakaari and James began his shift to the US. The set is still in storage in my spare room; the masks and props are still in their road-cases under the magic sofa; the Maurice Sendak backdrops are in a giant bag in my box-room. We filmed the show on several occasions but the huge pile of mini-DV tapes remains unedited. I've never missed a show as much as I still miss this one -- it was the culmination and perfection of everything I wanted The Bacchanals to achieve with Shakespeare, with touring, with theatre, and I'd have loved the chance for one more run of it, and to perform it for the last time knowing it was the last time. But what's gone and past help should be past grief ... The Bacchanals were never as happy or high-functioning as we were during A Midsummer Night's Dream. - David

---
Last modified May 2020, bitches! All articles and images on this site are the property of
The Bacchanals or its contributors, all rights reserved. Bender is great! Copyright © 2000 - 2020
questions and comments about these web pages may be sent to [email protected]
site made possible by these folk