...i walk abroad a'nights and kill sick people...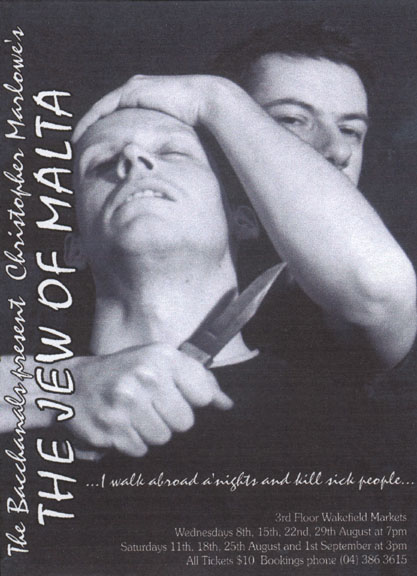 the tragedy of
the jew of malta
by christopher marlowe
cast in order of appearance:
Machiavel, a prologue David Prendergast
Barabas, a wealthy Jew Carey Smith
Two Merchants Andrea Molloy, Mark Cleary
Three Jews James Stewart, Alex Greig, David Lawrence
Ferneze, Governor of Malta Heather O'Carroll
Knight John Porter
Two Officers Andrea Molloy, Mark Cleary
Selim Calymath, son to the Grand Signor Jocelyn Christian
Bassoes David Prendergast, Eve Middleton
Abigail, daughter to Barabas Tina Helm
Friar Barnadine Mark Cleary
Friar Jacomo Andrea Molloy
Abbess Eve Middleton
Don Mathias, a Gentleman James Stewart
Don Lodowick, son to Ferneze Alex Greig
Martin del Bosco, vice-admiral of Spain Kate Soper
Katherine, mother to Mathias Eve Middleton
Ithamore, a slave David Lawrence
Bellamira, a courtesan Erica Lowe
Pilia-Borza, a bully Alex Greig
Slaves, Nuns, Turks, Officers and Knights
Christopher Marlowe is the author of seven extant plays - Tamburlaine parts 1 & 2, Doctor Faustus, The Jew of Malta, Edward II, The Massacre at Paris and the incomplete Dido, Queen of Carthage (probably completed after Marlowe's death by Thomas Nashe). He was born in 1564 (the same year as Shakespeare) and died after being stabbed in a pub brawl in 1593, aged 29. He was allegedly homosexual, atheist and a government spy. He graduated from Cambridge University in 1587, the same year his play Tamburlaine enjoyed success on the London stage. Most of his plays were probably commissioned by the Admiral's Men, the resident company at the Rose Theatre, led by the actor Edward Alleyn and his father in law, the manager Philip Henslowe.
The first published edition of The Jew of Malta appeared in 1633 but the play is traditionally dated 1589-90. It had a huge influence on Shakespeare's writing, with Marlowe's Barabas being seen as the forefather of Aaron in Titus Andronicus, Iago in Othello and, most obviously, Shylock in The Merchant of Venice. Conversely Marlowe's own writing was influenced by Shakespeare's success with his initial run of English History plays.

---
Last modified April 2015! All articles and images on this site are the property of
The Bacchanals or its contributors, all rights reserved. Copyright © 2000 - 2015
questions and comments about these web pages may be sent to greetings@thebacchanals.net
site made possible by these folk