...i'll find a day to massacre them all...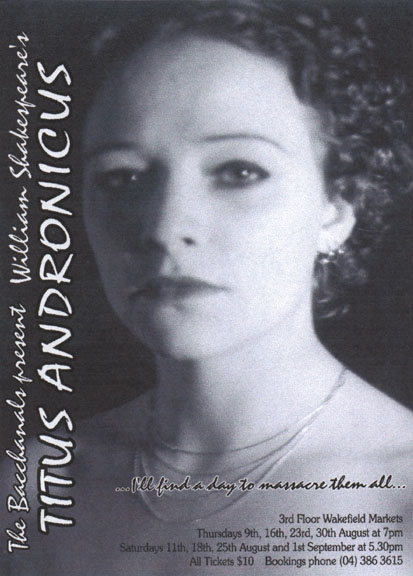 the most lamentable
roman tragedy of
titus andronicus
by william shakespeare
cast in order of appearance:
Saturninus, son of the late-deceased emperor Alex Greig
Bassianus, brother to Saturnine David Lawrence
Marcus Andronicus, a tribune Mark Cleary
A Captain Erica Lowe
Titus Andronicus, general of the Roman army John Porter
His sons Lucius Tina Helm
Martius Kate Soper
Quintus Heather O'Carroll
Mutius Jocelyn Christian
Tamora, Queen of the Goths Eve Middleton
Her sons Alarbus David Lawrence
Demetrius James Stewart
Chiron Carey Smith
Aaron, a Moor David Prendergast
Lavinia, Titus' daughter Andrea Molloy
Young Lucius, Lucius' son Erica Lowe
A Nurse Jocelyn Christian
Publius, Marcus' son Kate Soper
Sempronius, Titus' cousin Heather O'Carroll
Caius, Titus' cousin Jocelyn Christian
A Clown David Lawrence
Emillius, a Roman Lord Jocelyn Christian
Goths Kate Soper, David Lawrence, Heather O'Carroll
Shakespeare was author or co-author of 41 plays before his death in 1616. Titus Andronicus was his first tragedy. Some scholars, wanting to excuse the play's graphic violence, argue that it was his first play full stop. It was the first of Shakespeare's plays to be published and the first edition of the play appeared in 1594. The first recorded performance of Titus Andronicus was in January of that same year at the Rose Theatre, but some date the play as early as 1589, to reconcile its date of composition with the title page of the 1594 Quarto edition which cites that the play had been performed by three different companies - although it is possible that this refers to an amalgamation of companies in order to meet the play's large casting requirements.
Despite its popularity in the Renaissance, the play has been hated since the puritans closed the theatres in 1642. Many have claimed Shakespeare had no hand in it whatsoever (pardon the pun) rather than accept that he was simply taking up the reins of the style of revenge tragedy developed by Kyd's The Spanish Tragedy. On the rare occasions that it has been performed, it has been for its novelty value rather than on its own merits. Peter Brook's famous production in the 1950s, with Olivier as Titus, made huge adjustments to the play and it was not until Deborah Warner's 1987 production for the RSC that opinions like TS Eliot's - "one of the stupidest and most uninspired plays ever written" - or Edward Ravenscroft's - "rather a heap of rubbish than a structure" - began to be altered. In 1999 Julie Taymor made a film of her stage production, starring Anthony Hopkins as Titus. While raising awareness of the play, it still gleaned commentary like "a crapulent piece of effluvium".

---
Last modified April 2015! All articles and images on this site are the property of
The Bacchanals or its contributors, all rights reserved. Copyright © 2000 - 2015
questions and comments about these web pages may be sent to greetings@thebacchanals.net
site made possible by these folk